February 7, 2023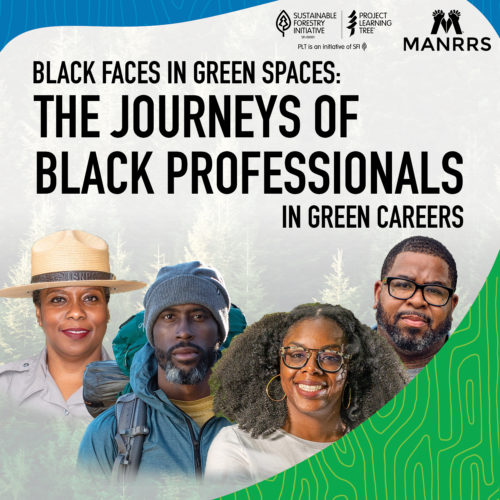 A new first-of-its-kind resource, Black Faces in Green Spaces: The Journeys of Black Professionals in Green Careers, has just been released by the Sustainable Forestry Initiative (SFI), Project Learning Tree (PLT), and Minorities in Agriculture, Natural Resources, and Related Sciences (MANRRS). The SFI-PLT-MANRRS Black Faces in Green Spaces: The Journeys of Black Professionals in Green Careers guide highlights 22 Black Americans who share their personal stories about finding their passions and overcoming challenges, and offer advice to the next generation about exploring their own careers in the forest and conservation sector. The project was overseen by an SFI-MANRRS Advisory Committee, and Black-owned businesses were hired as consultants, designers, content writers, and photographers.
"For me, it is important to leave an impact on everything that I am engaged in. Being the Co-Chair of the SFI-MANRRS Advisory Committee that produced The Journeys of Black Professionals in Green Careers guide was such an intentional and authentic process. Representation matters: Every person that took part in the project identified as an African American, from the advisory committee to the photographer," said Dr. Antomia "Mia" Farrell, Co-Chair of the SFI-MANRRS Advisory Committee, Assistant Dean and Director for Diversity, University of Kentucky, and former National MANRRS President. "It is my hope that we can continue to uplift the voices of African Americans in this space, bring awareness to green careers, and ignite young people to know that there are a plethora of career options within the sector."
The name "Black Faces in Green Spaces" pays homage to Dr. Carolyn Finney, who authored the book Black Faces, White Spaces: Reimagining the Relationship of African Americans to the Great Outdoors. The guide is intentional in showcasing a diversity of experiences and careers to show that there is a place for everyone to find a career in the forest and conservation sector—whether it be indoors, outdoors, an apprenticeship, or with a Ph.D. The guide showcases a small portion of the interdisciplinary careers that fall within the sector. It includes a forester, a biologist, a hydrologist, a GIS specialist, a DEI specialist, an environmental educator, an urban forester, and more.
Many Black young adults are unaware of job opportunities in the forest and conservation sector, and unfortunately this stems from many reasons. Young adults don't always have someone they know that they can look up to or seek advice from about forest and conservation topics, but we also know that communities of color are disproportionally affected by pollution and climate change. More than 80% of the U.S. population lives in urban areas and research shows that access to trees and their associated benefits is often lower in neighborhoods of color and lower income neighborhoods. As we gain a growing understanding of the importance of urban forests, there will be growing career opportunities in this space.
"This partnership between SFI and MANRRS reflects the USDA Forest Service's mission to promote diversity, equity, and inclusion by creating a diverse workforce as we seek to grow the next generation of conservation stewards that reflect our society," said Beattra Wilson, Assistant Director for Urban and Community Forestry, USDA Forest Service.
Urban forests and trees are vital for community well-being, health, resiliency, and sustainability. The USDA Forest Service and SFI are making urban forestry a priority and recognizing it as an opportunity to raise quality of place and quality of life with initiatives such as the SFI Urban and Community Forest Sustainability Standard. Community trees and forests provide many social, environmental, and economic benefits including improved health and well-being, social cohesion and accessibility, outdoor learning environments, climate change solutions, reduced air pollution, and improved urban design. Urban forests and trees and their associated benefits should be accessible and available to everyone.
"With less than 3% Black American representation in forest and conservation careers, these Black hidden figures are iconic to empowering our next generation of forest and conservation professionals," said Dr. Marcus Bernard, National President of MANRRS. "When students see Black professionals in the forest and conservation sector, they see themselves! They also see a career path they never knew existed. This resource highlights the long-standing contribution of Black forest and conservation professionals working in what we now call environmental sustainability."
"By elevating the voices of Black Americans, by providing role models, by celebrating innovations and contributions, and by sharing their advice with others, we can inspire, encourage, and engage both this and the next generation of Black Americans to become forest and conservation leaders," said Kathy Abusow, Co-Chair of the SFI-MANRRS Advisory Committee and President and CEO of SFI. "We also believe it is critical that we engage the forest and conservation sector to ensure they create welcoming places of employment where a diverse workforce can not only be recruited, but can be retained and advanced to leadership positions."
How to obtain copies and support young adults in your community
To ensure the guide is shared with as many young adults, educators, and guidance counselors as possible, the digital version of SFI-PLT-MANRRS's Black Faces in Green Spaces: The Journeys of Black Professionals in Green Careers guide is available for free.
Individual printed copies are also available for $39.99. Bulk orders for organizations that want to distribute printed copies to employees, students, networks, and partners are welcome ($800/box of 25 copies).
Please consider buying or donating a box that can be given to schools, colleges, and universities across the United States, such as Title I schools and Historically Black Colleges and Universities (HBCUs). If you are an employer, this is a wonderful companion piece to hand out at recruitment events. To purchase or download the book, visit: plt.org/journeys.
Additional resources
Download the accompanying Educator Toolkit, designed to help upper elementary, middle- and high-school educators, as well as college-level career advisors, use the guide with their students. The toolkit may also be helpful for school guidance and career counselors, homeschooling parents, youth group leaders, or informal educators looking to enhance their students' career explorations. 
To enhance the use of this guide in schools and other settings, PLT offers a set of digital posters spotlighting the professionals profiled.
To learn more about supporting resources for this guide, please visit www.plt.org/journeys.