March 13, 2023
At Project Learning Tree, we're pretty big fans of trees, so when we found out about #MoonTrees, we thought, Seeds + Outer Space = the perfect STEM pairing.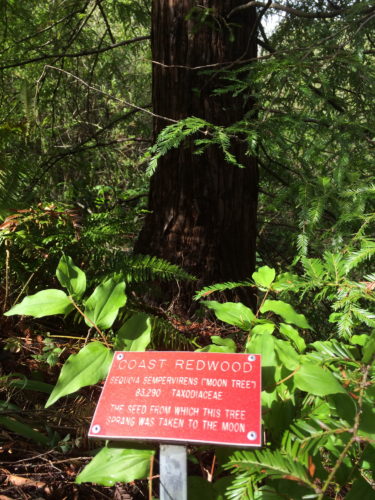 Did you know that NASA and the USDA Forest Service partnered up over 50 years ago to send seeds to orbit the Moon on Apollo 14?
Well, in December 2022, they did it again!
This time around, Artemis I carried seeds from five different tree species – loblolly pine, Douglas fir, American sycamore, coast redwood, and sweetgum.
After returning from a six-week mission orbiting the moon, the seeds will be germinated back here on Earth, and seedlings will be planted in various locations throughout the U.S. and around the world.
Bring Moon Trees into Your Classroom
Did you know that many of the original Moon Trees from the 1971 Apollo 14 mission still stand today and are thriving? Some have even produced a second generation and may be planted closer to home than you think!
Check out the list of moon tree locations around the United States — and if you take a visit to see one in person, pair the trip with PLT's "How Big Is Your Tree" STEM Strategies exploring science, technology, engineering, and math-related aspects of these interstellar trees. A simplified, free, family-friendly version of this activity is also available in English and Español.
Here are a few more steps you can take to engage your students in learning more about Moon Trees:
Step 1:
During the month of April, join experts from the Forest Service and NASA for a four-part video series that looks into the splashdown of Orion, seed viability, germination, and more.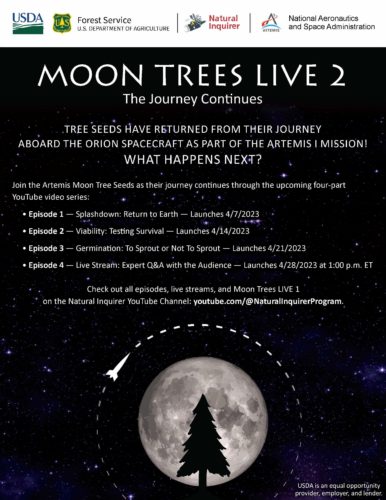 Tune in every Friday in April for Moon Trees LIVE 2! 
Episode 1 – Splashdown: Return to Earth (April 7)
Episode 2 – Viability: Testing Survival (April 14)
Episode 3 – Germination: To Sprout or Not to Sprout (April 21)
Episode 4 – Live Stream: Expert Q&A with the Audience (April 28)
Step 2:
Continue the conversation about trees and space. Check out the Forest Service and Natural Inquirer's learning module, Countdown to Moon Trees, which incorporates several fun and engaging PLT activities to help your students explore trees, what they need, and how they've gone to space. The module contains seven units that can be used throughout the year (or compressed to a few weeks).
Step 3:
Want to go one step further? The Forest Service is seeking 4th and 5th grade classrooms to help evaluate this program. If your class is interested, please reach out to Rachel Bayer at [email protected].
Be the Next Home to a Moon Tree
Apply for your school or organization to be the future home of an Artemis I Moon Tree! The Forest Service and NASA will choose Moon Tree recipients through a competitive application process.
Inspire the next generation of nature explorers. Who knows, maybe one of your students will be the next person to take tree seeds into space!