January 9, 2020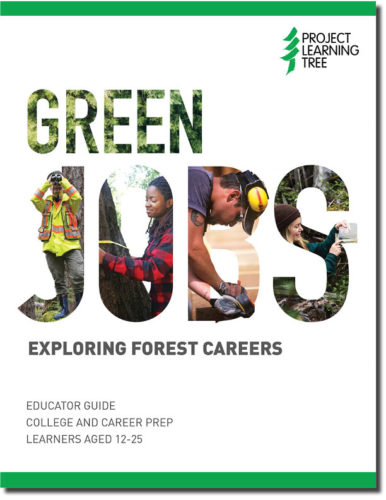 Do your students want to find a job they can be proud of? To feel like they are making a difference in the world? Green jobs are not just in the renewable energy, manufacturing, or technology sectors. Some of the greenest jobs involve forests and Project Learning Tree has a new resource for helping youth ages 12-25 explore green careers in forestry and conservation.
PLT's new Green Jobs: Exploring Forest Careers unit introduces youth to the array of career options in this field. Designed for adults working with youth, the activities can be used indoors or outdoors, in settings ranging from school classrooms to community youth programs, field tours, and college and career prep programs.

Pathways to Green Careers

Green jobs represent one of the fastest growing and changing segments of the global economy. According to the International Labour Organization, there were 9.8 million green jobs in 2017 and by 2030, there will be an additional 15-60 million new green jobs. 
Moreover, today's youth are seeking rewarding careers that help us move toward more sustainable lifestyles and greener economies.
Some of the most exciting–and perhaps greenest jobs–benefit forests and ensure that the forest products we depend on are sustainable.
Youth and adults alike might be surprised at the wide array of job openings related to forests—indoors and outdoors—that offer opportunities for people with diverse backgrounds, skills, interest areas, and personal qualities. Some of the jobs profiled in PLT's Green Jobs: Exploring Forest Careers unit include:
Arborist
Architect
Environmental Educator
Forester
Forest Engineer
Logger
Lumber Mill Worker
Park Ranger
Policy Advisor
Social Media Director
Soil Scientist
Sustainability Manager
Wildland Firefighter
Wildlife Biologist
Activities for Youth
PLT's new Green Jobs: Exploring Forest Careers unit includes four hands-on instructional activities for youth to research forest jobs and practice managing forests. The activities can be used as individual, stand-alone lessons, or all together as a cohesive unit of instruction. They include connections to science, math, English language arts, and social studies standards. 
Who Works in This Forest?—As an introduction to some of the people who work in and on behalf of forests, learners research different forest sector careers to learn what it takes to perform these jobs.
If You Were the Boss—Acting as foresters, learners grapple with decisions about how to manage a forest sustainably while serving different needs.
Monitoring Forest Health—Through a variety of health indicators, learners assess the health of a forest area and see how soil scientists, wildlife biologists, arborists, and other forest professionals monitor forests.
Seeking Sustainability—Learners explore the concept of sustainability by examining the United Nations' 17 Sustainable Development Goals, while also taking a look at some jobs involved in ensuring forest sustainability.
Envisioning a Green Career

Employers are looking for workers who can communicate and collaborate, and who are creative leaders. PLT's Green Jobs: Exploring Forest Careers includes a self-assessment for youth to analyze their leadership and people-oriented skills (often referred to as "soft" skills), as well as their technical skills in science, technology, engineering, and math (STEM).
These quizzes can help any job seeker in the green economy envision the right career for them, whether or not they are aiming for a STEM career. Youth can match their personality type with an array of forest-related career opportunities and learn about the skills needed for different jobs.
Green Jobs: Exploring Forest Careers also suggests additional resources to broaden and deepen learners' exploration of forest careers, for example, green job boards, forestry career websites, and where to connect with forestry professionals.
Get the Guide
Green Jobs: Exploring Forest Careers is available either as an e-book (PDF) or printed guide and can be purchased directly from shop.plt.org.
PLT also offers training for teachers and other educators, career and guidance counselors, scouts, 4-H, and FFA leaders, foresters and natural resource professionals, etc. through state-run in-person workshops. Workshop participants receive a copy of the Green Jobs guide, see the activities modeled, learn how best to use the unit with the youth they reach, and make local connections. Contact your state's PLT Coordinator for information about PLT workshops in your state.
Also check out some of the downloadable and online resources available from our website to support PLT's Green Jobs: Exploring Forest Careers unit, including the student worksheets, career cards, and job factsheets. See this month's collection of EE Resources for a sample of online resources, and login or register to access all the supporting resources we've curated to date for Green Jobs: Exploring Forest Careers.