January 17, 2023
As we ring in the New Year and look forward to all the great things to come in 2023 (hello, The Journeys of Black Professionals in Green Careers Guide and PLT U.S. Green Mentor cohort!), it's also a perfect time to reflect on and celebrate the past year. From launching new PLT materials like Trees & Me and our activity collections, Connecting for Health and Planet and Trillions of Trees, to the continued success of PLT state coordinators and facilitators training over 6,000 educators—we made big impacts in 2022.
Below are the top PLT resources, activities, and environmental education ideas shared over the last year.
Check out some of our newest resources and a few familiar ones that you'll want to bookmark!
A Lifetime of Learning
There is no greater gift than introducing a child, no matter what age, to nature. From early childhood to young adulthood, PLT offers a lifetime of learning opportunities to introduce people to nature.
Whether taking learning outdoors, growing forest literacy, or connecting future green leaders with mentors and career pathway opportunities, PLT helps create the next generation of forest and conservation stewards with proven educational resources that have touched the lives of millions of students for nearly 50 years. As we begin this new year, we're excited to expand our programming to offer career pathways resources for young adults.
Now, more than ever, it's important to support and nurture the next generation of green leaders!
Check out this inspiring new video that shows the meaningful impacts of nature on a young person's life and career pathway.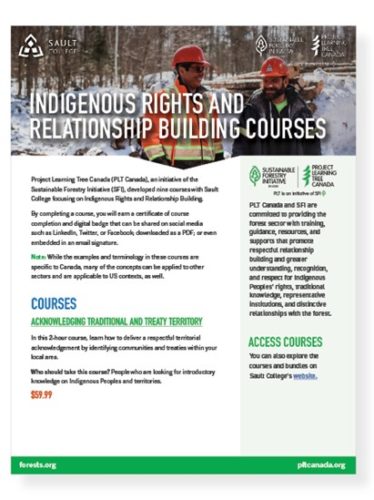 Educator Resources to Advance Indigenous Rights and Relationships
Did you know that Project Learning Tree Canada developed a series of nine Indigenous Rights and Relationship Building online courses in collaboration with Sault College?
These online courses promote respectful relationship building and greater understanding, recognition, and respect for Indigenous Peoples' rights, traditional knowledge, representative institutions, and distinctive relationships with the forest. We've created a special 4-hour bundle for environmental educators who want to enhance their ability to build meaningful forest-focused relationships with Indigenous communities and respectfully co-develop environmental education programs and resources alongside Indigenous communities, educators, and knowledge holders.
Online Game Encourages Youth to Explore Forests & Green Careers
Take your students on a journey with Project Learning Tree Canada's newest educational and career resource, Forest Quest!
This free interactive online experience guides youth ages 14+ through the forest, helping them understand why forests matter, the benefits of sustainable forest management, and the impact of forests on people's lives. Along the way, they'll meet various professionals who provide insights into green career paths.
Whether you are an environmental educator, high school or university faculty, career/guidance counselor, or a mentor, this valuable tool can help students understand the value and benefits of forests and trees. It's also a great way to expose young adults to various green jobs and inspire them to take action on behalf of forests.
Check out the Forest Quest trailer to learn more and have your students get started on their journey today!
Top 2022 Resources & Tips for Educators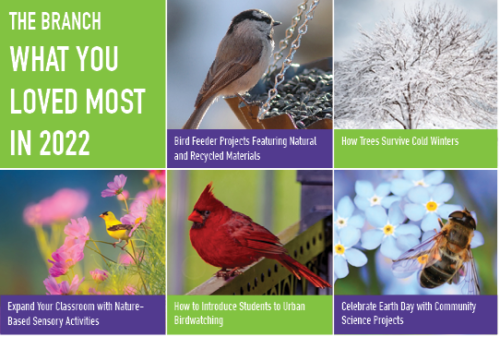 You better be-leaf it! We compiled a list of some of our most-read Educator Tips from The Branch newsletter in 2022.
Bookmark the following activity ideas and let us know what you think in the comments and on social media!