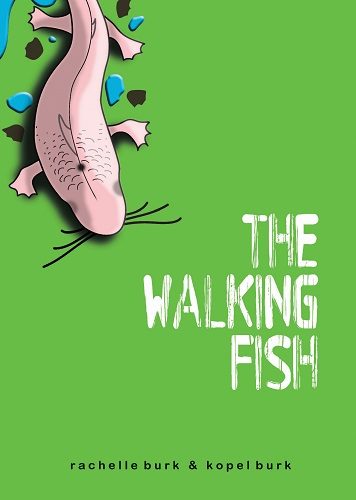 The Walking Fish
Grades 6-8
ISBN-13: 978-0990782933
Tumblehome Learning, Inc., 2015
Recommended Reading
Imagine you are in 7th Grade and plan to spend the summer with your parents at a cabin on the lake. Imagine you pack all your new fishing gear, a gift from Grandpa, only to find out the lake water is classified as uninhabitable. Imagine that you try fishing anyway and suddenly catch an obscure-looking fish in the supposedly fish-less waters.
This is how the story of The Walking Fish begins. Is this find a fluke? So begins a scientific investigation led by two seventh grade friends.
The book's authors, Rachelle Burk and Kopel Burk, have done a great job weaving science into an adventure mystery and the story's lead female character, Alexis, is an inspiration for young women interested in science and field research.
Use The Walking Fish to emphasize many Science and Engineering Practices outlined in the Next Generation Science Standards (NGSS). For example:
Practice #2. Developing and using models.
Develop and use a model to describe the formation of Glacial Lake.
Develop and use a model that explains how the walking fish's organs might allow it to function both in the water and on land.
Practice #7. Engaging in argument from evidence, data, and a model.
What evidence do Alexis and her friends use in trying to find the origin of the walking fish?
What other evidence could Alexis and her friends have used?
Practice #8. Obtaining, evaluating, and communicating information.
How could you build a system that allows people to visit a cave without harming it?
How might you build a tank habitat for the walking fish, and how would its temperature be controlled?
The Walking Fish helps show that science is for everyone. Teachers and other adults might wish to review a copy of Neil Shuban's Your Inner Fish to stimulate their minds in the same vein.
Consider coupling this story with the following PLT activities:
PreK-8 Environmental Education Activity Guide
# 11 – Can It Be Real?
# 12 – Invasive Species
# 47 – Are Vacant Lots Vacant?
# 86 – Our Changing World
# 88 – Life on the Edge
Exploring Environmental Issues: Focus on Forests
# 2 – Story of Succession
# 4 – Tough Choices
# 6 – Forest to Faucet
# 7 – Forest Invaders
Exploring Environmental Issues: Biodiversity
# 1 – Global Invaders
# 2 – Protected Areas: Issues and Analysis