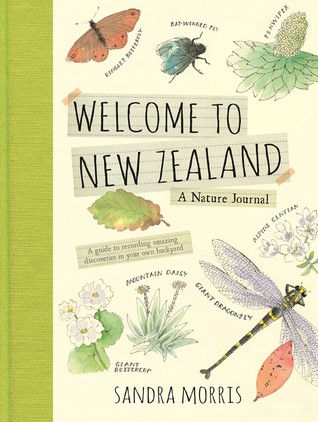 Welcome to New Zealand: A Nature Journal
Grades 3-5
ISBN-13: 978-0763674779
Candlewick, 2015
Recommended Reading
Are you interested in studying cloud formations or moon phases? Urban ecosystems or wetland areas? The forest canopy or tidal pools? No matter your topic of study, Morris' Welcome to New Zealand: A Nature Journal has inspiration for you.  Written by Sandra Morris, teachers can use Morris' 50-pages of simple line drawings and water color images to plan an entire unit of study.
The Next Generation Science Standards (www.nextgenscience.org) emphasize the importance of using phenomena to engage students in learning. Phenomena are natural events that can be first observed and then predicted. A storyline is a coherent sequence of lessons, in which each step is driven by students' questions that arise from their interactions with phenomena. Welcome to New Zealand provides countless opportunities for students to investigate natural phenomena and for teachers to create storylines to support them.
Have a look at page 9 and use the following graphic organizer to identify related phenomena and begin to build a corresponding storyline:
Questions
What questions might students have about the images shown?
Make sure questions ask information about how and why, not just about facts.
Phenomena
What can students observe here that needs to be explained?
How might teachers get students to buy into their questions (above) using these natural phenomena?
Scientific Practices 
What practices and skills can students use to investigate the phenomena?
What practices and skills might they use to explain them?  
Content Knowledge & Application
What will students learn?
How might they apply this knowledge in familiar settings?
What questions or ideas do they have for future investigations?
Couple this journal with further outdoor exploration using the following PLT activities: 
PreK-8 Environmental Education Activity Guide:  
# 21 – Adopt a Tree
# 29 – Rain Reasons
# 61 – The Closer You Look
# 64 – Looking at Leaves
# 65 – Bursting Buds
# 78 – Signs of Fall
# 80 – Nothing Succeeds like Succession