Is there a place you have always wanted to visit where you can run, jump, play, create, ride your bike, watch wildlife, or just sit quietly and daydream? Where is your "happy place"? Maybe it is outside in your own backyard, maybe it is a quiet sit spot on a city rooftop patio, or perhaps it's a wooden bench in a local park or nearby green space. Wherever your special place is, you know it because it makes you happy.
What measurable effects does a visit to your favorite park or green space have on you?  These STEM enhancements for one of PLT's popular activities will take your students outdoors to learn more about a local park or open space near them, and how they might conduct a scientific research experiment to determine the ways in which being outside can improve a person's mood, health and wellness.
These enrichments accompany Activity 54, I'd Like to Visit a Place Where…, found in Project Learning Tree's PreK-8 Environmental Education Activity Guide. Be sure to check out the full activity!

Essential Question: What measurable effects does a visit to a favorite park or green space have on you?
Task: Determine the closest park or green space within walking distance from your home. Measure its proximity and collect data from ten people to determine how they feel when they are outside. Use these data points to design your own park that supports your favorite activities.
NGSS Connections:
3-5-ETS1-1: Engineering Design – Define a simple design problem reflecting a need or a want that includes specified criteria for success and constraints on materials, time, or cost.
MS-ESS3-3: Earth and Human Activity – Apply scientific principles to design a method for monitoring and minimizing a human impact on the environment.
MS-ETS1-3: Engineering Design – Analyze data from tests to determine similarities and differences among several design solutions to identify the best characteristics of each that can be combined into a new solution to better meet the criteria for success
STEM Strategies
Science
Did you know being "in nature" is good for you? Research confirms that humans receive positive health benefits when they can get outdoors and experience nature. Being outside causes people to sleep better, feel happier, and reduce stress. To support this "nature medicine," Outdoors Rx is a program designed to assist pediatric providers in promoting physical activity among patients aged 2-13 and their families by writing prescriptions linked to free, community-based outdoor activities.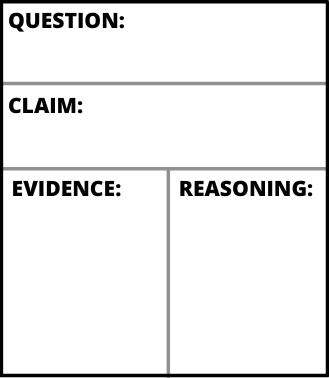 Now it is your turn to be the scientist and conduct an experiment to see if this is true! Use the Claim-Evidence-Reasoning model (pictured here) to organize your experiment.
You can use the content below, or feel free to design your own scientific research experiment.
Question: Does a person's mood change after they have contact with nature?
Claim: A person's level of pleasantness (being friendly and delightful) is ________ when they are outside. Select one of these three words to fill in the blank in the sentence: decreased, not changed, increased). The word "outside" in the sentence can mean they are playing or just sitting. Note: You will complete your final claim after gathering data, which is analyzed to support your reasoning.
Evidence: You must collect data to substantiate your claim. Ask ten people to select the word that best describes how they feel when they are outside or after they have been outside. Consider using a Mood Meter to offer and organize responses.
Reasoning: Determine a method to score your results. Use these results to inform to support your final claim. Be sure to explain your thinking and connect the dots.
Technology
Do you know where your nearest park can be found? The Trust for Public Land has created a cool mapping tool called ParkServe to help you find a green space near you. All you need to do is enter the name of your community and click the search button.
Data displays include the percentage of people within a 10-minute walk of a park. Scroll down until you see the map of your community and zoom in to find your home. First-time users may find a brief tutorial helpful to learn about using the map features.
Next, find the closest park to your residence and use Google Maps – or any mapping software – to map the distance between your home address and the park closest to you. How far away is it? Can you walk or ride a bike to get there? Will travel require a motorized vehicle? Is public transportation an option? If so, locate the nearest bus stop or rail station to your home. Be sure to record the distance provided by the mapping software, as you will use this information later.
Engineering
Imagine you have an opportunity to design your own special place that can include space to run, play, climb, fish, paddle, camp, walk, ride a bike, let a dog run free, rest, and eat. Anything is possible, and you get to decide. Don't forget to include essential service items in your design, such as bathrooms, trash and recycle bins, and parking for cars and bikes!
Now it is time to think. What would you want to offer visitors coming to your new favorite place? Capture your ideas on paper or digital whiteboards like Padlet or Google Jamboard. With your list of ideas, use free software made available by Icograms Designer to actually create your new favorite place. Click on the green "Get Started" button and have fun!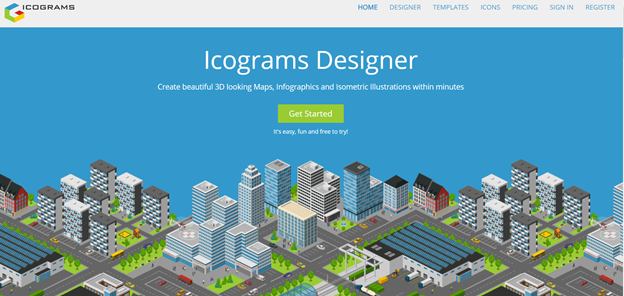 Math
Do you know how far you travel with every step? In other words, what is the distance (in inches, feet, or centimeters) covered by each footfall? Take a guess, and you might be surprised.
To measure how far you travel with each step, first find a clear, flat area. Next, locate a marker. This might be a stick in the ground or a small stone or other object placed on the ground to serve as a starting point. From this marker, use a measuring tape and measure 100 feet in any direction, and place a second marker.
Next, walk the distance between the two markers five times, recording the number of steps you take each time. Be sure to walk at a normal pace and in a straight line from marker to marker. Use the data collection template below to record and calculate the distance covered by each step you take.
Count the number of steps required to walk 100 feet. Trials: Record the number of steps counter per 100 feet for five trials:
1) _______ 2) _______ 3) _______ 4) _______ 5) _______
Calculate the average number of steps to walk 100 feet. Sum the five trails above and divide by five.
Average number of steps per 100 feet:  _______ steps
Calculate the average distance (in feet) you cover for every step you take.

Take the Average Number of steps from above and divide by 100 feet = _________ feet/step
Use this final calculation to determine how many steps are required to walk from your home to the nearest park you located in the Technology section above. All you need to know is the total distance.
Remember, your calculation for every step you take is in feet, and the distance to the nearest park is most likely to be given in miles. The units must be the same. To convert miles into feet using the details below:
Multiply park distance (in miles) x 5,280 (number of feet in one mile)
Try these example problems to test your comprehension:
If it is 2.3 miles from your house to the nearest park, how far from your home is the park in miles?
And if each of your steps covers 1.2 feet, how many steps will it take to walk to the same park?
Answers:
12,144 feet (2.3miles x 5,280 [#feet/mile])
10,120 steps (12,144 [distance to park in feet] divided by 1.2 [feet per step])
Additional Resources
Don't have PLT's PreK-8 Environmental Education Activity Guide?
Purchase a print guide or e-book, available from PLT.org, Amazon and other places where books are sold.
Get it through your PLT State Coordinator along with hands-on professional development, alignments to state standards and other state-specific supporting resources.
Don't consider yourself a formal teacher?
Check out PLT's Nature Activities for Families. We have 40+ nature activities for families that can be easily used by parents, grandparents, youth group leaders, nature centers, and other nonformal programs.