The 11 elementary, middle, and high schools located in the East End of Houston, Texas, serve some of the poorest, most at-risk students in the Houston Independent School District. Like many urban areas, Houston's East End is a "food desert," where fresh, affordable produce is hard to find, while unhealthy foods from convenience stores and fast food restaurants are widely available. The combination of urban pollution and unhealthy foods have led to an epidemic of diabetes, obesity, and associated illnesses in the East End.
Through a youth-led "Green Ambassador" program rooted in the environmental education curriculum of Project Learning Tree (PLT), students from East End schools are aiming to change their neighborhood, the broader Houston community, and the world for the better.
Their goal: to transform their community from a food desert to a food forest that can supply the East End's more than 100,000 residents with fresh, natural foods while also providing nourishment and shelter for wildlife and pollinators.
They're doing it by planting one fruit tree and one community garden at a time, linking their schools and neighborhoods to form a Houston East End Greenbelt.
From Food Desert to Food Forest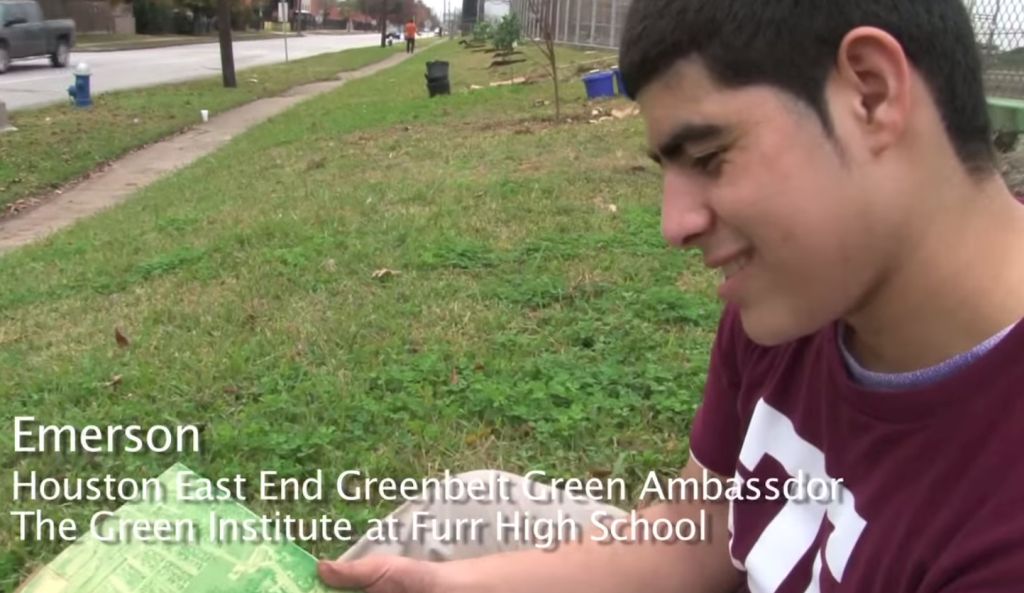 Emerson Hernandez, a student at Furr High School, joined the school's PLT GreenSchools' Green Team in ninth grade. The program sparked a passion to work with his classmates and other participating GreenSchools to transform his Houston community into a thriving green corridor. "Through PLT you're empowering people to take action, to do something for their neighborhood. And while you're doing it, you're learning all kinds of other things—math, social studies, history, science, and writing," says Hernandez.
To date, Hernandez, his classmates, and teachers have planted more than 200 trees all over the East End of Houston, created and tended more than 200 vegetable garden beds in the community, and raised approximately 3,000 pounds of collard greens, sweet potatoes, and other vegetables that have been donated to area food banks.
"Emerson is such a phenomenal young leader," says Tamberly Conway, who serves as Partnerships, Diversity and Inclusion Specialist at the U.S. Forest Service, which partners with PLT GreenSchools in Texas and nationwide. "He can speak to adults and peers alike. He's been an incredible role model, not just for fellow students but also for adults. His passion and love shine through."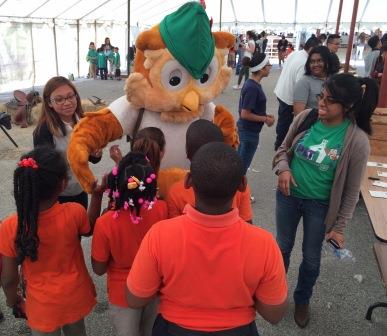 A Network of Schools and Community Partners
Creating the East End Greenbelt is a big undertaking, but with the support of numerous partners,the vision is becoming a reality. In addition to PLT and the U.S. Forest Service, the students' partners include the Latino Legacy program of the Friends of National Forests and Grasslands in Texas, the Fruit Tree Planting Foundation, and the Arbor Day Foundation's "Nature Explore" program.
Two elementary schools, three middle schools, and two high schools are participating in the project. Of these, Lantrip Elementary is an environmental education magnet school and is a natural fit for the PLT curriculum, while the Furr High School's Green Institute is focused on preparing students for careers in renewable energy, energy efficiency, and environmental communications.
The Green Ambassador Model: "Youth Leading Youth"
The high school students serve as stewards, teachers, and mentors to the elementary and middle school students. "Emerson exemplifies the kind of student leadership that the PLT GreenSchools program is trying to promote," Conway notes. "GreenSchools provides students with opportunities that will help them on their pathway to higher education, careers, or simply as conservation leaders. I've seen this program change people's lives."
David Salazar and Juan Elizondo are agriculture instructors at Furr HS. They are both former high school classmates from the East End who returned to their community to teach. "We started noticing that most teachers don't live in the community, so afterschool programs couldn't get going because teachers sometimes live two hours away and need to get home after school," says Salazar. "Our high school students stepped in as Green Ambassadors to fill the need for afterschool programs. The model is of youth leading youth, with students teaching each other how to learn and how to think."
"The fact that this program is entirely youth-led makes it really interesting to other students," says Elizondo.
Green Ambassadors—20 of them have been trained since the program began three years ago—are themselves at-risk high school and college students, who are gaining leadership skills and confidence through their role as teachers and mentors to younger students, and as community and national spokespeople for the PLT GreenSchools! program. These Green Ambassadors are some of the first high school students to obtain professional training and certification through PLT in early childhood and PreK- 8 environmental outdoor education, according to Salazar.
The program has been well received by school administrators. Magdalena Strickland, the Principal at Lantrip Elementary, is thrilled to have the Green Ambassadors come to her school to use PLT, because it makes her school more marketable to students and parents who want to be part of its environment-focused program," Salazar notes.
Environmental Justice
A group of eight Green Ambassadors and their youth and adult leaders were invited to Washington, D.C., to talk about their work at the National Environmental Justice Conference. One of them, Luis Cruz, told conference attendees how being a PLT Green Ambassador had changed his life. 
"I really wanted to quit high school before I joined PLT in my freshman year," explains Cruz, a senior at Furr HS. "I wasn't fluent in English. I had failed five classes. When I first joined the program, and now as a leader, I realize that I had to push through the struggles and challenges. The PLT program has changed my life in so many ways. I have gone from a person who didn't speak or write English very well, to actually designing a curriculum on pollinators and writing grants for other schools. PLT and being a Green Ambassador gave me a chance to prove that I could do things."
Cruz and the other Green Ambassadors understand that what they are doing is critical to the East End community. "Our parents are suffering from diabetes, cancer, and all kinds of illnesses," Cruz notes. "We have all these fast-food restaurants that are the only choice. Fresh foods have to come from far away. We're creating green spaces and encouraging others to create their own gardens and grow their own food." 
The students' work on the East End Greenbelt "is what environmental justice is all about," says his teacher, Juan Elizondo. "Environmental justice requires fair and equal access to fresh natural foods. That's what our Green Ambassadors are trying to achieve."  
Green Program Tips from David Salazar and Juan Elizondo
Choose a facilitator with high energy and passion. If you have that, the students will follow your lead.
Give students the ability to be leaders. Give them responsibility. You have to give them the ownership of their own future. Give them the autonomy to be in charge of this movement and set the stage for their younger peers.
Be resourceful—you can't take something and create it out of nothing. Pull in partners. Bring in everyone and use everyone's energy. Know the resources that are already on the ground.
Be mindful that programs like this take some time to grow, just like a plant. Teachers and the school are the soil, the students are our crop. We need to provide all the nutrients for the plant to grow and be healthy and strong. 
Encourage administrators to be committed, engaged and patient. They'll see a lot of great things happen, but they won't happen immediately. Over time they will see the results they're looking for.
Student Videos
Hear from the students and teachers who transformed the food desert into a food forest.
– "Fruits of the Houston East End Greenbelt" 
– Furr HS and U.S. Fish and Wildlife Service, "Lockwood Nature Garden"