"No Excuses, Just Solutions!" is the motto of McKinley Technology High School in Washington, DC, the highly competitive science, technology, engineering, and math (STEM) hub school of the D.C. Public School System. 
Student Innovations Address Real-World Environmental Challenges
The solutions-oriented culture of the school provides an ideal setting to address environmental challenges using PLT's GreenSchools Investigations.  From gardens, to biotechnology, to business development, the school's Green Team has fostered the seeds of innovation at the school.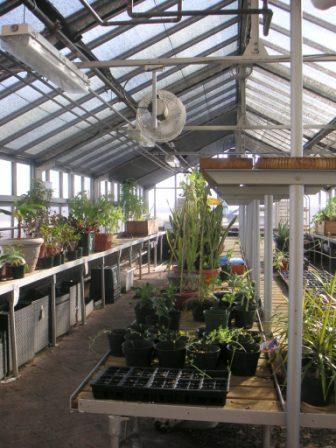 When McKinley Tech, built in 1912, underwent a complete renovation between 2002 and 2004, a large greenhouse was added to the updated school. There was just one problem: the greenhouse was unusable during much of the year because of Washington's notoriously hot weather, which can begin in late spring and last into early autumn. The hot sun, focused through the greenhouse's glass, spelled certain death for the plants inside, so the greenhouse remained unused for many years.
Thanks to the vision of former teacher and Green Team leader Dr. Joseph Isaac and creative Green Team members, McKinley Tech applied for and received a $60,000 grant from the U.S. Department of Energy to install a temperature control system in the structure, which is located on one of the school's upper floors just outside the plant biotechnology classroom.
A PLT GreenSchools service-learning grant provided the funding needed for senior engineering students at McKinley Tech to design a remote watering and misting system for the greenhouse to water plants on weekends and during school vacations. The school's Information Technology students programmed and connected the system.
Sharing the Fruits of Their Labor
Students use the climate-controlled greenhouse as a laboratory for biotechnology experiments, and as a place to raise seedlings to supply a growing number of PLT GreenSchools gardens sprouting in schoolyards across Washington, D.C. 
With the help of chef and Certified Master Gardener Mark Haskell, McKinley Tech students grew 12,000 vegetable seedlings to supply gardens at three other PLT GreenSchools in Washington. Each school has outdoor gardens that not only supply healthy, pesticide-free produce for students and their families, but also provide abundant learning opportunities.
Students studying the business models used to develop new biotechnology products for the marketplace have used the McKinley Tech greenhouse to grow experimental plants. "They've taken lab skills that they have learned, and applied them to real-world projects," said Dr. Isaac.
Student-Led Initiatives
McKinley Tech students have also used PLT's GreenSchools program to conduct investigations of their school's campus, water, and energy use. For example, students used their findings from PLT's Energy Investigation to devise experiments comparing plant growth using different types and levels of indoor lighting with that of plants grown in natural light, and to compare growth of plants in the school's indoor and outdoor gardens. PLT's School Site Investigation led to a student-devised plan to plant trees and other vegetation to make McKinley Tech's urban campus greener.
In all that they do, the students at McKinley Tech are committed to finding innovative solutions to address real-world challenges—and their skill sets and STEM literacy will pay off in the future for job opportunities and choice of careers.  No wonder this urban public school, a Title 1 Magnet school, continues to be recognized on the national stage for its use of STEM and hands-on, project-based approaches to learning to lower the achievement gap between low-income and high-income students.
Photos courtesy of Kathy Westra.