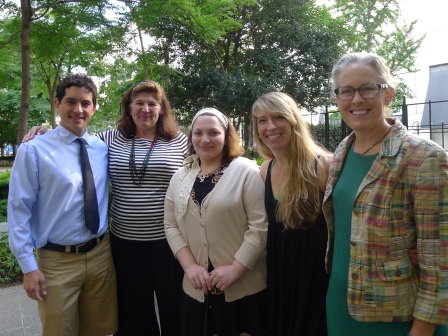 The Greene School has a final "e" in the name because of its location near the village of Greene, Rhode Island (named for colonial leader Nathanial Greene). But the fact is that the independent charter high school is not only Greene, it's also….green.
A registered PLT GreenSchool, Greene was designated a Green Ribbon School by the U.S. Department of Education. (In 2014 alone, nine schools and one school district registered as PLT GreenSchools were so honored.)
When they visited Washington, DC, to accept the award, five members of the Greene community sat down with PLT to talk about their school and some of its ideas that might apply elsewhere.  They included Amy Pratt, founder and board president; Head of School Deanna Duncan; science teachers Brendan Haggerty and Lara Haggerty; and student Katie Smith.
The 170-student school is affiliated with Expeditionary Learning, which emphasizes active, collaborative education. In keeping with the school's mission statement to "explore the interdependence of human and natural systems," Greene students are often outdoors, and an opportunity to share or present what they have learned is an important part of every course.
"I was skeptical at first," admitted Smith, now in her senior year. "But Greene has put me in a better place with my future, career paths, and understanding my connection to the world."
A Focus on Sustainability and Community
The Greene School has developed many innovative ways to meet state standards, including the following.
Field Work: "We are always looking for ways to tap into local experts and get out into the community," said Brendan Haggerty. For example, students visited locations related to fishing and other New England industries and created a digital museum based on their research.

Duncan stressed, "We call it field work, not field trips," as students are learning in everything they do outside the school building. Even during a subway ride in New York City, she noted, 11th graders recorded observations and collected data.
Real-World Issues: Energy, civil rights, and waste are just a few of the issues that students study in science, social studies, literature, and other classes throughout their four years. "In ninth grade, students are doing energy audits of the [school] building to make it more green," Lara Haggerty cited as an example. She also noted Expeditionary Learning can be multidisciplinary. "We study war and identity in biology," she said.
Crew: Crews of 10 to 15 students participate together in service projects, fitness activities, post-secondary planning, and other activities, based on the concept that they are "crew members" and not just "passengers" at the school.
Wilderness and One-Week Intensives: The calendar is set up for several immersion experiences. In the fall, students go on a several-day wilderness trip; in the higher grades, they have increasing responsibility for the trip's planning and leadership. In addition, two one-week "intensives" are structured in which students delve into a topic or get more concentrated support in academic or personal management skills. 
Going for Green
Last year, the board of directors asked the school staff to apply for Green Ribbon status. "We were in the midst of our charter renewal process, which is pretty extensive, so I was a little reluctant," admitted Duncan. When she talked with Brendan Haggerty about it, he suggested students draft the application as a one-week intensive.
Students formed teams to compile and draft information that related to Green Ribbon's three pillars: reduced environmental impact and costs; improved health and wellness; and effective environmental and sustainability education. "It was near the beginning of the school year and we didn't know each other very well," said Smith, a member of the group. "But we helped each other a lot. We made phone calls ourselves, like grown-ups. We asked each other when we were stuck before we asked the teacher. 
"The award was great, but we also learned a lot about what we could do for the school," she added. 
Tips from the Greene Community 
Not every school can have the flexibility that characterizes The Greene School. However, here are a few ideas of how to take some of their ideas to a different school environment:
From teachers Lara Haggerty and Brendan Haggerty:
Every community, large or small, has some problem to solve. Start looking local to develop case studies.
There's always the obstacle of not enough time. But the return on investment of spending the time to find local experts is worth it.
From Head of School Deanna Duncan:
Make the work relevant to push kids to do high-quality work. They have to learn not just to hand something in, but to re-do and revise if they need to. 
From Board of Directors President Amy Pratt:
Students are part of the community. We can help them and they can help us. We have to work with them early, not tuck them away into a school building.
From student Katie Smith:
The Greene School is a lot about working together. Students learn we have a strong voice and can make a difference.