At Columbiana High School in Ohio, Kathryn Kromer's special-needs class works together, learns together, and recognizes the differing skills of each student.
For the past two years, students have volunteered each spring and fall at Goodness Grows, a church-founded, sustainable agriculture non-profit in North Lima. Goodness Grows facilitates educational workshops, produces organic vegetables, supports urban gardens, and hosts student and civic groups.
In 2010, the students learned about the importance of blossoms, native species, and pollination. They sampled fresh produce and learned about the edible parts of plants using PLT Activity 71 "Pass the Plants, Please." This sparked their interest, and laid the foundation to complete their own garden project.
One year later, ten students and three teachers took on the creation of a pollinator garden on the Goodness Grows site. They designed and built the Bloomin' Butterfly Garden with $700 from a PLT GreenWorks! grant, community support, and tools provided by Goodness Grows.
Gardening Builds Character and Skills
Planning and tending a garden is an avenue for all students to build character and gain skills. It allows special needs students have the opportunity to expand their capabilities in a collaborative, hands-on setting.
The Columbiana class splits into three groups and works on tasks most appropriate to their abilities. Over the past two years, these students have improved speech patterns and dexterity.
Once a week they help plant onions, peas, potatoes, turnips, lettuce, carrots, calendula, and day lilies. They water, compost, mulch, and weed. They help harvest vegetables and save seeds.
Creating the pollinator garden was a great way to connect classroom learning to the natural world, and to experience direct outcomes. They researched plants such as parsley and holly hocks that provide food for caterpillars. Nectar and pollen plants to suit local butterflies were chosen and planted as well. Not only did the garden grow and blossom, so did the students' plant and butterfly knowledge.
Success On Many Levels
Our GreenWorks! project was successful on many levels. Not only did students gain research, planning, gardening, botany, and collaboration skills, but local groups and volunteers formed new relationships.
An unattractive mound was turned into a beautiful oasis for pollinators, and many people were inspired to see caterpillars, butterflies and bees in the area.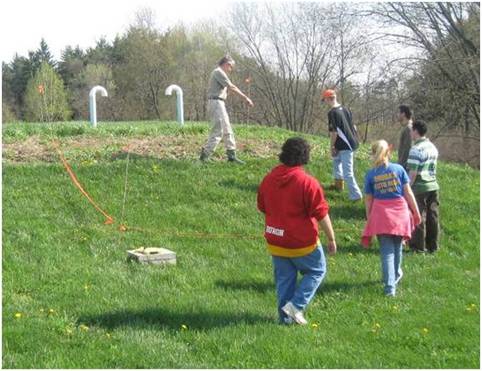 Before: Students and Goodness Grows Director measure the area
After: Dustin and Tori in the Bloomin' Butterfly Garden
Students began planning the project with PLT Activity 96 "Improve Your Place." Each student researched the nectar and feed preferences of a local pollinator. It enhanced their learning to know that the plants they researched would be the ones they would later plant and tend. Students were anxious to see the pollinators they had learned so much about.
The students took part in many aspects of the process, including:
Starting the seeds
Transplanting the seedlings
Drawing the garden designs (they decided on a butterfly-shaped garden)
Removing the sod
Adding compost
Sowing seeds according to the layout
Creating stepping stones for a path in the garden
Their creativity, leadership and learning are evident in the garden. They gained knowledge, skills and a sense of accomplishment for leading their project to completion.
Dan and Keegan mix and pour concrete into molds to create stepping stones while Rebekah and Tori decorate them.
Engaging Local Community Groups
As with any school garden or community project, success comes as a result of advance planning, having enough resources and a dedicated group of people with a long-term interest in the project. We found it helpful to have a project leader, schedule weekly work time, and enlist local naturalists to help.
We were fortunate to have the following local community organizations support our project:
A local bee keeper spoke about native bees during one of the nine weeks the students were at Goodness Grows.
A member of the Youngstown Men's Garden Club helped determine the space and moisture requirements for each plant.
A speaker at a local Audubon Society meeting provided a pamphlet that listed our area's local butterflies.
Community volunteers and church members worked alongside the students to encourage and help them complete the project.
Helpful Tips
Create a plan
To plan a garden project that will be enjoyable and rewarding, calculate the time, tools, materials, and funds you will need to create and maintain it over the long-term.
Set a schedule
Goodness Grows' staff, the students, teachers and volunteers worked on the garden every Tuesday for nine weeks. The students, with support from teachers and volunteers, conducted research in the classroom and worked hard during on-site workdays. We allowed for three weeks of planning time before breaking ground, and we took three weeks after school ended to add the finishing touches. Over the summer, other volunteers installed a sign, pulled weeds, mulched and dead-headed plants.
Learn from local experts
It was very helpful that local naturalists gave their knowledge and time, plant starts and seeds to the Bloomin' Butterfly Garden. They helped recommend plants that would not spread or takeover, such as tropical milkweed (Asclepias curassavica), false nettle seed (Boehmeria cylindrical), and "Lo and Behold Blue Chip" butterfly bush (Buddleia spp.)
Use the garden as an ongoing educational tool for students and the community
Our garden acts as a live lab for environmental education and horticulture programs. The double-sided sign features the butterfly's lifecycle and food needs. Markers identify the diverse mix of annuals (zinnia, sunflower and hollyhock), perennials (cardinal flower, purple coneflower, butterfly bush, milkweed, and bee balm) and herbs (parsley, yarrow, and thyme).
The students and volunteers continue to care for the garden when they return to Goodness Grows each week in the fall. Recently they were excited to host a local garden club interested in seeing what a special-needs class and a church gardening ministry could accomplish together.
Our beautiful pollinator garden continues to show the students rewards of participating in the yearly cycle of life. It is vibrant, educational, and maintained thanks to the commitment of dedicated students, teachers and community members working together.