The Matanuska Susitna Borough in Alaska, where Wasilla is located, is the fastest growing region in the state with a population increase of 50% in the last ten years. This growth has impacted the Little Susitna River, which has one of the largest salmon runs in the area but is currently under consideration for "threatened" status by the EPA.
Mike Shea and I are seventh-grade teachers at Teeland Middle School and we direct the "River Rangers" program. Its goals are to provide students meaningful science instruction, along with opportunities to conduct and share scientific research, and join with their community in hands-on service-learning projects that help preserve local salmon streams.
The GreenWorks process
Several years ago, I applied for and received a GreenWorks! grant from Project Learning Tree.  The funding enabled over 200 students to participate in five full-day watershed investigations during the school year and implement a stream restoration project.  Students were accompanied by numerous teachers, parents, Wasilla Soil and Water Conservation District staff, and other natural resource agency personnel.  
Initially, students studied stream ecology in a classroom setting.  In late August through mid-September, they visited different stream sites to establish baseline data and monitor water quality by:
sampling macroinvertebrate populations as bio-indicators of stream health
monitoring water temperature (currently a major concern)
measuring the stream flow in cubic meters/second at each site, determining the potential impact on water quality and riparian habitat
assessing pH, dissolved oxygen, and turbidity levels, linking these to natural and man-made factors.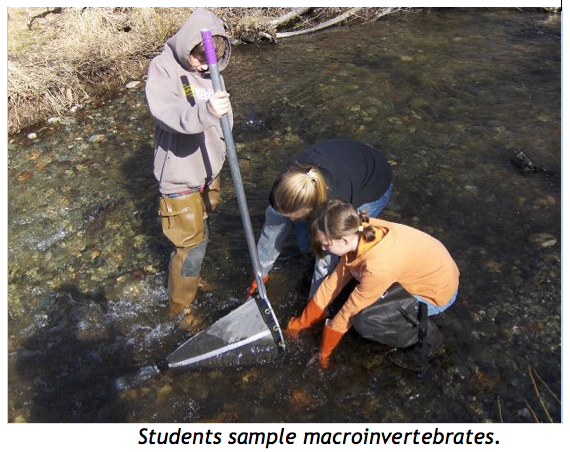 Students returned to the stream sites in the spring to gather additional data and posted their findings to an online database organized by the University of Alaska. We then identified one site to implement a streamside restoration project, a popular "party spot" on the Little Susitna River.  It's noted for its garbage and eroding stream banks caused by vehicles being driven too close, or even across the river.
In late May, students implemented the stream restoration project over a period of several days.  They collected several truckloads of garbage, filled vehicle ruts, and installed protective matting to prevent erosion from pedestrian traffic.  They hauled topsoil, planted willow shoots and other stabilizing vegetation to anchor the soil, and moved in large logs to discourage further abuse of the site.  In preparation for the revegetation project, our students had harvested dormant willow cuttings at the Alaska Plant Materials Center.  Wasilla Soil and Water Conservation District helped with many of the logistics, such as procuring the necessary permits for the revegetation effort, and leading groups of students in streamside work. 
During the school year, we logged over 1,000 student field days—keystone educational experiences—thanks to the Project Learning Tree GreenWorks! grant. 
Students performed better on tests after participating
We used a short test to give us a glimpse of student learning.  Students were given the test at the beginning of the year, and then again at the end of the year.  Fifty-nine percent of students showed a 40% or more increase in their score, and 92% of students showed an increase in their score of 10% or more.
Student scores on the annual Alaska Standards-Based Assessment indicate significant growth.  The River Rangers Program is integral to our 7th grade instructional model, and we believe it enhances student interest and performance in all subject areas.  For example, 80% of 7th graders were "proficient" in math, an increase of 9% from their previous 6th grade year. 
Student reflections show a change in attitude and perspective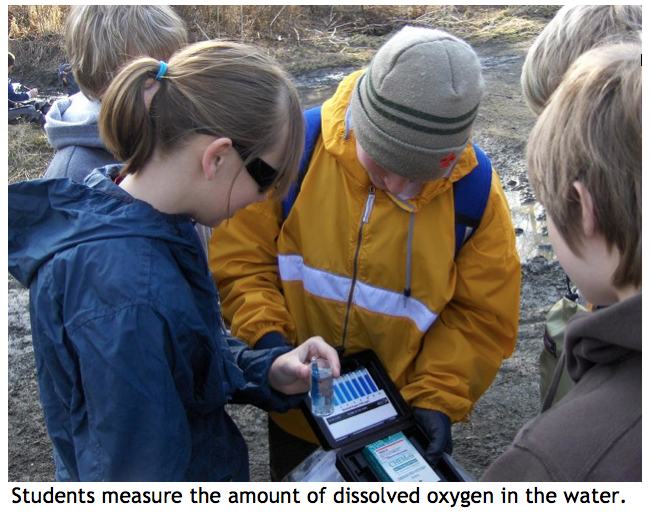 Students were also assessed in the field using journals.  Students' written reflections at the end of the project provide a clear picture of the learning that took place, not only in knowledge of specific content, but also in change of attitude and perspective.  The student journal entries below clearly illustrate this: 
"Some people will trash a river and everything.  To be honest, I was one of those people, until this year.  Because now I know how much effort is put into revegetating all the areas. Now I think twice." –Cory H.
"I feel differently about the riparian zone……so I probably won't ride four-wheelers in it anymore." –Grant G.
"After learning about stream ecology, I see the stream and riparian zone as more than just flowing water and some plants.  I see them as something precious and important." –Stephanie M.
 "I think that what we are doing is making a huge difference in the health of our streams, and it has been an experience of a lifetime." –Kelsey H.
Plans for the future
We hope to continue to improve science content knowledge and process skills among our students through the Teeland Middle School River Rangers Program.  Equally important are our goals to increase students' enthusiasm for science, their interest in pursuing science higher education coursework and careers, and their appreciation of local salmon stream habitat as a resource that should remain intact for future generations.