It's summertime and the garden-growing is easy—well, sort of. Planting seeds and seedlings in the spring took a lot of effort, but watering and weeding are part of the summer's reality.
PLT's GreenWorks! program has provided thousands of dollars in grants for gardening projects over the years. Tied to a range of PLT activities, gardens provide hands-on opportunities to learn science, math, and other subjects, while also strengthening collaboration, leadership, and responsibility. Check out what these four schools discovered in creating their GreenWorks!-supported gardens during the 2017-2018 grant year.
Giving Garden at Golden Bridges School
Several "generations" of second-graders at Golden Bridges School in San Francisco took on transforming a piece of overgrown, compacted land on the school grounds into a productive vegetable garden. They designed, prepared, planted, and tended what they called a Giving Garden, with fresh greens, herbs, and root vegetables that they then donated to the Excelsior Community Food Pantry. "One of the most successful aspects of our project was collaboration," said teacher Jenna Frank.
The second-grade students not only organized themselves, but they also took the lead in involving first and third graders, parents, and even local high school students in helping to weed and mulch.
"This service-learning project enhanced student learning by fusing language arts, math, and science content into a real-world and practical context," Frank said. They read about other famous people who helped humanity, studied life cycles and adaptations, and calculated how to fit the plants in the space available.
Frank used PLT activities Have Seeds, Will Travel (43), Tale of the Sun (16), and Soil Stories (70). "Soil Stories was a favorite activity, as students were able to engage all of their senses during the soil investigation," Frank recounted. "Their curiosity was piqued by smelling, feeling, and looking at different soil from around the garden."
Frank made these suggestions for other teachers:
Have support from your school's administration and class teachers.
Partner with a local food pantry that is flexible with the food they accept so the produce will be used. Ideally, the pantry would welcome volunteers of any age.
Develop a timeline with wiggle room for weather and other variables. Produce that allows for continual harvesting, such as greens and herbs, can help with flexibility.
Invite students from other grades or schools to provide more opportunities for collaboration and sharing.
Have a maintenance plan that includes weekends and school vacations.
Gone Green at Joan MacQueen Middle School
Students in two MakerSpace gardening classes at Joan MacQueen Middle School in Alpine, California, conducted PLT GreenSchools investigations. They then applied for a GreenWorks! grant to take action based on their findings.
According to educator Jane Smith, the investigations led students to recognize the need for reducing campus waste and replanting the beds in front of the school with drought-tolerant native plants. Using these findings, they conducted a campus-wide educational campaign and constructed composting bins to reduce waste from lunches and snacks, which was then used to improve the soil and support a Native Plant and Pollinator's Garden.
A student committee met with local ethnobotanists, as well as community and student tribal members, to learn about and select native plants. Sunflowers were grown and their seeds harvested to make snacks. After the garden was established, the students created walking tour signs and invited the community to a campus celebration for National Get Outdoors Day. 
"We also opened lines of communication with our district's maintenance team about the needs of native plants," said Smith. "Our advice is to truly plan for sustainability by having multiple layers of involvement by staff, students, parents, and community members. With changes in staffing, it's key to have as much school-wide involvement as possible."
One Wednesday at a Time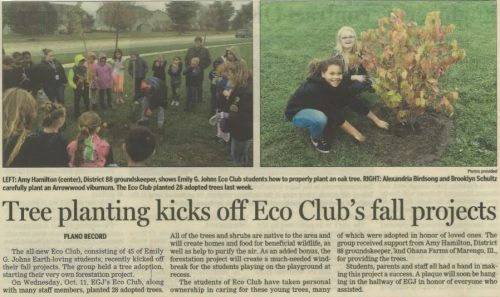 The Eco Club at Emily G. Johns Intermediate School in Plano, Illinois, has a saying that guides their extracurricular efforts: "Saving the World—One Wednesday at a Time!"
Their after-school gardening project had two parts: planting native trees to create a windbreak and an organic raised-bed garden. Students and staff adopted the 28 trees in honor or memory of loved ones, which defrayed the costs and built more involvement in the project. Club members had to plant and tend the trees, which were challenging to establish.
The Eco Club is at capacity with 45 members. Teachers Shannon Stang and Sarah Diamond Haynes welcomed the interest but admitted, "the most challenging aspect of the project was having such a large group. So many helping hands can be an advantage, but it is a real feat to get them all to work together and be productive."
The students had to take responsibility for the trees. They came up with a creative solution. Each of them brought in an empty gallon milk jug, which they kept in their locker. Every day at recess, they would fill their jugs in the bathroom and water their trees. Trees that needed more water had several students assigned to them. "We didn't lose one tree!" Stang said. "These are expensive native trees and they are thriving." Once daily watering was no longer necessary, students used their jugs to make bird houses.
Stang and fellow Eco Club advisor Sarah Diamond Haynes drew from the PLT activity Trees as Habitats (22) to give students a better understanding of how trees provide habitats for animals and insects. "Our suggestion would be to start small and add each year," Haynes said. "Find something you need but don't have the budget for. Then reach out to community businesses, who are often willing to discount or help you for free."
Sweet Sensations: Sensory Garden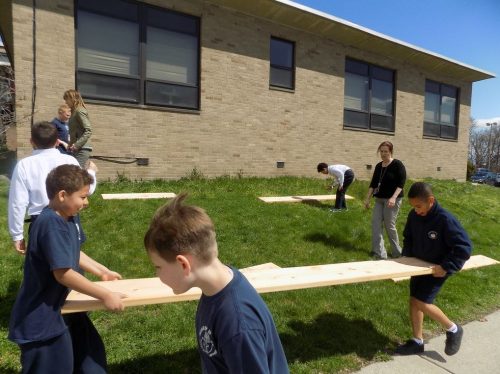 Bishop Dunn Memorial School, on the campus of Mount Saint Mary College (MSMC) in Newburgh, New York, takes advantage of college faculty and teacher candidates, or preservice teachers, to enrich student experiences. A garden project that began with fourth-graders and the Sigma Tau chapter of Kappa Delta Pi, the international honor society, eventually involved many more students, both pre-K and college.
The fourth-grade students researched and planted a sensory garden and built bird houses that demonstrated relationships using all five senses. They also researched issues related to climate and the impact of climate change on the local environment. "What started as a small project soon became a schoolwide initiative that enabled every student, pre-K to grade 8, to participate," said MSMC faculty member Ludmila Smirnova. "As the project grew, so did the involvement of faculty from other divisions of the college, such as math and science, and members of the surrounding community.
Teacher candidates wrote blogs on designing and teaching sensory garden lessons and illustrated their professional growth through implementation of the project. Parents and community members have also supported the project. "What began as a Sensory Garden has grown to include an enclosed outdoor classroom, a meditation sitting area, a themed rock garden, a bird haven, and a math trail," Smirnova said.
MSMC teacher candidates developed their skills as science teachers as they worked during the day with fourth-grade students and in after-school programs with children of all ages. Two college students received funding from the college's Student Undergraduate Research Experience program to create a math trail in the garden. The honor society members made a presentation at a national Kappa Delta Pi convocation in Indianapolis, to create similar projects in other places.
Bishop Dunn has the advantage of its location on a college campus, Smirnova pointed out. But other schools can explore connections with local colleges or universities, especially schools with which they have a relationship through student-teaching, alumni connections, or other endeavors.
MSMC students participated in PLT professional development and used these PLT activities with students:
Nature's Recyclers (24)
Air Plants (28)
Pollution Search (36)
Reduce, Reuse, Recycle (37)
How Plants Grow (41)
Have Seeds, Will Travel (43)
Water Wonders (44)
Invasive Species (12)
Learn more about PLT's GreenSchools program and discover how PLT's GreenSchools Investigations connect with ED-GRS's three Pillars that the U.S. Department of Education uses to define a green school.