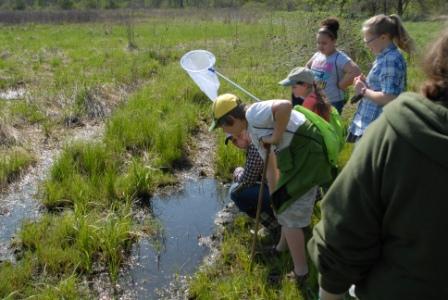 The dragonflies zipped around us and the indigo buntings sang as we hiked back to the prairie at Estel Wenrick Wetlands Nature Preserve in Springfield, Ohio, to prepare to install the bat houses.
The kids were excited to see their hard work come to fruition. Previously, nine kids had spent two summer mornings building and painting bat houses in the park's old barn. 
On this July morning, I could not keep up with the kids as they ran to the bat house location, constantly looking at everything along the way. U.S. Fish and Wildlife Biologist, Donnie Knight, Jr., and our Operations Manager, Chris Crowley, had each pair of kids help attach the houses to the posts.
When we put up that first post and two houses, the kids couldn't believe how high it was and that they were the ones that had built those houses. They were ready for the first big brown bat to take up residence. I had to explain to them that it would be a while! Two of the local newspapers were there to cover the story which meant even more to them. 
Grant helps fund youth outdoors education 
A PLT GreenWorks! grant helped launch this after-school outdoors educational program in April in Clark County, Ohio for children 7 to 12 years old. Children are learning about biodiversity and the ecology of their local wetland and prairie, and they installed nesting boxes for bats, kestrels and wood ducks. We use several PLT activities, such as "Planet Diversity", "Charting Diversity", "Invasive Species", "Adopt a Tree", "Trees as Habitats", and "Birds and Worms" to teach children about species diversity and adaptations.
"I learned bats like to live in groups," said Trevor, age nine. "We learned the bat houses needed to be by the water. The bat houses have several layers so they can be together. The bat houses are painted for warmth."
Once that first post went in, Donnie and I took the kids around the prairie to look at the variety of plants that grew there. We spotted pearl crescent and wood nymph butterflies, and waxwings and barn swallows. One kid in particular hoped to catch a glimpse of the beaver that lives in the creek. And as with each time at the prairie, the red-winged blackbirds were there to "serenade" us. 
More learning opportunities in the wetlands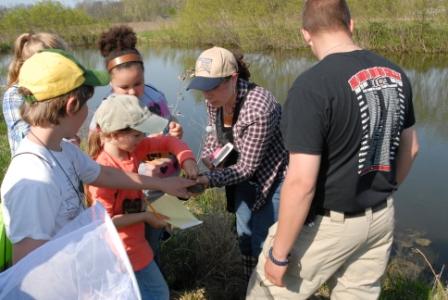 Since that day, the kids also helped install wood duck boxes at the wetlands and along Spangler Creek at the edge of the preserve, thanks to donations from the U.S. Fish and Wildlife Service and the Ohio Department of Natural Resources. A wood duck even showed up to check out the new habitat. 
The kids have hiked in the wetlands, spotting a Cooper's hawk and blue-gray gnatcatcher. They've walked the prairie and discovered crayfish abodes, a great blue heron rookery and snakes hiding in the grass. They also had the opportunity to explore our deciduous forest and lake where they learned about the Louisiana water thrush and saw a painted turtle getting ready to lay eggs. 
They went on a frog night hike, led by a Wittenberg University professor, and learned all about frog sounds and behavior. They also helped another professor weigh and measure a box turtle for a five-year study being conducted in the park. 
"I really liked Frog Night," said Sarah. "We played games to learn what different frogs sound like before we hiked. I also liked learning about the different plants like the rattle snake master, Virginia creeper, and all the other kinds. It was also fun to hike in the prairie, see a beaver dam, and also see lots of snakes! The whole experience has been a blast!"
Getting children back into the outdoors
Each time I saw the kids get excited about some new discovery, it confirmed how important it is for kids to get outside; to explore what is in their own "backyards." The one thing I learned from the kids is that they don't need to be guided on what to look for. Just stand back and let it happen. When they are outdoors and unplugged they can appreciate all that nature has to offer. Then they will also want to protect it. 
The Wetland Warriors kids have come to mean a lot to us. The Clark County Park District will continue this program into the next year with the hopes of attracting even more kids. We would like to put bluebird boxes up in the park, go for a nature bike ride on one of our trails, and continue to hike and explore our wetlands and prairie.
Want to implement a similar project? Apply for a PLT GreenWorks! grant to fund a service-learning project at your school or in your community.