Every year Project Learning Tree® (PLT) awards GreenWorks! grants to schools and organizations for environmental service-learning projects. The annual deadline to apply for a grant is September 30, and students have the following year to complete their project. In 2016, PLT awarded 20 grants, up to $1000 each, to help preschool through high school students design and implement a variety of projects in communities across the country. Students in 16 states took their lessons from the classroom into the great outdoors to apply what they learned and better the natural world around them.
Read about some of the outstanding school garden projects completed last year:
Pollination in Progress – 3rd and 4th Graders Green their Campus by Creating Pollinator Gardens
Asheville, North Carolina
Asheville GreenWorks! and Glen Arden Elementary School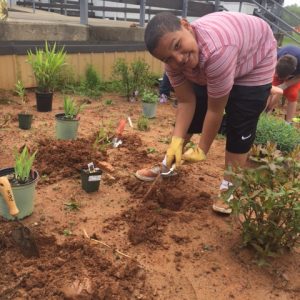 In Asheville, North Carolina, grade 3 and 4 students in the "Eco Readers" club at Glen Arden Elementary School teamed up with Asheville GreenWorks, a local nonprofit environmental organization, to green their school campus and build a pollinator garden. Students organized, designed, and planted the garden while learning about the importance of native plants and pollinators. What was once a grassy, monoculture space, is now a thriving pollinator habitat being used as a learning space by the entire school.
To complement the project, Asheville GreenWorks developed a pollinator education kit to support outdoor learning projects that is now being shared widely with other schools in the area.
The project also helped to support the Bee City Asheville program, an affiliate of Bee City USA.
Dent Middle School students use their skills to solve flood water issues
Columbia, South Carolina
Dent Middle School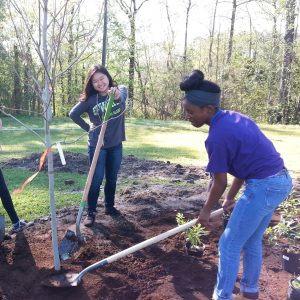 7th grade students at Dent Middle School in Columbia, South Carolina took on a noble cause – building rain gardens to mitigate the effects of water pouring through 75 storm drains on campus and then into a neighboring lake. In 2015, a severe flood ravaged the area around the school. A dam located nearby failed and flood waters destroyed homes and businesses throughout the watershed.
Two rain gardens, totaling 500 square feet were completed. Students were required to study geography, soil types, and native plant species, to ensure that their garden would be effective. The students were not afraid to get their hands dirty! Based on their research of what soil types would be best, students had to dig and haul bags of soil additives to the area.
 "Thank you for organizing this event. It is great that you are helping the lakes with rain gardens." – Peter Chesney – Homeowner/Carys Lake
K-8 students take their learning outdoors by building outdoor classroom
Los Olivos, California
Los Olivos Elementary School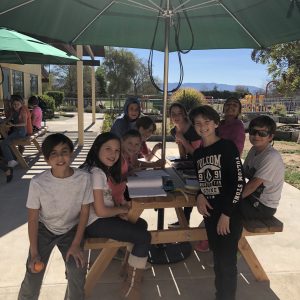 In Los Olivos, California, where the sun is often shining, students built an outdoor classroom to make the most of the weather and get into the great outdoors. Two picnic tables with benches and umbrellas were constructed to give students a space to work on projects outdoors.
In addition to the outdoor learning space, a 3-chamber compost system was also built to teach students about decomposition and the disposal of waste. The addition of the compost bin inspired some 1st and 5th grade classes to work collaboratively to create posters to teach other students about zero-waste lunches. And some students have now become lunch-time compost monitors, encouraging other children to identify what parts of their lunch can be composted!
"In a Garden of Friends…Learning Grows" – Preschool to Grade 6 students build a greenhouse and garden beds for their school and community
Ammon, Idaho
Snake River Montessori School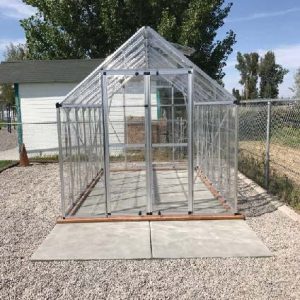 Preschool to grade 6 students at Snake River Montessori School in Ammon, Idaho, came together to expand their outdoor learning environment and build a greenhouse and raised garden beds. The Upper Elementary students (grades 4-6) proposed the additions to help make learning about botany a more hands-on and fun experience for younger students. Students at the school will now be able to experience planting and the growth cycle from a first-hand perspective, and learn the responsibility it takes to ensure plants are kept healthy.
The school partnered with the local Boy Scouts troop who worked with the students to plan and build the greenhouse and garden beds.The students plan to donate some of the fresh fruit and vegetables that will be grown to local shelters to help others in need.
"We have wanted a greenhouse for a long time to really experience a full growth cycle, no matter what the weather, with the students, and now with this grant, WE CAN!" – Barbara Turner, Primary Teacher