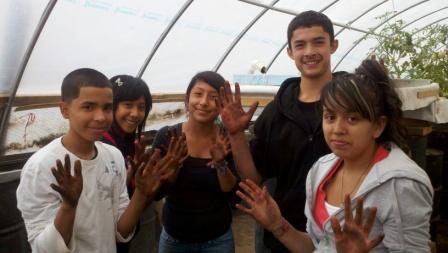 Back in 1971, the late social activist Rodolfo "Corky" Gonzales, saw that the Denver, Colorado, public school system was not responding very well to the needs of Latino children. Corky, who was a visionary leader in Denver's Latino community, started our community school, Escuela Tlatelolco Centro de Estudios, based on the principles of educational/social justice and diversity that he believed in. As a PLT GreenSchool, we incorporate those principles into every part of the PLT curriculum.
As a teacher, I really like the PLT GreenSchools curriculum. With some planning and preparation—and awareness of the special needs of my Latino students—I have been able to adapt the investigations to reflect the cultural history and linguistic diversity of our school's students, while remaining true to Corky Gonzalez' vision.
Escuela Tlatelolco's "Four Educational Cornerstones" are very closely aligned with the work my students do in the PLT GreenSchools program. For example, our students must be able "to utilize critical and creative thinking," and to "recognize, query and analyze [the] environment from the most immediate to the most remote." We also want our students to work to actively improve the community's health and well-being. The PLT GreenSchools Investigations are well suited to help achieve these bigger goals.
Action and Results
When we first started with PLT GreenSchools, we did the Energy Investigation. Students were sleuths who inventoried our energy use. As a result of their findings—and with the help of a PLT grant provided through funding from Learn & Serve America, a program of the Corporation for National and Community Service—we started using energy-saving light bulbs, turning computers off at night before we left, and using low-flow faucets and toilets in our school bathrooms. We cut back on the number of microwave ovens available to our students. We used to have several; now we don't have any. We also recycle on a regular basis.
Right now, gardening is Escuela's major focus, which is pretty remarkable since our school is completely landlocked in asphalt. We have aligned our curriculum this year around PLT lessons. Luckily, we can use Denver's Urban Farm as our outdoor learning environment. Once a week, my students work at the farm where they raise tilapia fish and a variety of vegetables and herbs. Most of their science curriculum is integrated into what they do there.
The kids do a wide variety of projects geared toward understanding the sustainable food movement. As an example, an aquaponics system houses the farmed tilapia fish, and the water in which the fish swim is filtered through plants to provide the nutrients the plants need to grow, the plants filter the water and it returns back to the fish tank clean. In a few months, we can grow and harvest lettuce, herbs, tomatoes, peppers, and at the same time harvest fish.
My goal is to help my students understand the whole food system, all the way up to social policies. For example, we're integrating the PLT lessons to add questions about food justice: what happens when a community doesn't have access to fresh foods? What do they eat?
As we do PLT activities around trees, I try to bring in culturally relevant information. In addition to the maples and aspens included in the PLT curriculum, we study the ceiba tree that grows in Mexico. It's a sacred tree in the Mayan and Aztec cultures and traditions, and there are lots of legends and stories associated with it. Adding this tree connects our studies to who my students are.
Similarly, in addition to the PLT recommendations of poems about trees and nature, I have added a couple of poems to help my students see nature through a social justice and multicultural education lens. So alongside Robert Frost, I teach African American poet Maya Angelou's "When Great Trees Fall," and "La Tortuga," a poem by Spanish poet Pablo Neruda.
Five of my students were pleased to be able to talk about this work to a national audience at a national Green Schools Conference in Denver. I hope their presentation will inspire other urban teachers to build community partnerships around gardening, regardless of their location, and to think about the possibilities of incorporating cultural diversity in their own PLT GreenSchools classrooms.
Tips for Teachers
Know your students and understand where they're coming from.
That makes all the difference. It's important to understand your students' strengths and know, for example, which ones have a learning disability. A lot of kids with learning disabilities have been misdiagnosed or not diagnosed at all. Understanding which ones need extra help can help all of your students work better together.
Look for additional resources that you can bring into the classroom to help your students to "get it."
I always think about my students' different learning styles in everything I do. Some want to see. Some need to hear. Some have to have a hands-on experience. PLT offers all those opportunities, but it takes thought and preparation.
I work a week in advance to be sure I have everything needed to teach the next PLT lesson and make it relevant to my students.
Consider including reflective journaling as a regular part of your students' PLT work.
Everything we do for PLT at Escuela Tlatelolco goes in one notebook: the assignment and the reflection about the work they've done. It adds an important dimension.
Be prepared to learn lessons from the unexpected.
When a toad that had been hibernating in our garden jumped out as one of my students was breaking up the soil, it launched them into research on what kind of a toad it was, the lifecycle of toads, and toads as "indicator species" of habitat health. The students have built a terrarium habitat for "our" toad, and are recording their observations.
Even city folks can become sustainable, and there's always space in the cities for an urban garden. If you're creative, you will find a way to make it work.