Thanks to funding provided by the U.S. Forest Service in 2015, Project Learning Tree was able to award 63 GreenWorks! grants up to $2,000 each to involve students and community members in service-learning projects to improve an aspect of their local environment. Nearly 14,000 students—from early childhood through college—in 33 states and the District of Columbia took what they learned in the classroom and applied it to make a difference in their world. 
Read about four of these projects below. Proposals for the next round of grants will be due Sept. 30, 2016. To be eligible, applicants must have attended a PLT training. Application forms are available on the PLT.org website.
University Students Create a Sensory Garden for Preschoolers
In Westville, Indiana, Purdue University North Central (PNC) early childhood education teacher candidates helped plan and build a children's garden at Westville Little School to give preschoolers a place to explore the natural world and learn about nature. To start the project, PNC students participated in a PLT training to help them understand the importance of outdoor classrooms as a learning tool for young students.
Groups of service-learning and practicum students from PNC reached out to community partners for help with this project. Purdue Master Gardeners and the Purdue North Central Women's Association taught the groups about effective gardening techniques, and students from Westville High School's agricultural class helped gather seeds and build the garden beds. The garden includes plants with interesting textiles, scents, colors, and names to stimulate learning and development.
High School Students Restore Running Trails Around their School
With their Greenworks! grant, students at Thomas Stone High School in Waldorf, Maryland made their school's outdoor spaces more accessible and enjoyable for community members. They took charge mapping and reconstructing sections of the running trail, applying their math, science, and landscaping skills. They created posters and PSAs and recruited volunteers to help with events such as Zumba in the Forest and a 9-11 Memorial 5K Walk/Run to showcase their project and get community members outside and participating in outdoor activities. 
The Black Leadership Council for Excellence, a local community group that empowers youth by developing leadership skills, career awareness, and civic participation, helped throughout. They also supplied gardening tools, installed new seating and a rain barrel at the school's existing outdoor classrooms, and assembled a digital outdoor lesson plan book so teachers can incorporate outdoor learning into their lessons.
K-12 Special Education Students Make Maple Sugar
Elementary, middle, and high school students at St. Stephen's Academy in Zelienople, western Pennsylvania worked together to collect sap and produce maple syrup for an annual Rip N' Dip Festival where the community comes together for pancakes and maple syrup tasting and to learn about the maple sugaring process. Special education students from all grade levels participated in a variety of hands-on, outdoor activities throughout the six-month project. 
Younger students learned about trees, forests, wildlife, and forest products, and how to safely tap trees and collect sap. Older students learned how to transform the sap into syrup in the maple sugaring furnace, using their knowledge of math and chemistry to ensure the right humidity and temperature for the process. The students also developed peer and mentoring relationships to help teach and encourage one another. The students acted as greeters and tour guides at the Rip N' Dip Festival where they were excited to describe their work and share their delicious syrup with family, friends, and community members. 
K-8 Students Create a Monarch Butterfly Garden, Collaborate with a School in Mexico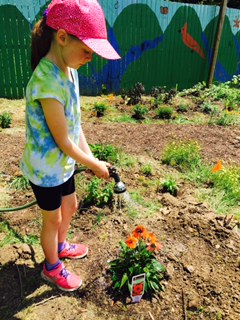 The Mountain Stewardship & Outdoor Leadership School in Morgantown, West Virginia works with Morgantown Learning Academy to provide K-8 students with in-class environmental education programs and after-school outdoor programs focused on nature awareness, stewardship, and leadership skills. With the help of a GreenWorks! grant, a student-led project explored the declining population of the Monarch butterfly and resulted in a new butterfly garden in the school's Wild Yards area. The garden has received designations as a "Monarch Waystation" from Monarch Watch, and as a "Certified Schoolyard Habitat" from the National Wildlife Federation.
During a three-week classroom unit, students first learned about the Monarch migration and lifecycle, and reported sightings to Monarch Watch. They then chose a location and designed and built their butterfly garden complete with milkweed and nectar plants designed to specifically attract Monarchs. Every classroom raised butterflies. Summer camp students added butterfly baths, created signage, and painted a mural. Students also collaborated with a school in Mexico and Skyped, in Spanish, about each of their butterfly projects. It was incredibly powerful for the students to see the whole Monarch lifecycle unfold right before their eyes and to know they provided the habitat to make that happen.
For more information about PLT's GreenWorks! grants program, visit www.plt.org/resources/greenworks-grants. 
Photo 1: A boy spreads mulch.
Photo 2: High school students in Maryland improve their school's outdoor classroom.
Photo 3: A teacher shows students in Pennsylvania how to tap a maple tree for sap that they then turned into maple syrup.
Photo 4: A young girl waters a plant she has just planted to attract Monarch butterflies to her school in West Virginia.