Many PLT activities are easily adapted to virtual learning, as we illustrate in this new monthly feature in PLT's newsletter, The Branch. Whether you already have a favorite PLT activity or are new to PLT, check out these "twists of the trade" suggested by PLT coordinators.
This month, Colorado PLT Coordinator Danielle Ardrey shares how to adapt the PLT Activity Looking at Leaves. It is Activity 64 in the PreK-8 Environmental Education Activity Guide.

Examining Characteristics of Leaves
The overall learning objective for the activity is that "students will understand how leaf shapes, sizes, and other characteristics vary from plant to plant." Looking at Leaves reinforces skills in comparing and contrasting; classifying and categorizing; and identifying attributes and components.
In its original format, the class goes outdoors together to collect their leaves, then studies them back in the classroom.
However, Danielle suggests an alternative in which the teacher introduces the lesson, the students look for leaves in their own yards or neighborhoods, and then the class comes together again. See a video of Danielle describing this lesson.
Preparation and Set-Up
As the educator, you start by explaining the different characteristics of leaves that students will find and guide them through the preparation of a simple "nature notebook" of about six or so pages.
Inside their notebooks, students should set up each page so that there is a blank space at the top (to be filled in outdoors with a sketch or leaf rubbing), then the following headings that they will record for each leaf:
Conifer or Broadleaf (deciduous)
Simple or Compound

Shape:
Color:
Margins:
Texture (hairy, smooth; waxy, etc.):
Leaf Arrangements:
Overall Observations:
Other Tree Characteristics (fruit, flowers, cones, etc.):
Watch Danielle's video for step-by-step instructions for guiding students in creating their own "nature notebooks."

Data Collection Outdoors
Depending on how you are organizing your class time, you can give students time to go outdoors and then re-convene, or, perhaps more realistic, set a deadline for them to complete this part of the assignment. Many students will need to be accompanied outdoors by an adult who is working with or caring for children in the household.
They should go outdoors with a backpack or other bag containing their nature notebook, a clipboard or other hard surface to write on (a piece of cardboard such as the side of a box works), and a pen or pencil. For a leaf rubbing, students will also need a dark crayon.
Ask them to find 3 to 5 different leaves, preferably those already fallen to the ground, and fill in the categories in their notebooks. Remind them to fill in as much as they can while looking directly at the leaf and its tree. They can make fuller observations and, practically speaking, they may forget which leaf belongs to which tree once they have their pile indoors! Ask them to sketch the leaf or make a leaf rubbing in the space they left in their notebooks.
Analysis and Assessment
Back inside, alone or in small groups, have students analyze the data they collected. They can discuss similarities and differences among their leaves.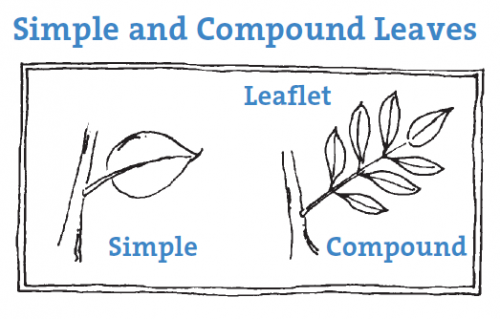 They can come up with their own categories, such as:
Who found the biggest leaf? Narrowest? Smallest?
Have any leaves been eaten by insects? How can they tell?
Do any leaves have teeth or hairs?
You can ask them to present their findings to the class individually or in groups. They can also use a Venn diagram or graphic organizing software to compare two different leaves. The activity presents a useful rubric to assess their work.
What's Your Idea?
We would love to hear how you have adapted this or other PLT activities with your students. Drop us a line—and look for additional activities next month in the Branch!
Want to try an abridged version of this activity at home? Our Looking at Leaves free Family Activity (available in English and Español) is great to try in your own backyard or nearby park or trail!
PLT also offers online, blended, and in-person professional development tailored for specific grade levels, academic standards, environmental topics, and formal and nonformal teaching situations. During COVID-19, many PLT State Coordinators now offer remote professional development to model ways educators can work with students virtually, including adaptations to PLT activities. Learn more.