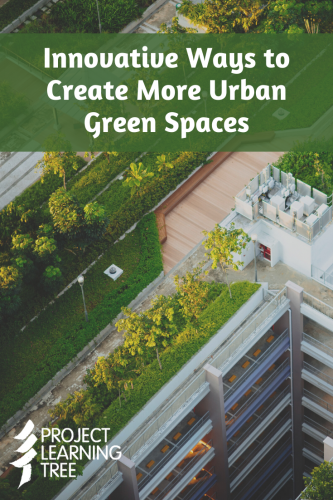 It was once thought that forests and parks needed to be large areas. After all, forests require acres and acres of space, right? With careful planning, mini-forests can thrive in lots as small as a typical parking lot or tennis court. Gardens can be planted in places that are often overlooked to create food forests in urban neighborhoods. 
Creating more green spaces in urban areas can not only add natural beauty to cities, but it can also improve the health and well-being of its residents. In addition, increasing biodiversity in urban areas can reduce smog and air pollution, retain rainwater, and trap CO2.
PLT recently published a collection of three new activities for middle school students to Discover Your Urban Forest. Here we share more ideas to get inspired and envision new ways to add green spaces to urban areas: 
Creating Mini-forests
The idea of mini-forests was conceived by Akira Miyawaki, a young graduate student in the 1950s. He observed that mature forests in Japan had greater biodiversity than landscaped gardens. Mature forests take centuries to grow and acres of land. Miyawaki wondered if there was a way to speed up the process, to engineer a mature forest to grow quickly in a small space.
Miyawaki's idea was successful. By discovering which species were native to Japan, he was able to select trees, shrubs, and herbaceous plants that would naturally grow in old forests. Under the right conditions, his methods produced forests quickly in small spaces – sometimes in 1/10th of the time it would take for a diverse forest to grow naturally.

By BemanHerish. Own work, CC BY-SA 4.0, Link
The Miyawaki method is simple:
Small patches of urban land are identified.
Native tree species that would naturally be found in a local mature forests are selected.
Time is invested in preparing the soil.
Finally, large numbers of young seedlings are planted. 
Tiny forests can thrive anywhere. Crowded and polluted urban areas that need the most help maintaining clean air and water are suitable locations for mini-forests. The benefits of adding native trees to urban areas extend beyond their beauty. Trees remove carbon dioxide and air pollution, reduce water pollution, and serve as a noise buffer. They also provide habitat for other organisms such as birds and insects. Even though mini-forests are small, they can even restore biodiversity to cities almost as well as a larger natural forest.
Urban mini-forests also allow people to connect with nature without leaving the city. Living in a dense city can make it difficult to visit a forest. By bringing the forest to urban areas, residents will have a unique opportunity to learn about environmental issues such as biodiversity, climate change, and habitat loss.
Urban Food Forests
Even in dense urban areas, there are strips and pockets of land that some would say are underutilized. For example, the patch of grass between the sidewalk and the curb. Ron Finley saw that small strip as an opportunity to grow fruits and vegetables in his neighborhood.
South Central Los Angeles is one of many "food deserts" in the country, which has limited access to healthy, affordable food. In these areas, fresh produce can be hard to come by, and Ron says he "knew what it's like to drive 45 minutes just to get a fresh tomato." 
Ron's neighborhood "guerilla gardening" was met with resistance when he was cited by the city for gardening without a permit. However, he believed people have the right to grow food in their neighborhood so he worked with fellow green activists to start a petition and eventually was able to change the law. 
Ron continues to work with the South Central LA community to build urban gardens that can be examples for other cities. His dream is to transform food deserts into food forests across the country, and even around the world.
PARK(ing) Day
In an effort to call attention to the need for green spaces in urban environments, a San Francisco art and design studio founded PARK(ing) Day. On PARK(ing) Day, which is held the third Friday in September, city parking spots are transformed into pocket parks all across the USA.
PARK(ing) Day displays can be as simple as grass sod spread on the concrete, a park bench, and some potted trees. Others have taken it farther by adding cornhole games, creating horticultural displays, setting up playground equipment, offering yoga classes, and setting up mini libraries.
(PARK)ing is a way to envision urban spaces used in a different way – one that is more community-centric instead of car-centric.
Project Ideas for Your Students
Want to start a mini-forest near you? Students can lead the way by learning about native trees, soil nutrients, tree life cycles, and resource needs. When young people are involved in the planning and design of mini-forests and other environmental and community improvement projects, they will invest time and energy in protecting and maintaining these special areas. Here are some ideas to get started.
Visit pocket parks
Pocket parks are small parks in urban neighborhoods. Have your students research existing pocket parks near their school or in the closest urban area. Visit the pocket parks and note the people that are using the park. Who is visiting and what are they doing there? What does the park feature? Are there benches? Playgrounds? What measurable effect does a visit to a favorite park or green space have on you? Make a list of positive attributes you notice about the park, and a list of negative attributes. Design your own pocket park based on the knowledge you gathered.
These STEM enrichment ideas for one of PLT's popular activities, I'd Like to Visit a Place Where…., will take your students outdoors to learn more about a local park or urban green spaces near them.
Identify areas for an urban garden, pocket park, or mini-forest
Walk around your neighborhood and identify areas that are not being used. For example, perhaps there is a vacant lot or an unused parking lot. Brainstorm ideas for converting the unused land into a garden, pocket park, mini-forest or another type of urban green space. If you don't have a chance to walk around the neighborhood with students, you can also use Google Maps to explore your local area without leaving your home or classroom.
Learn what makes a city park great, such as local wildlife, spaces for public enjoyment, and community activities, with this Detroit Parks Coloring Book. Use these coloring pages (available for download, print, and color) for students to explore the parks around the city of Detroit, Michigan. Then, discuss with students ways your community might conserve and enhance its public spaces with the help of organizations, like the non-profit Detroit Riverfront Conservancy, that work to support community public spaces.
Towns and cities rely on community stewards to help take care of and utilize local parks. Find out how students in Santa Cruz, California and Madisonville, Louisiana worked with their local community to maintain and beautify parks in their neighborhood.
Research edible and native plants to grow where you live
Before planting can begin, you'll need to know what kinds of plants will grow in your area. Mini-forests and pocket parks thrive with native plants. If you're planting an urban garden, find plants that will grow well in your gardening zone and growing conditions. Don't limit yourself to planting seeds or seedlings every year. Trees, shrubs, and other perennials can provide a food source for years to come. You can plan a pocket park or urban garden, even if you don't have the space to implement it yet.
Create your own mini-forest
Shubhendu Sharma, an eco-engineer inspired by Miyawaki, developed a step-by-step approach that can yield a forest ecosystem in a space the size of six or seven parking spots. Mimic Sharma's approach by finding a small area on your school's campus and create a mini-forest with your students.
First, identify the native species by surveying natural forests growing locally.
Next, loosen and nurture the soil, and add microorganisms to support a nutrient-rich growing environment.
Third, plant the seedings in four different layers. The layers should include a shrub layer, a sub-tree layer, a tree layer and a canopy layer.
The fourth step is to carefully tend the emerging forest for a few years by watering and weeding.
Finally, let it grow!
Participate in PARK(ing) Day
PARK(ing) Day is being celebrated internationally. Arrange a field trip to the closest urban area to see how this event is being used to make statements that are as much environmental as they are political and cultural. If a field trip is not an option, arrange for a virtual field trip. Students can make a photo journal of the creative and inspiring displays. Follow up with an engaging discussion of what each PARK(ing) display is trying to communicate to the community.
Inspire your students to design their own PARK(ing) Day display. What do they want to include? What statement are they making? Better yet, work as a class to participate in an actual PARK(ing) Day event to draw attention to urban green spaces.
Discover Your Urban Forest: Grades 6-8 Activities
Discover Your Urban Forest features three new PLT activities for educators of students in grades 6-8. Designed to be flexible, the activities can be used as individual, stand-alone lessons, or all together as a cohesive unit of instruction using a storyline technique.
Decisions, Decisions — Decisions about community land use are complex and often involve many people in many ways.
Students use trees as a backdrop to develop a land-use plan.
Environmental Justice for All — Everyone has an equal right to a healthy environment—but does everyone have a healthy environment?
Students propose actions to resolve various scenarios and then research issues related to environmental justice in their own state.
Forest in the City — The trees in our communities provide many benefits: they improve air quality, store carbon, and conserve energy. Trees also enhance human health by reducing blood pressure, decreasing stress, and elevating attentiveness.
Students conduct a survey to investigate the social and psychological effects of the urban forest.