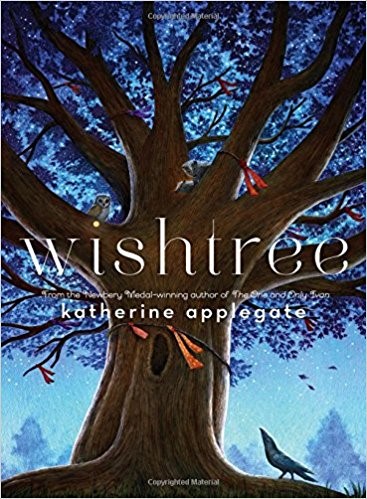 Wishtree
Grades 3-5 and 6-8
Written by: Katherine Applegate
Illustrated by: Charles Santoso
Published by Feiwel and Friends (Macmillian), 2017
ISBN-13: 978-1-250043-22-1
Recommended Reading
This book's narrator is a "two hundred and sixteen rings old" oak tree named Red. Red is a community wishing tree—and every May 1, adults and children alike bring their wishes written on pieces of colorful paper or fabric to tie to Red's branches—all in hopes they come true. After 216 years of living and growing, Red is very wise. Red has overheard many conversations from different families over multiple generations, and because of this Red has lots of stories to tell.
Samar and her family happen to move in near where Red stands. Samar and her family are not entirely welcomed by their new community. Samar and her family are Muslim.
Wishtree is a timely novel that tackles tough topics with the comfort of scientific facts, all told from the perspective of a generations-old red oak tree. It is best suited for middle grade readers who are growing out of illustrated narrative and into more complex subject matter.
Claim, Evidence, Reasoning
As they read, challenge students to make a single claim about one of the content areas outlined below—and substantiate it with evidence found in the text. 
Capacity of trees to tell stories or preserve history
Capacity of trees to impart natural wisdom; convey cultural significance
Characteristics of different tree species
Critical vocabulary and career connections (botanists, arborists, dioecious)
Elements of tree growth, reproduction, and communication
Tree parts and their functions
Plant and/ or animal adaptations
Students should be able to communicate reasoning (either oral or written) that uses evidence found in the text to support their original claim. A summary of the CER (Claim, Evidence, Reasoning) framework can be reviewed in this 7-minute Bozeman Science video by Paul Andersen.
Wishtree Extensions
Invite readers to go beyond the pages of Wishtree with the following:
Imagine Your Tree's Story
Red shares an abundance of experience and knowledge in this volume. Pick a special tree near your home, your school, or within your community. What stories would it tell? Support your story with truths related to your family or community history.
Design a New Ending
In Wishtree, the community designates Red a Heritage Tree. What could have happened if Red was cut down? How would that have changed Samar and her family's relationship with their community? Imagine Red was cut down and was transformed into a large pavilion for a local park. Could Red still have brought the community peace in a new way? What other tree products bring people and communities together?
Read Why Would Anyone Cut a Tree Down?
This free e-book, made available by the USDA Forest Service and Northeastern Area State and Private Forestry, helps to communicate that it is sometimes necessary and even helpful to cut trees down. Trees are renewable resources, and both youth and adults must understand when it is appropriate to cut down a tree. Wishtree is powerful in that it proves ignorance and prejudice are not appropriate reasons to cut a tree down.
Locate and Nominate Local Champion Trees
Heritage trees are large, individual trees with some unique, inherent, or irreplaceable value. The major criteria for heritage tree designation are age, rarity, and size, as well as aesthetic, botanical, ecological, and historical value. The American Forests Champion Trees national register has over 750 champion trees. The register has features that allow you to search by species, measurements, and location. There are more than 200 eligible species still without a champion. You just need a measuring tape to get started — nominate your tree today!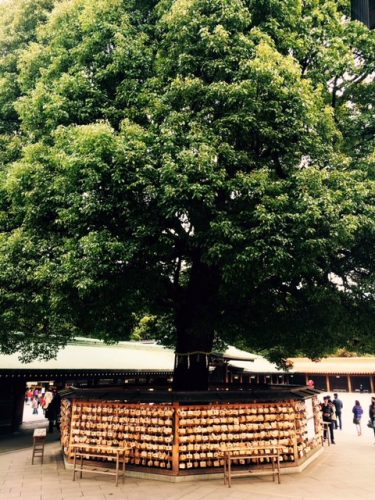 Designate a Wishtree Near You
In many cultures, wishing trees are places to leave wishes and hopes for the future. One of the most famous ones is in Lam Tsuen in Hong Kong, where people travel from all over the world during Chinese New Year to leave their wishes. Pick or plant a new wishing tree at your school, library, or community park. 
Write Advice from Nature
Red tells us, "The more you listen, the more you learn" (p. 14), "Hollows are proof that something bad can become something good with enough time and care and hope" (p. 25), and "It is a great gift indeed to love who you are" (p. 41). Use trees or other natural items to explore Your True Nature and write your own.
Get a copy of Wishtree.
Consider coupling this story with the following PLT activities:
PreK-8 Environmental Education Activity Guide
#17 – People of the Forest
#18 – Tale of the Sun
#22 – Trees as Habitats
#40 – Then and Now
#74 – People, Places, Things
#75 – Tipi Talk
#90 – Native Ways
#92 – A Look at Lifestyles