One way to learn about tree growth is to look at annual rings. Tree rings show patterns of change in a tree's life as well as changes in the area where it grows.
In this activity, you can trace environmental and historical changes using a cross section of a tree, or "tree cookie."
Doing the Activity
Have you ever counted tree rings?
Every growth season, a tree adds a new layer of wood to its trunk and limbs. This means you can determine the age of a tree by counting its layers, or rings.
Have children learn more about a tree's life by examining a tree cookie and asking:
How old was this part of the tree when the tree cookie was cut?
Can you see different markings? Evidence of scars or narrow, misshapen rings?
What might have happened to the tree to cause these different markings?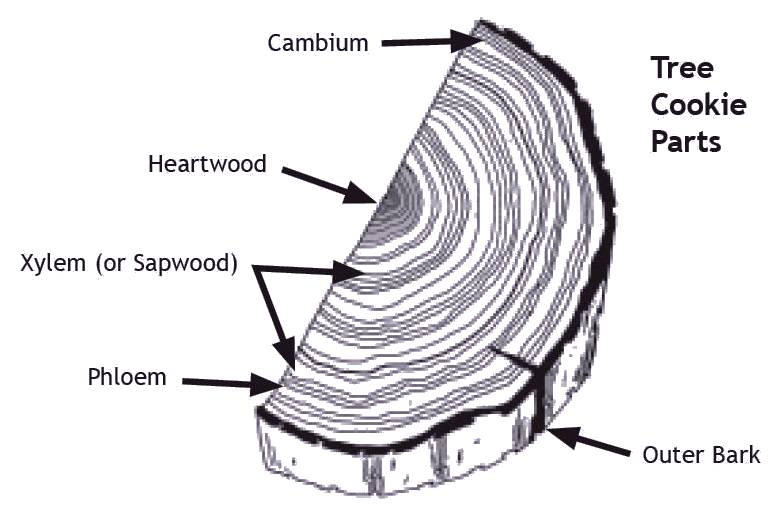 Use a hand lens to get a closer look at the tree cookie's texture.
Can you see any holes or channels that might allow water and nutrients to travel up the tree?
Finally, ask children to draw a tree cookie the same age as themselves.
What can they do to show when important events in their lives took place?
Resources
Outside and Inside Trees by Sandra Markel, ISBN: 0027623130
A children's book that describes the various parts of trees and their functions.
Get the Full Activity
This family activity is adapted from Project Learning Tree's Explore Your Environment: K-8 Activity Guide and our PreK-8 Environmental Education Activity Guide which can be obtained from PLT's Shop or in conjunction with an in-person professional development workshop or online course.
All PLT activities are copyright protected. Please remember to reproduce responsibly. 
Click here for our Content Reprint and Adaptation Policy.