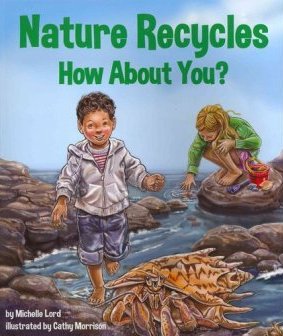 Nature Recycles, How About You?
Grades K-5
ISBN: 9781607186274
Sylvan Dell Publishing, 2013
Authored by Michelle Lord
Illustrated by Cathy Morrison
Recommended Reading
Nature Recycles is an ideal book to introduce reuse and recycling to young children. By showcasing the various methods animals use to repurpose materials in their natural habitats, this book provides examples of recycling that will inspire youngsters to creatively reuse their own objects. For example, readers learn that poison dart frogs reuse bromeliad plant leaves and nut pods from the rainforest as cradles for their young. The full-page illustrations provide accurate depictions of the ingenious ways creatures use materials they find.
Explore the many ways that you and your family might begin to reduce waste, reuse items, and recycle materials. Consider these ideas today:
Reduce electricity by turning off lights whenever they are not in use
Reduce plastic and paper consumption by shopping with reusable bags
Reuse paper towel tubes to make a pair of "binoculars"
Reuse coffee grinds as garden or soil compost
Recycle glass so it can become a future countertop
Recycle plastic so it might become someone else's carpet
PLT's Activity 15, A Few of My Favorite Things, challenges children to come up with new inventions or alternative uses for broken items. These ideas can be showcased in "Trashion Show," where children can exhibit their new creations from items formerly viewed as trash.
Explore the following PLT Activities for additional ways to reduce, reuse, and recycle:
Environmental Experiences for Early Childhood
#9 – To Be a Tree
#10 – Trees as Habitats
PreK-8 Environmental Education Activity Guide
#15 – A Few of My Favorite Things
#23 – The Fallen Log
#24 – Nature's Recyclers
#37 – Reduce, Reuse, Recycle
#51 – Make Your Own Paper
#52 – A Look at Aluminum 
Energy Investigation
Water Investigation
Waste and Recycling Investigation
Exploring Environmental Issues: Municipal Solid Waste
Eight activities in this PLT secondary module engage high school students in exploring waste generation, natural resource use, and waste disposal.