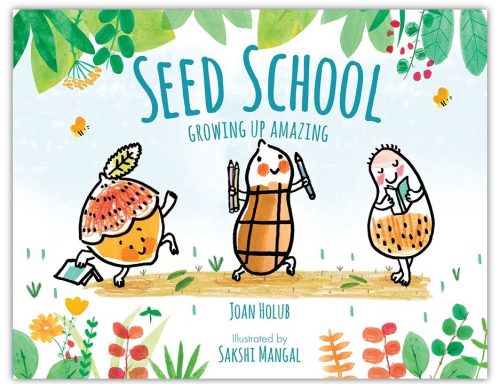 Seed School
Grades K-2
Written by: Joan Holub 
Illustrated by: Sakshi Mangal
Published by: Quarto Publishing Group USA, 2018
ISBN-13: 978-1633223745
Recommended Reading 
Spend a day at seed school and meet student seeds of all different shapes and sizes. Colorful illustrations showcase the biodiversity of the garden, while the story's verse helps young readers to explore plant parts and processes. Learn along with the seed schoolmates as their seed school teacher, Ms. Petal, reviews the four seasons, the four things plants need to grow, and the four basic steps of photosynthesis. Even Principle Bee stops by to teach the students a bit about pollination!
While this little book is filled with big science, it is a prime example for transforming STEM teaching and learning into STEAM teaching and learning. Many teachers are familiar with the 4 discipline areas of STEM; science, technology, engineering, and math. Seed School expands on the common acronym with many angles for integrating the "A," for "Art."
Invite students to embrace STEAM with their trip to seed school using these suggestions.
Music
Humans are wired to be sensitive to sound patterns, and music helps foster communication and imagination in young children. Seed School uses four common nursery rhymes to teach about plant parts and processes, by simply changing up a few of the words. Try singing these alternative lyrics to "Rock-a-bye Baby": "Rock-a-bye seed, hanging in the tree top, when the wind blows, the seed will drop…" You can use the new lyrics in the book, or try making up a few of your own. Invite young students to grab (or make) simple instruments and even play along!
Culture
Learning about different cultures and traditions offers new experiences for children. Activities that include lessons around diversity teach young children to respect and celebrate the differences in all people. In Seed School, the little lost seed is different because he does not come from the garden and he seems to grow much slower than his peers. But what do all seeds have in common? And how does the little lost seed's difference make him special? How can we respect and celebrate diversity not only in seed school but also in our own classrooms?  
Art
Drawing encourages creativity, coordination, and fine motor development in young children. Seed School's translucent illustrations fill the pages with color and light. Mangal's simple lines and bold colors offer perfect patterns to emulate. Encourage fun and process-oriented drawing practice by showing students the steps that can be combined to create the little lost seed (Figure 1), and other Seed School characters.
Connections to PLT Activities
Consider using this story with the following PLT activities to deepen your child's understanding of how plants grow:
Environmental Experiences for Early Childhood
#2 Sounds Around
#8 Adopt a Tree
#11 Three Cheers for Trees
PreK-8 Environmental Education Activity Guide
#27 Every Tree for Itself
#28 Air Plants
#31 Plant a Tree
#43 Have Seeds, Will Travel
#79 Tree Lifecycle