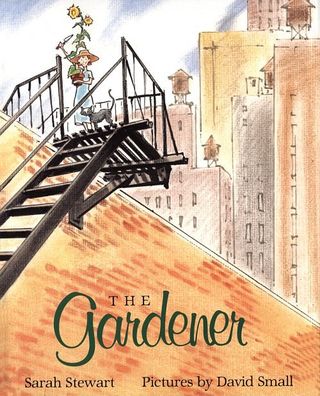 The Gardener
Published: 1997
Author: Sarah Stewart
Illustrator: David Small
Genres: Picture book, Children's literature
Recommended Reading
Set in the 1930's Depression, young Lydia Grace Finch spends her days in the country gardening with her grandmother. When her Papa loses his job and no one buys her Mama's dresses any longer, Lydia Grace is asked to visit the city to work in her Uncle Jim's bakery.
Armed with a suitcase full of seeds, Lydia is determined to bring her skills to the city and a smile to her Uncle's face.
This book is perfect for introducing the aesthetic beauty of plants and the joy of gardening. The narrative is delivered through a series of correspondence between Lydia Grace and her family and the illustrations earned a Caldecott Honor in 1998.
Use this book to compare and contrast rural and urban America, such as the size of train stations, and the presence of trees, soils, and space for growing. See how Lydia Grace addresses this in her plantings by reusing trash containers and soil from a vacant lot.
Show how the love of plants and skill of gardening built a connection across generations between Lydia Grace and her grandmother.
Point out that we all have special talents and can use them to complement projects by highlighting how Lydia Grace's gardening increased the bakery's customers and Uncle Jim's floral designs on the cake emphasized their "special" place.
Try reading this book to your class in conjunction with the following activities from PLT's PreK-8 Environmental Education Activity Guide.
#7 – Habitat Pen Pals
#36 – Pollution Search
#41 – How Plants Grow
#43 – Have Seeds, Will Travel
#47 – Are Vacant Lots Vacant?
#74 – People, Places, Things
#95 – Did You Notice?