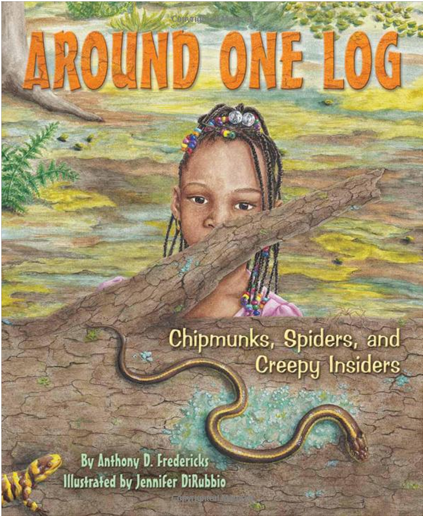 Around One Log: Chipmunks, Spiders, and Creepy Insiders
Grades PreK-3
By Anthony D. Fredericks
Illustrated by Jennifer DiRubbio
ISBN: 1584691379
Recommended Reading
Years after a great oak tree tumbles to the ground, a whole community of animals have made it their home. Upon close inspection, the fallen tree is seething with life!
Question: Is the old tree alive? Or is it dead? 
Investigate this question and more using Around One Log: Chipmunks, Spiders, and Creepy Insiders, by Anthony D. Fredericks.  Frederick's fun, rhyming verses provide a great introduction to common forest critters you can find in your own backyard, while also teaching about forest cycles and decomposition. Plus, as the story builds, it repeats, which is an excellent instruction technique for young children.
Can you find a fallen log to investigate near you?
Try this book in conjunction with the following PLT activities:
Environmental Experiences for Early Childhood
Activity 8: Adopt a Tree
Activity 10: Trees as Habitats
PreK-8 Environmental Education Activity Guide
Activity 8: The Forest of S.T. Shrew
Activity 22: Trees as Habitats
Activity 23: The Fallen Log
Activity 24: Nature's Recyclers
Activity 61: The Closer You Look
Activity 79: Tree Lifecycle