I teach Gifted and Talented at Mildred Elementary School in Corsicana, Texas. As educators, we continually request and receive materials to help develop new interests for our students. We also know that learning is not confined to the classroom, but rather can take place in any setting that presents new ideas.
My quest to offer my students opportunities related to environmental studies began when I discovered Project Learning Tree's Environmental Exchange Box activity found in the PreK-8 Environmental Education Activity Guide.
Planning Our Journey
I e-mailed Project Learning Tree and in a short time I received a letter linking me with Explorers Learning Center in Seymour, Connecticut – a preschool that was to become our partner in a fascinating journey. An e-mail to the principal, Jackie Yannes, put me in contact with Julie Cavanaugh, the school's kindergarten teacher. Since my students were first and second graders and Ms. Cavanaugh's students were kindergarten age, we decided this would be a good match.
In September, each of us began guiding our students in preparation for our "Box Exchange." My goal in the project was to help students focus on becoming more cognizant of the natural resources around us. I also wanted my students to learn that other areas in our country have distinct natural resources that may be different from those in our locality.
The Journey Begins At Home
We began our project researching trees native to our North Central Texas region. Students collected leaves from trees found in their yards, or near their homes, and brought them to school. Through posters we acquired, an online guide to Trees of Texas from the Texas Forest Service, and What Tree Is That?, an online tree identification guide from the Arbor Day Foundation, we identified the tree from which each leaf came. This was a great way to connect school work with life at home, and also hone students' observation and research skills.
My class consisted of seven students, so we narrowed our study to seven species of trees. Each student selected a different species of a tree to research. Time spent in the computer lab allowed students to prepare note cards with facts about the tree species they had chosen. After completing their research, students gave oral presentations to their classmates to share the information they found. Their notes would become a part of our Exchange Box contents.
A Local Field Trip Reinforces Learning
I like to enhance my students' learning by making it relevant and tangible by connecting them to their local surroundings and things that are familiar. A local nature center operated by the Texas Parks and Wildlife Department is within driving distance of our school. Plans were made for a field trip that would give students an opportunity to walk a forest and wetlands trail, take time to observe the natural habitat, and gather specimens for inclusion in the box we would send to our partner school.
On the day of the trip, I handed out bags containing items students needed for making observations, taking notes or sketching, and collecting specimens. These items included:
zip bags of various sizes
clear plastic containers with lids
small scissors
hand lens
pencils, and
journaling pad.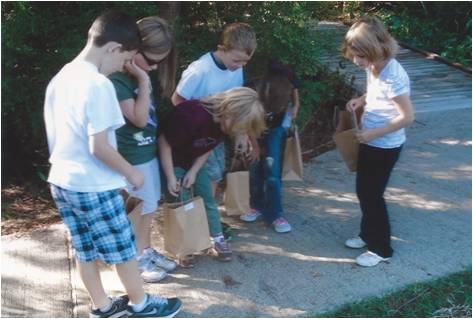 Activities for the day included:
making tree rubbings
gathering leaves and specimens of native grasses, plants, and trees
collecting seed pods, and
in general, observing "all things of nature."
In addition to the above, I wanted my students to have the opportunity to take photographs throughout the day. Because our program operates on a tight budget, as do many other educational programs, students shared the use of a digital camera.
Illustrating Our Journey
Once we were back in the classroom, students scrolled through the photos that were taken that day and selected the ones they felt best exemplified our natural wild scape. I printed the students' selections and we added these prints to our exchange box. When asked what else should be included in our exchange box, most students wanted to draw pictures, so we set some class time aside to do this. Two students created a collage representative of trees and vegetation found in our region. Pictures from magazines such as Texas Parks & Wildlife and the National Wildlife Federation's Ranger Rick were used to create their collage.
The final step was to assemble our Environmental Exchange Box and prepare it for mailing. Once this was done, our wait began for the box from students at Explorers Learning Center, our partner school in Seymour. 
A Personal Connection with Our Destination
One last special serendipitous moment occurred when a parent of one student called to tell me how excited she was to know our partner school was in Seymour, Connecticut. As a child, she had lived in Seymour for a period of time. I invited her to come as a guest speaker and bring photos of the area. Her mom had just returned from a visit with family and friends in Seymour and she was happy to share her photos with the students. What a wonderful coincidence and how fortunate we were to have this local perspective.
How excited the class was when our partner box arrived and what fun the students had examining the contents our partners had chosen to share with us!
My students benefited from it by gaining an understanding of the diversity of natural resources in the United States. Most importantly, I believe my students have a keener awareness for the beauty of nature that surrounds us, and gained new knowledge about their own environment.
Thanks to Project Learning Tree's incredible network of educators across the United States for making our participation in this program possible. I have already made initial contact with our new partner, Pine Plains Central School District in Pine Plains, New York.