"As Trees Grow, We Grow!" was the
theme created by ten students from South Tahoe High School who volunteered to create a presentation for the 2010 Project Learning Tree International Coordinator's Conference in Lake Tahoe, Nevada. Their project summarized a year-long PLT GreenWorks! service-learning project that involved over 1,700 students.
In the summer of 2007, the Angora Fire burned over 3,000 acres and 250 homes in South Lake Tahoe, California. This human-caused wildfire affected everyone in the local community. Government agencies, community organizations, schools, and students wanted to work together to help the forest return. 
In 2009, we had the opportunity to put these ideas into action. A PLT GreenWorks! grant in the amount of $4,880 helped the USDA Forest Service – Lake Tahoe Basin Management Unit, the Nevada Tahoe Conservation District (NTCD), and South Tahoe High School's Generation Green Club conduct PLT workshops, provide in-class programs based on PLT activities, and organize a volunteer tree planting.
Local Club Plants Knowledge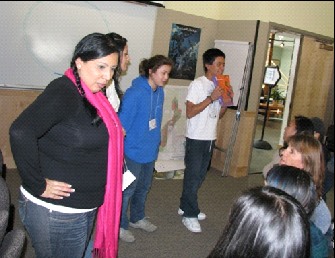 Lake Tahoe is a world renowned destination, yet many children who grow up there are not connected to the outdoors. Formed in 2008 with the support of the Forest Service, Generation Green of South Lake Tahoe is a club dedicated to environmental stewardship. The club is primarily made up of students who were not previously connected with the outdoors or natural resource professions. 
The Club wanted to do something to help with the Angora Burn recovery. They needed safety equipment, such as hard hats, gloves, and tools. They needed educational supplies to teach the younger children about the value of forests. The GreenWorks! grant supplied these materials.  The next step was for the students to put their plan into action. A total of 35 Generation Green members attended an all day Project Learning Tree workshop. In addition to the students, 45 adults from the community were also certified in PLT to assist in the project.
After the students received their certificates, they were ready to visit elementary schools in Lake Tahoe Unified School District. The Generation Green students were teamed with experienced natural resource professionals, who are also PLT educators, to teach younger students about trees and forest conservation. Together they ensured that the environmental education programming met the California State Content Standards.
In the end, the Generation Green students reached 1,730 younger students. The elementary school students loved learning from the Generation Green students. Students leading students is so much more valuable. Not only did the younger ones learn so much better from high school students, but when the high school students taught, they learned better themselves. The Generation Green students learned a lot about the environment and their community, and they also gained role models and mentors through direct contact with natural resource professionals.
Teamwork in the Community
Next, the Forest Service and NTCD hosted a tree planting training for volunteer leaders. At this training, Generation Green members learned how to plant trees so they could teach the younger students the proper techniques. We received additional funds to bus 3rd, 4th, and 5th graders to the Angora Burn Site to participate in the planting. Under the leadership of Generation Green students, representatives from the Forest Service, TRCD, and NTCD, community volunteers, and 3rd, 4th, and 5th graders worked together to plant 1,500 trees at the Angora Burn site. Among the planting areas, homes were also being rebuilt and reconstructed. The community could see their neighborhood returning, along with the forest.
Over the next ten years, the partners will continue to work with local schools to monitor the seedlings' survival and conduct maintenance on the trees as they grow.
A Presentation with a Standing Ovation

But the work for the Generation Green students did not end with the tree plantings!  In the spring of 2010, PLT chose Lake Tahoe as the site for its International Coordinator's Conference. To showcase their work, ten Generation Green students began a video project on their personal growth and the Angora Fire. Countless hours of work and preparation resulted in a successful one-hour presentation for the general conference assembly, consisting of nearly 150 environmental educators from across the U.S. and Mexico. In addition, the Generation Green students prepared a break-out session on how to create a DVD with students, to share the lessons they learned.  
Christina Ramos, Generation Green Club President and DVD Production Team member, shares her thoughts, "We had very little knowledge on how to make a video. As we recorded segments,
As part of the conference, the Generation Green students led conference attendees on a field trip to assess the survival of the tree seedlings they had planted last year, and they modeled PLT activities, for example Activity 27 "Every Tree for Itself", as examples of the educational programming they use to facilitate teaching younger students.
Another conference participant commented, "The visit to the fire burn site was outstanding. I loved all the student presentations both there and in the hotel."
Growth…
This GreenWorks! project integrated meaningful community service while educating the participants on forest health and management. PLT GreenWorks! grants focus on youth-led activities, so the Forest Service purposefully provided the high school students the opportunity to do something challenging, and it's resulted in students gaining self-confidence, pride, knowledge, and experience. Through this project, students learned how to educate younger children about their environment, how to plant trees, how to create a DVD, and how to present a speech to a large group of professional educators. Although I've worked with these students for over two years, the growth I saw over the course of the Angora Burn Restoration and Community Education Project was unsurpassed. The title of their DVD, "Growth" is aptly named.
As a result of this project, two of the students who presented at the International Project Learning Tree conference were recognized and selected to attend the Outdoor Nation Youth Summit and Festival in Central Park, New York City (all expenses paid!) as Forest Service delegates. They had never traveled that far from Lake Tahoe before. Two other students were selected to be the mixed-media crew for the Generation Green Forest Service Summer Internship program. Four students were selected to be interpretive educators at Taylor Creek Visitor Center and the Tallac Historic Site. Two students were selected to work in Trail crew. One student was selected to assist with Public Affairs. This GreenWorks! project has given them a competitive edge for Forest Service jobs and on college applications. After working on such an intense project, in the middle of school midterms and family commitments, these students now have the confidence that they can do anything!
"We gained so much from Generation Green and truly have become leaders and role models for our community," said Christina Ramos. "I used to think that Tahoe was just a boring town with nothing to do. But after working with Generation Green and Project Learning Tree, I now know that there are so many opportunities here."
PHOTO 2: Generation Green Club members Saidy Enriquez, Reanna Suela, and Jair Jaimes from the South Tahoe High School, along with high school teacher Maria Luquin, conduct a lesson during the Project Learning Tree training. A total of 80 people were certified in PLT, including 35 student leaders.
PHOTO 3: Generation Green member Cristina Ramos teaches 5th grade Bijou elementary students how to measure the height of a tree.