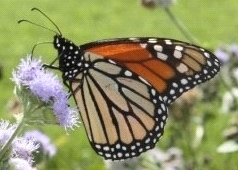 The annual migration of monarch butterflies is an "endangered natural phenomenon."  Every year, millions of these tiny travelers migrate thousands of miles from the United States and Canada to spend the winter months in Mexico. This yearly move has made monarchs dependent on conservation of habitats in all three countries.
Through the MonarchLIVE program, Project Learning Tree and its partners promoted monarch education and supported the creation of places for butterflies to find nourishment and rest during their impressive journey.
"Creation to Migration" garden in Athens, Ohio
One such garden is West Elementary School's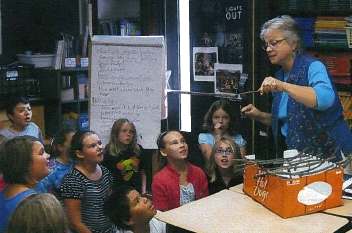 "Creation to Migration" garden in Athens, Ohio. Students and teachers partnered with Master Gardeners of Athens County and Wayne National Forest to create a learning laboratory on the school grounds.
Students were involved in every stage of creation, including researching native plants and pollinators and designing, planning, and planting of the garden.
After their summer vacation, students returned to school in September to find that the seedlings planted in June had grown and were active with pollinators – especially monarchs.
The school brought in monarch chrysalises so the students could witness the butterfly life cycle, which ended in a wonderful classroom moment when a monarch emerged right in front of the students' eyes.
"If you plant it, they will come" in Coral Springs, Florida
"If you plant it, they will come" was the theme for Sawgrass Springs Environmental Magnet Middle School's garden in Coral Springs, Florida.
Their butterfly-shaped garden had a 70-foot wide wingspan, complete with hand painted butterfly-shaped pavers running through the middle and seven-foot tall antennae at the head.
The garden has become not only a place for monarchs to find respite but has also provided a unique learning opportunity for students.
The middle school now holds Environmental Field Days called "Green Days" to teach students about environmental issues. When they reach the butterfly garden, students learn about biodiversity and habitat conservation. "Student learning has been enhanced beyond belief," exclaimed JoAnn Cantlupe, Sawgrass Springs Environmental Science Magnet Coordinator.
Additionally, butterfly education was also transferred to family and friends when all of the club members built their own wooden butterfly house to take home.
"Butterfly Haven for the 21st Century" in Woodland Park, Colorado
Another impressive place for monarch refuge is a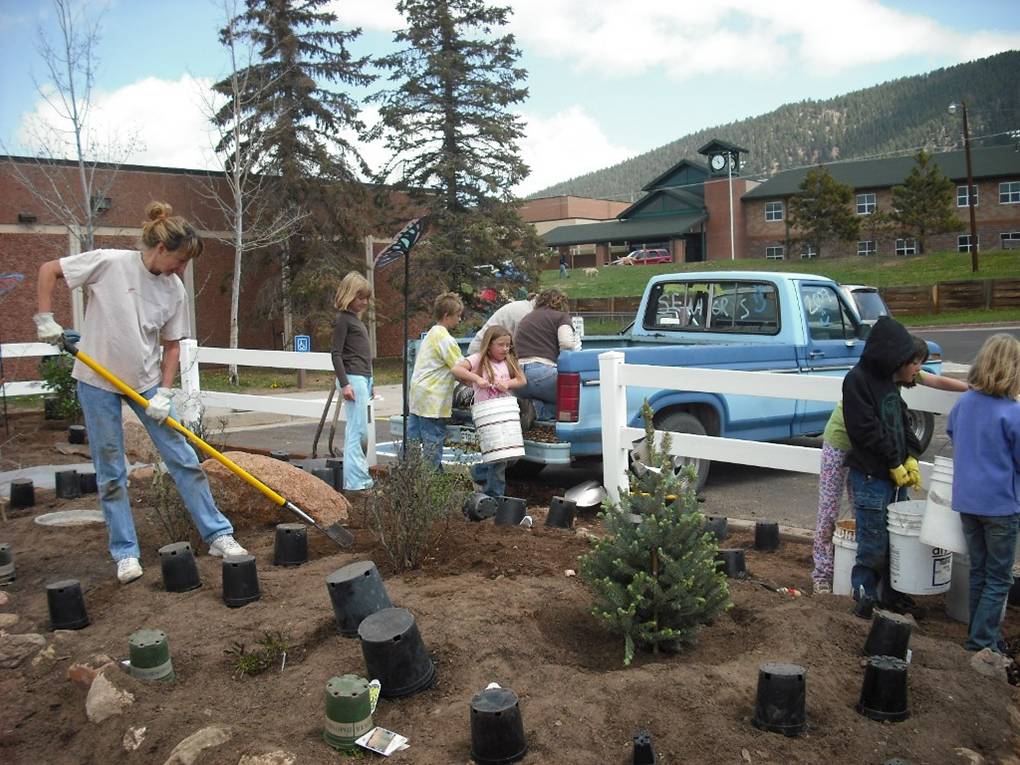 modest fenced garden in front of Gateway Elementary School in Woodland Park, Colorado.
It is a "Butterfly Haven for the 21st Century" where 18 third, fourth, and fifth graders planted lupin, purple coneflowers, bee balm, asters, ornamental grasses, and small shrubs.
Creating the garden was part of the Junior Master Gardeners (JMG) program, which the school was able to start as part of their GreenWorks grant funding.
Through the JMG program, students learned different curriculum topics including the butterfly life cycle, soil properties, plants and their different nutrient needs, along with what insects eat and how they find shelter in the different plants. The JMG students have a strong sense of ownership over the garden and are eager to maintain it for students and butterflies to enjoy for years to come.
MonarchLIVE is a partnership between Project Learning Tree, the U.S. Forest Service, U.S. Fish and Wildlife Service, and the Prince William Network. In 2009, 16 schools from all over the United States received Project Learning Tree GreenWorks grants to develop butterfly gardens in their school yards and communities. For more information, lesson plans, and resources please visit http://monarch.pwnet.org/.