Teen volunteers are the core of an innovative program at the Long Island Children's Museum in Nassau County, New York. Thanks to a Project Learning Tree GreenWorks! grant, the "Green Teens" program launched in the summer of 2009 to increase children's exposure to natural learning environments at an early age.
Green Teens Goals
To make the Green Teens program successful, we worked with local
schools to recruit and train teens as volunteer museum educators.  The teens developed and presented interactive nature and science programming for children and adults visiting the museum. 
That first summer, Green Teens focused on the museum's outdoor exhibit, Our Backyard. This exhibit was designed to help visitors discover the wonders of nature and the environment that can be found outside their own backdoor through hands-on learning.
The goals of the Green Teens program are to:
recruit and train local teenagers to work as volunteer outdoor educators
assist teens in developing and implementing "green" themed programming for children
introduce current museum volunteers into outdoor programming
offer daily two-hour interactive outdoor nature-based programs for visiting children and families during the summer months.
The objectives for the program included developing leadership and teaching skills in local teenagers, encouraging volunteerism, and providing increased learning opportunities focused on the natural world.
Modeling Service Learning
The beauty of the project was that it provided an opportunity to employ circular training and teaching methods. Museum education staff members were responsible for teaching and training the high school teenagers – a previously untapped audience for this depth of programming.  Then, the teen volunteers were charged with using what they had learned to lead education programs with visiting children.
We used the service-learning model of combining meaningful community service with a deeper level of instruction to produce an enriched learning experience for the teens. It also encouraged them to pass on what they've learned to the next generation of children. Our hope is that the teens' leadership experiences will translate into meaningful community engagement, both now and in later life.
Planning and Preparation
Each year, the children's museum receives hundreds of applications from teens for about 30 summer general volunteer positions such as ticket takers, gallery attendants and assistant educators.
For the Green Teens project, our Volunteer Manager worked with the Education Department to determine the specific qualities we sought from students that would be selected for this special project. Criteria included an interest and appreciation of the natural world and the motivation to learn teaching strategies, lesson planning, and program development. Ten students from diverse backgrounds and locations from Long Island were chosen to participate.
As part of the GreenWorks! grant, the teen volunteers and museum staff participated in a Project Learning Tree workshop focusing on outdoor learning and environmental education. The PLT facilitators took us through several fun and engaging PLT curriculum activities that the teens used to develop their own programming.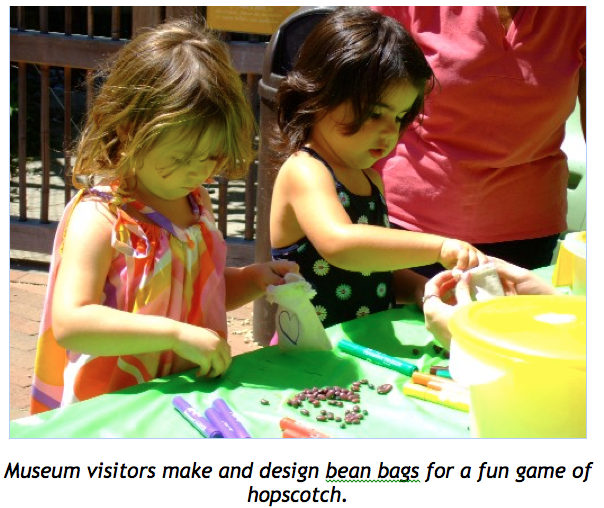 After an exciting two-week training process, the teen volunteers conducted daily workshops that had been planned by the museum's education team. The first two  workshops (in a series of 11) were done this way to allow time for staff to model programming techniques and lead the volunteers through the lesson planning process.
Once the volunteers felt comfortable planning and implementing programs, they were given research time to plan and develop their own workshop with guidance from trained museum staff.
The teens developed short workshops with both an informational component and a hands-on, take-home activity for children between the ages of three and 12.  With this age range, they were challenged to create appropriate activity variations in the finished project.
We were thrilled to see what the volunteers came up with! Using their new training, research, and their own personal backgrounds, the Green Teens developed fascinating nature-based programs for our visiting audience.
Engaging the Community
The Green Teens led museum visitors in making crafts like grass heads, sun catchers, and model dragon flies. Students played hopscotch with their own handmade bean bags, made and raced origami boats, flew whirligigs, planted seeds, learned about birds, and decorated wooden animals.
One of the most fun collaborative projects was to have kids make salsa with vegetables picked from the museum's garden and then they learned to dance salsa.
The Green Teens project brought Our Backyard gallery alive with wonderful, innovative programs. And, the teen volunteers learned so much from the experience:
"All in all the experience was great. In order to teach the kids, we had to learn about the subject ourselves. This aided in our own education. I know that some of this information will help in high school classes. This experience was wonderful for me because it was real work experience and that is something no money can buy."  – Krystin Sinclair, teen participant, age 15
"I really loved volunteering in the Long Island Children's Museum. It definitely opened my eyes to something new, just like the Green Teens opened the children's eyes to something new every week. I have absolutely loved working with kids this summer and I am sad that it is coming to an end because this experience has been so much fun. Thanks for letting me be a part of it!"  – Brittany Cassandra, teen participant, age 19
"I honestly could not think of a more gratifying and enjoyable summer experience. Who wouldn't want to watch the bright, shining faces of children who just learned how to salsa dance…or kids running to their parents yelling, "Look! I made origami!" The experience and delight I have gotten out of being a Green Teen will never be replaced. I have learned so much about working with other people which, though sometimes very challenging, is also quite rewarding. But more importantly, I have learned so much about myself."  – Eliza Feldman, teen participant, age 17
The Our Backyard exhibition has received awards from the Association of Children's Museums, the Met Life Foundation, and the Arbor Day and Dimensions Educational Research Foundations for its ability and commitment to furthering outdoor education.  The Long Island Children's Museum is grateful to Project Learning Tree for collaborating with the Museum on a project that continues to have a positive impact on both our community and our environment.