Walden Community School is an independent middle and high school in Winter Park, Florida. It supports small class sizes and individualized learning for its students, and PLT has been a part of the curriculum for several years. In fact, Walden was one of five Florida schools that helped pilot the national PLT GreenSchools program in 2010.
Students have used PLT GreenSchools investigations to make a number of changes on the campus, particularly related to water usage. They have learned to discuss the impact of even small changes on their own school and on the broader environment.
"Our students are very civically involved," said Carol Mikulka, Walden's founder and principal. "Environmental education is part of that, whether it's through a course on problem-solving, investigating systems, or engineering."
In an interview in Playground Magazine, she commented, "Project Learning Tree provides schools with the resources to educate about environmental issues. More than that, it helps you integrate lessons about the environment into every class, from math to English and more." 
Energy Investigation
The school uses natural lighting and ceiling fans to help reduce energy usage as much as possible. Students learned that opening non-sun-facing window shades allowed in more natural light and could reduce the use of artificial light sources by about 25% (an average of 2 hours a day). Also, by installing ceiling fans, the students found that air-conditioning could be set at 77 degrees instead of 75 without any change to student or staff comfort level.
Waste and Recycling Investigation
Many Walden art projects use recycled materials, such as cans and scraps of cardboard. The school also created classroom manipulatives with previously used paper.
Students are regularly introduced to the concepts of waste and recycling through discussions, field trips, and videos. The Analytical Reasoning Courses also challenge students to find alternative uses for materials.
Water Investigation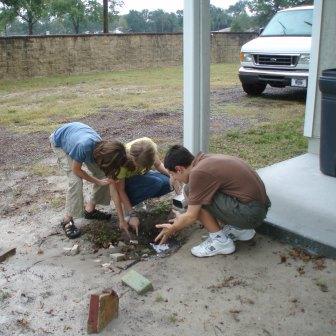 Students decided that the area of concern on which they could have the greatest influence related to outdoor watering practices. They learned about using rainwater for irrigation on a field trip, and were excited about implementing this practice on campus to save water and to reduce soil erosion from rain gutters. They created a plan to use rain barrels to harvest water to irrigate three new school gardens: a vegetable and herb garden, a xeriscape garden, and a "gopher tortoise café" in which students also investigate food preferences of resident tortoises.
The  pilot GreenSchools grant supported this effort. Students were involved in preparing the grant application and suggested the project title: Gardens, Gutters, and Gophers.
In a weekly class called Investigating Systems, students planned the project. Small groups were assigned specific locations to map and plan landscaping. They developed a relationship with a local nursery, whose staff provided advice on plant selection for native and xeriscape species. Students, faculty, and parents attended a workshop on rain harvesting at the local zoo, where they created nine rain barrels for the campus. Students used problem-solving skills to suggest possible solutions for gutter erosion issues and water pressure challenges in the rain barrels. They also wrote updates for the school's website and newsletter.
In an engineering class, students created projects and presentations on different watering systems, such as aqueducts, modern plumbing, and rain barrels. In these projects, they talked about the needs and capabilities of different systems in different places.
School Site Investigation
Students helped plan, organize, and plant a garden with plants both for eating and for supporting a butterfly habitat. A Walden parent who is an organic farmer is now working with the students to set up two organic vegetable plots.
Environmental Quality Investigation
Bennett Garfinkel, who joined the faculty in 2013, talked about using PLT and other EE with his students at the start of recent school year. "We will be doing hands-on experiential learning," he said. "We will also be looking at the science behind the headlines—what a greenhouse gas really is, how the data is collected, and what rising sea levels mean for us."