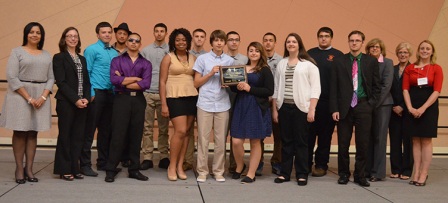 Creativity, humor, knowledge, and a strong commitment to making their schools greener were all on display when teams of students from five of Connecticut's technical high schools presented their findings from Project Learning Tree's  GreenSchools Investigations to hundreds of other students and a panel of school and business officials at a "Clean Trades Summit" at Central Connecticut State University in New Britain, Connecticut, in May 2014.
Who knew that going green could be so much fun?
For its presentation, the Green Team from New Britain's E. C. Goodwin Tech created the following hilarious video where two students (Vincent DeMatteo & Agustin Cruz) dressed in sunglasses and fedoras stole the show—and took home the Summit's first prize—as actors playing the roles of misguided crime bosses discussing their extreme measures to force others to recycle and reduce water and energy use. Supporting actors (team members Salem Ahmed, Yahya Kassem, Mike Ortiz, and Khaled Alwisha) added humor to the team's very serious conservation findings.
With roughly a quarter of a million square feet of shop and classroom space, exterior walls that are largely uninsulated, and an uninsulated 150,000-square-foot roof, current energy costs at Goodwin Tech are extremely high. Electricity alone costs nearly $41,000 a month; it costs $100,800 a month—$139 an hour—to heat the school, and hot water costs more than $7,000 a year.
"I presented this to my class as a learning opportunity. I wanted to make sure that these kids knew about the implications of energy use to the environment and to jobs," says Stanley Kulak, an instructor in Goodwin Tech's electrical department. "PLT helped us understand the dollar factor—that wow, we spend half a million dollars on energy! Our goal was to figure out where all that energy was going."
Humorous Tips with a Serious Message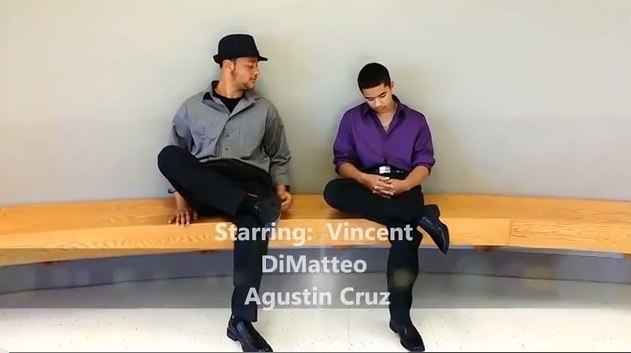 The Goodwin Tech Green Team found that it could save their school some serious money by doing things differently. Among the team's recommendations (laced with humorous commentary from the two "crime bosses") were:
Collect rainwater for outdoor watering to conserve potable water. ("We could have been mixing our cement shoes with rainwater.")
Change outdoor lighting from metal halide lights with a life expectancy of just two to three years, to energy-efficient LED lights expected to last 22 years.
Switch to single-stream recycling. This simple change, with everything collected together in one recycling bin, adds plastic to the materials already recycled at the school, eliminates the need for one trash dumpster, and can be done at no additional cost—but with far less waste.
Install timers on Goodwin Tech's hot water boilers, turn exhaust fans off, lower thermostat settings, maintain equipment, and add insulation to the school's roof and exterior walls.
Presentations Showcase Student Creativity and Critical Thinking
Students from Abbott Tech in Danbury earned second-place honors at the Summit for their business-savvy recommendations of ways to improve their school's green footprint. In addition to offering money-saving suggestions for reducing waste and trimming their school's water and energy consumption, the school's Green Team mounted a campaign to educate fellow students and their families about conservation. "We took PLT a step further with a lunchtime fair with handouts, posters, and demonstrations about how students and their families could save energy at home by doing simple things and making small changes," the team told the panel of judges.
The Green Team from Milford's Platt Tech presented their findings and recommendations in the form of a newscast, with student Michael Gendreau at the "Breaking News" anchor desk, and other members of the team reporting live from the school's highways on the team's findings. One student tells his audience that the school's inefficient light bulbs are "wasting energy like there's no tomorrow." Switching to more efficient LED bulbs will save the school $2,640 a month, he reports.
A joint presentation by students from Norwich Tech and Groton's Ella T. Grasso Tech took the form of a "Jeopardy" game show, with host "Mr. Eco" posing tough questions to a panel of four students showing off their knowledge as "Mr. Air," "Mr. H2O," "Mr. Energy," and "Ms. Waste." Like real Jeopardy contestants, each student had a signal button connected to a flashing CFL bulb to indicate they knew the answer.
"I'd like to see more kids involved in PLT," says Abbott Tech's Eric Sawyer, a science teacher and head of the school's Related Education Department. "The students that participated had a good time. They weren't just going through the motions; they were always asking good questions whenever I saw them in the hall or at lunch."
PLT and Partnerships: A Winning Combination
The summit capped the first year of a two-year Clean Trades pilot program for construction trade students at five technical high schools: E.C. Goodwin (New Britain), Norwich, Ella T. Grasso (Groton), Platt (Milford), and Henry Abbott (Danbury).
The schools that participated in the Clean Trades Summit are part of the 17-school Connecticut Technical High School System (CT Tech). Throughout the school year, students alternate nine-day cycles of academics and work experience, either in school shops or local businesses. Teams of students from each school's plumbing, electrical, carpentry, and HVAC departments conducted the PLT Investigations—no small feat for students with only half the classroom time of an academic high school.
"We only have 92 days with the students to teach the same curriculum that a teacher at a regular high school has 180 days to teach," says Eric Sawyer of Abbott Tech. "Adding the PLT curriculum did put some extra stress on the teachers, but they rose to the challenge and pulled together to get it done."
The Connecticut Forest and Park Association, which administers PLT in Connecticut, provided educator training, workshops, and GreenSchools curriculum materials to the schools. PLT's business and government partners in the program include Energize Connecticut, which funds the Clean Trades program, the Connecticut Department of Energy and Environmental Protection, Connecticut Light & Power, United Illuminating, CT Tech, and the Connecticut Business and Industry Association, which organized the Summit.
Lori Paradis Brant, Education Director of the Connecticut Forest and Park Association and PLT's Connecticut state coordinator, notes that the partnership aspect of the Clean Trades program has been especially valuable. "Throughout the school year, employees of Siemans and our other business partners went out to the schools, did facility tours and talked with students about what they do when they do their own energy audits, and helped them grasp 'real world' applications of what they were doing. It really helped students make the connection to potential career options," she says.
A panel of energy experts from Connecticut Light & Power, United Illuminating, Connecticut Resources Recovery Authority, Coca-Cola, and the University of New Haven judged each presentation at the Summit and ranked the proposed solutions.

"PLT helped us find a lot of different ways that we could change the global footprint of our school building," says instructor Brian Charron of Norwich Tech. "When it was all over my students were pleased to see ways that they can make things better, not just in school but in their own homes."
Watch the Students' Videos:
Goodwin Tech presentation (First Place)