When two seventh-graders and three of their teachers participated in a PLT GreenSchools training session back in 2009, no one could have imagined that, in just two short years, the "Green Rivers" Team at Two Rivers Magnet Middle School in East Hartford, CT, would galvanize the entire school around environmental learning and action. Yet that is just what has happened – and much more.
In the first two years, the Green Rivers Team grew to more than 150 members—approximately one-third of the student body.
"Our Green Rivers club started as a grassroots thing, the idea of just two students. Now it involves the whole Two Rivers school community, and many different projects," says Christie Hazen, the school's Enrichment Coordinator and advisor to the Green Rivers team. "From the beginning, PLT's GreenSchools program has helped our students grow in skills, leadership, and environmental awareness."
In April 2016, Two Rivers Magnet Middle School received word it won a Green Ribbon Award from the U.S. Department of Education—as did Two Rivers Magnet High School! Considering only 73 institutions around the country (47 schools, 15 school districts, and 11 postsecondary institutions) were so honored, the fact that both schools received recognition is particularly noteworthy.
As middle school principal June Wnuk wrote in her nomination, "Two Rivers has and continues to work towards building a community of environmentally conscious citizens. Through classroom activities, field studies, and green practice, we strive to impress upon our students the importance of and need for making environmentally conscious choices, both when choosing products and disposing of them."
PLT first visited with students and faculty at Two Rivers Middle a few years ago. Here is what we learned back then.
Action and Results
From the start, the Green Rivers team members set their sights on making a difference—not just in their school, but in their community and in their state.
"Their work has shown me all the things students can accomplish when they're given leadership opportunities and a voice," says Hazen. "Our projects are all focused on educating ourselves, the community, and getting our school to the 'greenest' it can be," her students wrote in a collective blog post.
The team's accomplishments include:
Presenting their work at a national conference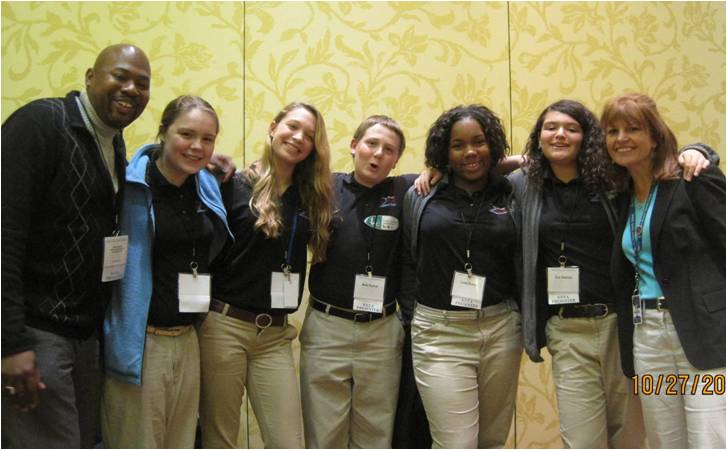 The students prepared and delivered a presentation on their work through the GreenSchools program at a meeting of the National Science Teachers Association in Hartford, CT.
"Rather than being daunted by the challenge of presenting at a meeting where almost all the other presenters are adults, our students jumped right in," says Hazen. "They were really excited, and spent every lunch hour before the meeting developing and rehearsing their PowerPoint presentation. They took complete ownership. I was there to give them support and help them with resources, but they really took charge of everything."
"Admittedly, we were a little nervous, being the only people there under the age of 18 in a room full of adults," said her students in their blog entry. "But our youthful energy worked to our advantage to help us keep everyone informed and interested. We think we did well; people were actively listening and they didn't look like they wanted to fall asleep."
Developing an audacious action plan to save energy
The students used the PLT GreenSchools Energy Investigation to evaluate their school's energy use. With financial support from a $6,000 PLT grant, the Green Rivers team researched and purchased a "wind spire" turbine to cut the school's energy costs by harnessing wind energy.
The school's administration was so impressed with the plan that they contributed $20,000 to retrofit the roof to accommodate the wind spire.
Developing leadership skills
Six students attended leadership training provided by the Alliance for Climate Education—training usually reserved for older high school students. Completing the training qualified them as ACE "Ambassadors" committed to keeping other Green Rivers club members engaged, active, and involved in both their school and their community. The things they have learned about climate science from their ACE training are helping inform their continuing efforts to save energy at their school, in their homes, and in the broader East Hartford community. Since attending the training, they have held community events and taught elementary school students the basics of recycling and composting.
Teaching young kids about the growing issue of tree damage from invasive species
The students developed a lively, humorous skit and YouTube video presentation about the damage cause by invasive species like the emerald ash borer and the Asian longhorned beetle. They used their skit —complete with beetle costumes—to teach younger students and community members about the threat the pests pose, as well as how to spot the early signs of tree damage. When they began, neither insect had entered Connecticut, but both have since been found.
"These youth were ahead of the curve in recognizing that this could be a problem here," said Rachel Holmes, a forester with the state's Department of Energy and Environmental Protection and a member of Connecticut's PLT steering committee. "Our best hope for protecting our forests is for people to watch for signs of these insects so we can respond to an infestation before it becomes a widespread problem. This team is creating awareness of this problem in their own creative, enthusiastic way, and I am grateful for their efforts. They give me hope this message will be heard!"
Developing a Green Rivers website
The website is designed to keep the entire school community engaged in the team's work.
TIPS FOR TEACHERS
Let students lead the way 
You'll be amazed at what young people can accomplish. Like Two Rivers teacher Christie Hazen, be there to give your students support and help them with resources, but let them take charge of the projects they undertake. They will learn important lessons from both successes and setbacks.
Brainstorm resources together
With your students, brainstorm a list of groups and government agencies that could serve as resources to your GreenSchools program, and ways they might be involved. Invite these partners to make presentations at your school, mentor Green Team members, or become involved in other ways. In the case of Two Rivers, reaching out to the state's Department of Energy and Environmental Protection gave students access to the professional expertise of a forester, who provided both encouragement and additional resources.
Complete new, self-paced

online training

for an orientation to PLT GreenSchools
You'll learn more about how this nationwide service-learning program can work for you and your students.
Access PLT's

GreenSchools Investigations

online
A great way to begin using the PLT GreenSchools Energy Investigation is to collect data on the energy use at your school. What are you paying for electricity each month? Can you save money?
Think big and involve your whole school
The Two Rivers students were undaunted in their quest to install a wind spire on their school. With help from a PLT grant, and funds from the school's administration, the project became a reality.
Encourage your students to think about ways to share their work
Help your students think about how they can share their progress with other students, schools, community organizations, and the media. The most powerful service-learning projects are those that widen the circle of those involved in making schools and communities greener.