"Students for Sustainability" (SFS) are working to reduce the carbon footprint of their school and community at Port Townsend High School (PTHS) in Washington State. In a relatively short amount of time, they've already taken many important steps toward sustainability, including:
Reducing cafeteria waste by switching to reusable dishes and utensils, saving an estimated $10,000 per year,
Improving community and school recycling programs by raising funding for new bins,
Instituting a ride-sharing program to get more students to carpool, and
Leading a massive reforestation effort to improve local habitat.
Meet the Students for Sustainability
Since June 2012, SFS has operated as a student-led club. Two PTHS science educators serve as mentors for the group, letting the students decide on and direct projects. What brings them all together is their collective passion for reducing the effects of global climate change and their drive to take positive, strategic action to improve the environment.
Planting an Entire Forest, One Tree at a Time
In 2013, SFS leaders identified carbon sequestration through planting trees as a way to mitigate the effects of climate change. They offered to help reforest two local and critical habitats, the Irondale Springs and Tarboo Creek watersheds. Both sites are within 25 miles of Port Townsend High School. 
After learning about the state of these watersheds, SFS students toured the areas. Their goal was to improve the habitat for wildlife and water quality in the area. By completing this project, they would be able to offset the carbon footprint of each member of the SFS club until they reach age 50.
According to their calculations, if they planted 3,000 trees, the reforested lands would sequester approximately 3 million tons of carbon dioxide over the next 40 years, and 15 million tons over the lifespan of the trees.
As SFS began planning their reforestation efforts, they partnered with the Jefferson Land Trust and the Northwest Watershed Institute. They also applied for and were awarded a PLT GreenWorks! grant to fund part of the project. 
Restoring Irondale Springs: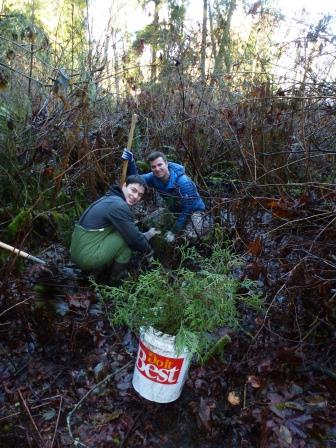 Over 100 years ago Irondale Springs was cleared for industrial use due to its proximity to the old Irondale Iron and Steel Plant. After the plant closed for good in 1919, the industry and prosperity of the area declined. Nature slowly began to reclaim Irondale Springs and the surrounding area, but it was predominately blackberry bushes and other invasive plants that took over. 
In 2011, Irondale Springs was donated to the Jefferson Land Trust to permanently preserve the site as a natural area to protect wildlife and water quality. When it was donated, this important conservation easement was in dire need of support and rehabilitation. However, the steep slopes and extremely muddy conditions made it difficult to traverse. Not deterred by the conditions, SFS club members offered to steward the land.
With the funding from PLT, SFS was able to purchase 500 trees for Irondale Springs. After students removed invasive plants and trash, they planted Douglas fir, hemlock, and red cedar.
"The students felt a great sense of accomplishment in reforesting a critical piece of habitat.  They learned how to plant a variety of native trees, being careful not to cause problems to ensure a high survival rate," said Laura Tucker, advisor to the Students for Sustainability. 
Restoring Tarboo Creek:
Prior to being cleared and drained to create farmland and pasture, Tarboo Creek provided some of the most prolific habitat for salmon in the Pacific Northwest. Beginning in 2007, the Northwest Watershed Institute (NWI), the organization currently managing the property, has been restoring the once meandering creek and tributaries as well as creating new salmon habitat. NWI now holds annual Plant-a-Thons, inviting students from five local schools to plant native trees and shrubs to revitalize the watershed.
In 2014, SFS members served as Crew Leaders for the NWI Plant-a-Thons, helping approximately 125 students from Kindergarten through 8th grade plant 2,500 trees. Club members guided teams of 8 to 10, teaching them how to properly plant the trees and ensure teams had all necessary tools and materials.
In February 2015, SFS joined NWI and other area schools again for this year's Plant-a-Thon. Together, they planted another 3,500 trees around Tarboo Creek. 
…If you're keeping score, that's 6,500 trees and counting!
Recognizing Excellence 
The Jefferson Land Trust was so impressed by the students' commitment to reforesting the area that they granted perpetual stewardship of Irondale Springs to SFS.
Ewan Shortess, President of SFS, stated, "This chance to make a significant difference in our local community was an incredible opportunity for all of us.  We felt like what we did really mattered.  The Land Trust didn't have the manpower or the funds to restore the property properly and we came in and transformed the habitat.  No student group had done this before.  
It was a really amazing experience, including working in the difficult terrain and pouring rain, fighting through the overgrowth, and removing trash.  We were thrilled to be the last element in the equation and did something tangible that made a difference."
The Environmental Protection Agency awarded the Students for Sustainability a Presidents Environmental Youth Award (Region 10) for their work throughout the 2013-14 school year. This award is given to youth groups that promote environmental stewardship, awareness of natural resources, and community involvement. SFS's award included the students' tireless efforts to reforest the Irondale Springs and Tarboo Creek watersheds.
Resources

Want to form your own student-led green team and take action like "Students for Sustainability"?