Stonewall Jackson Middle School and The Monarch School are both in Houston and are both committed to their students–but at first glance, they do not seem to have much else in common.
Jackson was built in 1926 and is in the city. Monarch's new building opened in 2009 on 11 acres. Jackson, a public school, has 950 students in grades 6 through 8, while Monarch, a private school, has 110 students of all ages.
But these two very different schools do have something else in common—both are PLT GreenSchools and both are finding ways to use the program to meet the needs of their students.
"When we developed PLT's GreenSchools program, we wanted to ensure that it could work in rural, suburban, and urban schools, large and small, diverse and underserved" said James McGirt, PLT GreenSchools coordinator. "The feedback we get from participating schools shows that the program has the flexibility we were looking for."
"When I started looking into the PLT GreenSchools curriculum, I liked it because it was very hands-on, and the kids had power," said Richard Klein, director of the environmental education program at Monarch. "Kids were all on the same level as their teachers and the school administrators. Because of that, we knew that our kids would buy into the program, notice the changes they were able to make, and be proud of what they'd accomplished.  This program makes an impact because the kids have ownership of it. They leave here, and they're still remembering and using what they've learned even after they graduate."
PLT's GreenSchools! program combines environmental education, service learning, and leadership opportunities for students to reduce the ecological footprint of their school and turn it into a model GreenSchool. Thousands of schools nationwide have registered to become part of the program, which has three components: professional development in environmental education and PLT, student-led investigations into their school's energy, water, waste and recycling, site and other environmental aspects, and service learning based on their findings.
An Urban School, an Unexpected Renovation
Most of Stonewall Jackson Middle School is 80 years old; a "newer" addition was built in 1980. It is a Title I school with a student population that is almost 95 percent Latino. "GreenSchools has been great for our students because it exposes them to opportunities in the real world," said Joseph Alva, LEP (Limited English Proficiency) coordinator. He is faculty sponsor of an after-school club called the Energy Busters, which has taken on the PLT GreenSchools activities.
For example, as part of the PLT GreenSchools Energy Investigation, students worked with a professor at the Energy Institute at Houston Community College. They learned how to conduct an energy audit on the college campus, which they applied by conducting an audit back at Jackson.
One twist in their plans, however: In 2010, a long-delayed school renovation began. "It was good for the school, but not for our investigations," said Alva. Now, some of the students' projects and plans, such as their recommendation to install motion sensors, were put on hold until the construction projects are over.
PLT GreenSchools has proven to be a lesson for the students in adapting to circumstances. Because of the construction, students decided to focus on three enclosed atriums that remain untouched during the renovation. In one, they are growing a vegetable garden, learning how to improve it over time, and hoping to eventually harvest enough produce to donate in the community. A second is a concrete space where they have added some play equipment and are investigating how to install a rain barrel, and they have cleared, weeded, and mulched the area in the third atrium. Students also hope to start a recycling program.
Joni Springer, a science teacher, said undertaking PLT GreenSchools as a multi-grade club works well at Jackson. "By involving sixth, seventh, and eighth graders, it's ongoing," she said. "Otherwise, eighth graders, for example, would move on, and it would take a while to get things up and running again."
She had another piece of advice: "The activities are set up so that kids can follow the procedures," she said. "Have the kids take the lead, with the teacher as the facilitator."
"In Latin America, the school is the center of the community," said Alva. "GreenSchools is a great way to make people aware that this school is not just for kids, it is for the community."
A LEED School, A Way to Learn

The Monarch School is a private school dedicated to providing an innovative, therapeutic education for children with neurological differences, such as autism spectrum disorders, attention deficit (hyperactivity) disorder, learning disabilities, Tourette syndrome, mood disorders, anxiety disorders, and other neurological differences.
Founded in 1997, Monarch began in three temporary buildings on a rental property, expanding three years later to include three suites in a business park. In August 2009, Monarch students and faculty moved onto their permanent campus in a new building, which is LEED-certified at the Gold level by the U.S. Green Building Council.
With many environmental features built into the new facility, teacher Richard Klein noted that PLT's GreenSchools can still foster opportunities for environmental improvements and student learning. "Even in a new building, students and faculty don't always get training in how to use all the features," he noted. "We have had several big 'ah-ha' moments related to usage."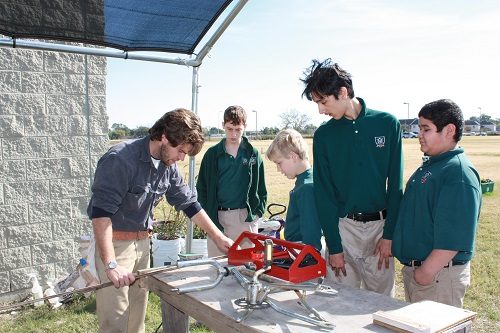 Klein said the hands-on aspects of PLT GreenSchools  appeal to his students and reflects the multi-sensory approach of the Monarch curriculum. "Students like the hands-on in collecting data," he said. "The important thing, though, is not just to collect data but figure out what to do with the information. What do the numbers mean for the big picture? What should we do, based on the data?"
Even the forms themselves prompt learning. "Students ask me about why the forms have so much white space," noted Klein. "Then we discuss the need to comment and write down observations, not just collect numbers."
Through their investigations, the students calculated the energy savings that would be gained by switching to laptop computers. The students made a proposal to buy new laptops, and received a grant that went toward new computers. After documenting the energy savings ($160 per computer per year) from this first round of computer purchases, the students wrote and received another grant to replace all the computers in the school with energy-efficient laptops.They followed the PLT GreenSchools process to research and report their findings to Monarch's executive board of trustees. "At first I was nervous," said one student about the presentation. "We were trying to give a message that we are doing a good job for the environment."
To help save energy, Monarch students planted 120 new trees to create shade on the campus. When drought caused one-third of the new trees to die, the students designed and installed irrigation lines on the perimeter to supply the trees with water during dry periods.
Several students made a DVD about the investigations that was shown at the Project Learning Tree International Conference in 2010. "I told the students that PLT was impressed with their work and would like to see a video of the process," said Klein. "The students went to work immediately. As one student said succinctly when describing how their criteria for recommending new computers expanded to also include how much the computer is going to cost to run, "something that looks pretty is not as good as something that works pretty."
Klein stressed the importance of the PLT GreenSchools process, beyond the content. "As students work through the survey questions, the teacher may have a tendency to lead the students," he said. "I would encourage teachers not to do that. Give students the time to come up with the answers on their own. Their relationships and communication with each other develop as a result."