People connect to nature best when it's with their head and their heart. That's what led students at Upper Arlington High School in Columbus, OH, to create a self-guided Meditation Nature Trail at a local ecology center.
Beginning in the 2008-09 school year, students teamed up with Capitol Square Rotary Club to design and construct the trail. The students took charge investigating local ecosystems, determining a route and station locations, developing themes, and conducting an online survey to better understand how the local community best connects to nature.
They set up the trail at Shepherd's Corner, a 160-acre ecology center of the Dominican Sisters of Peace located in Blacklick, Ohio. Each station sign includes a fact for the mind, a reflection for the heart, and an activity for the entire being.
Originally designed as a five-week inquiry-based project, the students continued to volunteer their time for the next year and a half. "At first, I just got involved because I needed some service hours. But then I really began to feel connected to the place – and I saw I could make a difference and do something positive to help people and the environment," said Rose Mantel, an Upper Arlington High School student.
The students enjoyed seeing their ideas come to life in the trail stations. After the completion of that project, they decided to undertake a final project to tie everything together and create a more holistic learning experience for the trail visitors.
With the help of a PLT GreenWorks! grant, students developed and installed the trail's final station during the 2009-10 school year.  This "Web of Life" station, based on PLT Activity 45, culminates all the previous stations' themes and gets people to think about nature's countless connections.
Interpreting PLT's "Web of Life" Activity
In PLT's "web of life" activity, students conduct research and simulate a food web to discover the many ways that plants and animals are connected.  Students decided to bring this activity to a new level. They took on the challenge of interpreting the activity in a way that would work for a permanent structure. 
At the Web of Life trail station that the high school students designed, participants learn about and assume the role of a local native species.  The physical web provides an opportunity to reflect on the concepts of interconnectedness in nature and effects of losing species.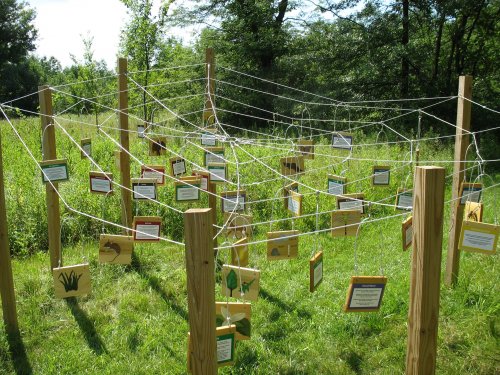 The 14ft diameter web is composed of nine posts and a sloped cable, enabling people of various ages and heights to reach it.  Forty-five removable signs hang on the web, each representing a local native species. 
Individuals can read, remove, relocate, and wear the signs as they explore relationships among species.  As individuals tug on the rope, they see how one action can affect multiple areas of the web. 
A lot went into the planning process for this station.  Many hours were spent at Home Depot, asking questions, deciding construction materials, and evaluating costs.  They built a scale mock-up of a web section and species signs.  They refined their design several times after presenting their ideas to Shepherd's Corner staff.
"Working on the Web of Life made me realize how many decisions and small details go into the making of a large-scale project. It was both challenging and rewarding to design something that will appeal to people of all ages and backgrounds," said Julie Laudick, one of the students who worked on the project.
The Web has several layers of education to it, with various ways it can be used by different age groups.  It provides for multiple learning modes, so the educational activity can be memorable for as many youth as possible. When students use the Web, their questions and discussion are thought-provoking.
Debuting the Web of Life

In July 2010, students hosted summer campers (age 9-12) in the first official use of the Web.  They met with the local newspaper's photographer and were interviewed individually by the reporter over the phone.
Watching students experience his work, Gaven McDaniel said, "I really hope that even at such a young age, they begin to understand why they need to watch what they do, because what we do impacts not only ourselves, but everything else that lives around us," he said.  "It might be a stretch, but hopefully they can start making changes in their own lives."
During the summer, high school students continued to refine how to conduct the activity. Shepherd's Corner staff use the web with youth groups, and families in the local community visit the trail with their children and engage with the web on their own. 
Challenges and Lessons Learned

PLT's GreenWorks! grants, with their focus on education and student leadership, ensured that the project was student-led and incorporated opportunities for environmental education.  To that end, this project was an incredible success, but it did not, however, go without its challenges.
Design challenges
There were plenty of glitches along the way with the design – engineering challenges, not having the correct materials in stock, ground too wet for installation, winter weather too cold for staining, etc. Each of these presented a "real life" opportunity to problem solve. Often, these troubles lead to improved design and implementation.
Timing
Perhaps the only significant difficulty was timing. The plan was to complete the project in late spring, but the naturally busy ebb and flow of a high school senior's life was not factored into the original timeline!  Beyond graduation and into the summer, the group worked to complete the project in late July.
Planning
In terms of process and education, students were surprised to learn how much planning is involved in a project such as this one. These skills will undoubtedly transfer into future service activities, projects, events – and careers!
Building relationships
Students also established strong and positive working relationships.  They worked with Shepherd's Corner, taking responsibility to complete pieces of the project independently.   They built a partnership with Capitol Square Rotary Club and involved 20 of their fellow students. 
A new appreciation for their local environment
Students have commented what a deeper, richer respect they have for their local environment. They were dedicated in their research to learn and teach others about nearly 50 local native species.  And, perhaps most importantly, they learned to teach others to appreciate the environment around them.
Keys to Success

Community organizations
Community organizations provide adult mentors and opportunities for youth to interact with adults in a coached, safe, real-world environment. 
For this project, specific adult skills were available to provide guidance in different situations: an architect and engineer to help with design, an education director/teacher to guide the local species research and educational programming, a naturalist to teach, a farmer "Mr. Fix-it" who had many tools and skills to help us construct. 
Students also took some of their design challenges home and enrolled parents or older siblings to help them problem solve.
Start with a small project first
It's helpful to grow a GreenWorks! project out of another, smaller project. In this case, the GreenWorks! project grew from a previous year's work with students.  They helped create the initial design for the trail in 2008.  Wanting to see their vision through to completion, two returning students recruited and lead others in implementing a project of their own. Adults can't manufacture or demand this commitment; it must grow on its own from within a small committed group of youth – over time.
Commitment to service
It's helpful for the schools, programs, and organizations involved to have a commitment to service. Upper Arlington High School requires its students to complete service learning hours and a (research or service) project in order to graduate. 
Students also helped raise funds for this project, through community booths and bake sales, as well as gathering in-kind donations from their school and parents. 
They also gave two public presentations – to the Rotary Club and at a PLT statewide conference. This gave them positive feedback during a long-term project.
Keep in contact with state PLT coordinator
It is rewarding to keep in close contact with your state's PLT coordinator. This grant was special in the way it engaged students with PLT activities, the Ohio PLT State Coordinator, and other PLT leaders, facilitators, and teachers from across the state.
We invited the Ohio PLT State Coordinator, Sue Wintering, to our Rotary meeting, shared our project with her at different points in design/construction, and invited her to the debut of the educational activity at the Web.  It was meaningful and helpful to have this connection and feedback.
Student commitment
Ultimately, the biggest key to success in this project was the devotion and commitment of the students. This project wasn't something they did to finish their Senior service project or to add a line to their resume. This project became an important thread in their lives. 
This happened organically– quietly, joyfully, without any planning or preparation. Mentoring relationships grew between Rotarians, Shepherd's Corner staff, and students.  Friendships grew…and education flourished.