Throughout the 2013 school year, students, teachers, and community members worked tirelessly to implement service-learning projects across the country. PLT supported 29 inspiring projects in 17 states and the District of Columbia through our GreenWorks! grant-giving program. Here are just a few highlights from the many impressive environmental improvement projects.
Exploring Mars and Recycling on Earth
7th grade students at Evergreen Middle School in Cottonwood, California, reached for the stars with two service-learning projects. Their student-led NASA Research Team members and teachers are passionate about studying Mars. In 2010, the school received national attention for discovering a new cave by closely examining images of the planet's surface. 
To support their work on the Mars Student Imaging Project and their yearly trip to the NASA AMES Facility in Mountain View, California, the team came up with a plan to raise funding. They initiated a school-wide recycling program for which they received a PLT GreenWorks! grant to help them get started. Students distributed recycling bins and collected paper, cardboard, plastic bottles, and aluminum cans in their classrooms, the district offices, and at school-community events. Each week they took all of the materials to local recycling facilities and the money earned from recycling efforts supported the Research Team's expenses.
"The most rewarding (and most successful) part of the project has been the buy-in of the students on the team. The students [were] relentless in their pursuit to collect the materials. They often came in on their own time before school and at lunch to collect the materials," said Dennis Mitchell, 7th grade Math, Science, Technology, and Service Learning Coordinator at Evergreen Middle School, and a 1999 National PLT Outstanding Educator.
Composting in the Classroom
YMCA Camp Minikani in Hubertus, Wisconsin, started an in-school environmental education outreach program to teach students at numerous Wisconsin schools about decomposing materials and composting.
During weekly visits for six weeks, 4th through 8th grade students learned how items are disposed, where their garbage goes, and what happens to the trash. To demonstrate concepts like decomposition, Camp Minikani staff led hands-on lessons and group activities including Activity 23, The Fallen Log from PLT's PreK-8 Environmental Education Activity Guide.
As students learned more about decomposition, they were asked to consider objects like leather boots, banana peels, plastic jugs, and newspapers, then estimate how long they think it takes each item to decompose. Students were surprised to find that some items take hundreds of years to decompose while other items never do.
In a later lesson, Camp Minikani staff introduced the concept of composting and shared examples of materials that can and cannot be used. Using plastic jugs, they helped the students set up an experiment designed to illustrate factors that affect composting. Holes were poked into one bottle to mimic windy conditions, another bottle had no water to represent composting in a dry environment, the next bottle had too much water to simulate a wet environment, and the last bottle was the control. Over the following weeks, groups of students added compostable wastes to their bottles, observed any changes, and identified the differences between composting in various conditions.
After discovering that bottles with water led to faster decomposition rates, while drier conditions led to minimal change, the students were ready to initiate a composting program at their schools. Students educated others on composting and came up with the method and schedule for collecting food wastes at lunch. Camp Minikani staff set up large composters outside that the students are continuing to use regularly, and many students are making plans to expand the program to compost school-wide.
Creating a Wildlife Garden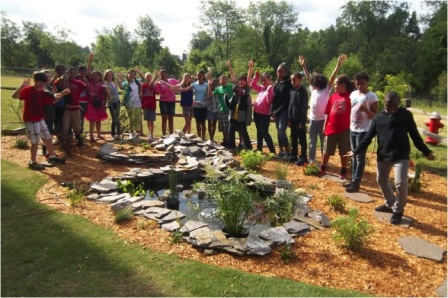 Catawba Trail Elementary in Elgin, South Carolina, expanded their existing butterfly and bird garden to make a new home for fish, amphibians, and other aquatic life.  
To begin the project, students proposed and then selected a design that included a pond, waterfall, river rocks, native plants, and clay pots perfect for attracting toads.
Students framed the area with rope and dug until the hole was big and deep enough for the pond. Next, students laid out the liner for the bottom of the pond and edged the border with rocks. A waterfall was installed, the pond was cleaned and filled with water, after which fish and pollinator attracting plants were added to complete the new aquatic habitat.
Having transformed their outdoor space into a wildlife garden rich with diverse plant and animal life, Catawba Trail Elementary now fully utilizes the area as an outdoor science lab for all classes.
Overseeing the garden expansion was Science Lab Teacher, Victoria Pasco, who was named South Carolina Association of Conservation Districts Teacher Of The Year in 2012 for her outstanding commitment to conservation education. She believes "environmental education is critical to creating good stewards of our natural resources and the best way to develop good stewardship is by creating a connection between children and our natural world." To help make those connections, Pasco uses both Project Learning Tree and Project WILD's environmental education activities in her instruction.
"The most important aspect of this project is the pride and ownership the children have in the garden in which they did all the work," said Pasco.
Have an Idea for a Service-Learning Project?
Consider applying for a GreenWorks! grant from PLT.  Schools and other educational institutions are welcome to apply. The annual deadline is September 30th.