PreK-8 Guide
A popular resource for educators of elementary and middle school students, PLT's PreK-8 Environmental Education Activity Guide  includes 96 hands-on, multidisciplinary activities that bring the environment into the classroom, and students into the environment.
Charting Diversity. Birds and Worms. Pollution Search. These are some of the fun, hands-on activities with emphasis on science, reading, writing, mathematics, and social studies that engage students in learning – both outside and indoors. Topics include trees and forests, wildlife, water, air, energy, waste, climate change, invasive species, community planning, and more. Each activity is tailored to specific grade levels and learning objectives and filled with opportunities to build critical thinking skills and differentiated instruction techniques.
To receive the PreK-8 Guide (available in print or as an e-book), attend a Project Learning Tree professional development workshop in your state or purchase the curriculum with online course from our Shop.
K-Grade 2:
E-Unit – Treemendous Science!
PLT's Treemendous Science! e-unit is an invitation to increase the quantity and quality of your K-2 learners' contact with nature and trees. With Treemendous Science!, students will experience, explore, and collect tree data to develop understandings about how trees grow, the roles trees play in ecosystems, and the ways in which trees and humans interact.
Grades 3-5:
E-Unit – Energy in Ecosystems
With PLT's Energy in Ecosystems e-unit students focus on forests (one of the largest and most complex types of ecosystems) and come to understand some of the interactions present in all ecosystems. In doing so, they learn to appreciate the natural systems on which we depend and begin to widen their circle of compassion to include all of nature.
Grades 6-8:
E-Unit – Carbon & Climate
Perhaps more than any other environmental issue, the topic of climate change challenges science teachers to accurately convey data, reveal assumptions, and engage critical-thinking skills. Project Learning Tree's Carbon & Climate e-unit provides activities and resources to help educators meet these challenges, introducing, and educating students to some of the complex issues involved in climate change.
Note: PLT's e-units are all online. To get this e-curriculum, attend a Project Learning Tree professional development workshop in your state or purchase the e-unit with an accompanying online course from our Shop.
Teaching with i-Tree
PLT's Teaching with i-Tree unit, designed for use with middle and high school students, includes three hands-on activities that engage students in discovering and analyzing the many ecosystem services that trees provide. Students use the free, online i-Tree Design software – developed by the U.S. Forest Service –  to calculate the dollar value of the benefits provided by a tree or a set of trees. 
Download Teaching with i-Tree. 
Green Jobs: Exploring Forest Careers
Help youth discover careers in sustainable forestry and conservation! Green Jobs: Exploring Forest Careers includes four hands-on instructional activities to help youth research forestry jobs, and practice managing and monitoring forest resources.  It is designed for educators, career and guidance counselors, Scouts, 4-H, and FFA leaders, foresters, and job training advisors to use with learners aged 12–25.
Learn more and get the guide! Available in print or as an e-book.
Energy & Society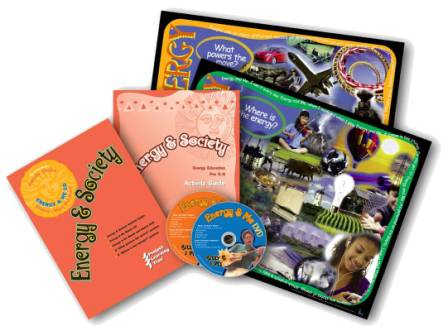 Project Learning Tree's Energy & Society kit offers K-8 students opportunities to learn about their relationship with energy. The activities develop students' critical thinking skills to help them make decisions about their personal energy use. In addition to hands-on activities, this curriculum integrates music and dance to enhance the study of energy issues. 
To get Energy & Society, attend a Project Learning Tree professional development workshop in your state.
GreenSchools
Engage students in STEM as they investigate their school site, energy use, water, waste and recycling practices. Five investigations empower students to make their schools green and healthy.
Register to access each investigation online, or purchase a print copy of the complete set. Attend an online GreenSchools training for tips on starting a program at your school, how to obtain equipment, collect data, etc.
Family Activities
Nature is a great teacher!  Try these activity ideas from Project Learning Tree to connect the children in your life to the outdoors and nature. This printed guide contains a collection of more than 30 fun and easy-to-do activities. Suitable for children ages 3 – 15, some activities work better for younger children, others are more suited for older children. The way you present them will change depending on your child's knowledge and ability. 
Purchase Nature Activities for Families from shop.plt.org.