National Pollinator Week, held June 20-26, 2022, is an annual celebration of the many animals that move pollen to help plants make fruit or seeds. The best part of National Pollinator Week is regardless of how you celebrate and participate—you are helping pollinators in a significant way!
Many understand the importance of bees, but are you aware of the many ecosystem benefits of flies, bats, hummingbirds, beetles, and so many more?
We've assembled a short list of fun pollinator facts and hands-on activities to help bring awareness to the ways pollinators are essential to our daily life. We encourage you to show how you're celebrating by using hashtags like #NationalPollinatorWeek and #PollinatorWeek and sharing educational resources.
Important Pollinator Facts
Pollinators are responsible for assisting more than 75% of the world's flowering plants to reproduce and are critically important!

One out of every three bites of food we eat as Americans, we owe to pollinators! Many crops, from apples to almonds, rely almost exclusively on pollinators to survive and thrive.

Don't like apples or almonds? What about blueberries, squash, watermelon, strawberries, peaches, or peppers? All of these fruits and vegetables greatly benefit from bee pollination.

Poor pollination is one potential cause of misshapen fruit. Not only do pollinators help provide us with nutrition, but they also contribute to how ripe and beautiful the presentation is!

Next time you stop to smell the flowers near you, thank a local pollinator! Did you know that most pollinators feed on specific plant species native to where they live? 

Pollinators have declined worldwide due to habitat loss and other factors, so it's more important than ever to appreciate them and help improve the places they call home. 
6 Ways to Celebrate Pollinators
1) Plant for pollinators
Consider planting native flower beds, gardens, or local grasses instead of traditional lawns, if you're able. Even a small project such as planting local flowers in pots or on a windowsill can help students take concrete action toward learning about and protecting pollinators. Don't have a large space to plant a native garden? Try planting a container garden instead! Container gardens are space-efficient and mobile and make an excellent alternative for those living in urban areas. Use Pollinator Partnership's free search guides to see suggested native species to plant for your local pollinators.
Check out the full School Garden Pinterest board to help you with your classroom or summer camp projects!

2) Citizen scientists for pollinators
Pollinators make it possible for one out of every three bites of foods you eat to exist! To help scientists identify where pollinators are (or aren't) doing well and improve their habitat, volunteers can join The Great Sunflower Project to observe pollinators that visit sunflowers or any other flowering plants in a designated spot within five or more minutes.
Plan and plant a pollinator garden as a long-term home project to show some love to pollinators. Send data about the pollinators observed in your garden and report it to iNaturalist or The Great Sunflower Project. Looking for more citizen scientist projects? Check out our article!
3) Discover careers in conservation
Read how Ellie Anderson, an Education and Outreach Technician is helping children and adults understand the importance of bees and butterflies while enjoying the outdoors.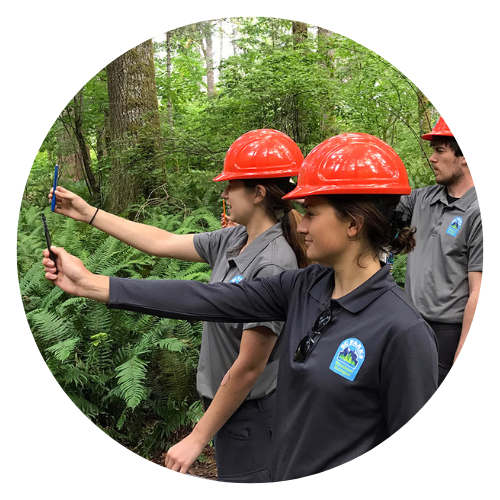 There are many paths and amazing destinations to discover in the forest and conservation sector, including paths that focus on pollinators! Share PLT Canada's career fact sheets with youth to help them explore inspiring careers (note: this resource recommends Canadian education institutes. Check your local college or university to see if a school near you offers these programs)
Explore a day in the life of a Senior Biologist or Environmental Educator with PLT Canada's A Day In The Life Series! This series is an excellent way for youth to get a glimpse into jobs they may be interested in from a network of green job professionals!
4) Ask children to write a pollinator promise
Take a page out of the Brushwood Center's Bosque de Salud, or Forest of Health celebration by asking your students to detail the simple but specific steps they will make to help pollinators thrive as part of a pollinator promise. Whether putting out clean sugar water for hummingbirds, learning about native plants, gathering donations for a pollinator conservation group, or organizing a pollinator party, there are many ways we can commit to supporting pollinators.
5) Pollinator scavenger hunt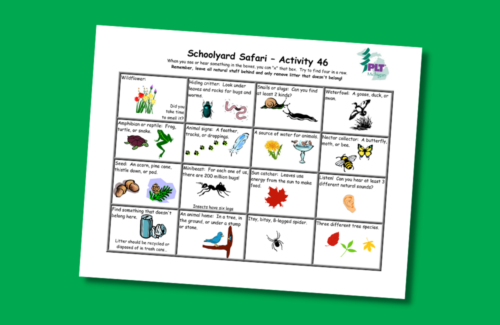 Pollinator-themed scavenger hunts are a fun way to get kids outdoors. They also give them a chance to explore the backyard, neighborhood, or summer camp and learn about the different pollinators in their local environment. Download a free scavenger hunt to use with kids. For more advanced pollinator enthusiasts, use the Insight Science App to ID pollinators and contribute to research and conservation. You can also adapt our Michigan PLT state program's bingo sheet to fit your pollinator scavenger hunt.
Tip: Pair the scavenger hunt with nature-based sensory activities that meet the sensory needs of all students, including those with special or diverse needs.
6) Learn and teach about pollinators
There are many different pollinators, including bees, butterflies, beetles, birds, flies, bats, and even the wind. Help children and youth in grades 2-12 learn about pollination and pollinators using this free pollinator activity book from the National Park Service.
You can also learn the story of bees, bats, birds, moths, and other pollinators and the essential services pollinators provide for the planet from the
Other ways to teach about pollinators:
Download this abridged free PLT activity, adapted from our Explore Your Environment: K-8 Activity Guide. Have Seeds, Will Travel explores how many plants need the help of animals to disperse their seeds – available in English and Spanish.
Pair pollinator ideas with the Sounds Around activity from Trees & Me: Activities for Exploring Nature with Young Children to engage young children in exploring the sounds of pollinators and imitate them using their voices and instruments that they make.
Conduct pollinator observations in an urban setting and participate in the Celebrate Urban Birds program. This bilingual project involves identifying birds in your area three times a week and submitting data. On their website, you'll also find community art, habitat, and bird event ideas that you can undertake with help from educational kits and mini-grants.
There are so many ways for students of all ages to help promote and protect our pollinators. Tell us how you plan on getting involved in the comments!