National Pollinator Week, held June 22-28, 2020, is an annual celebration of the many animals that move pollen to help plants make fruit or seeds.
Many understand the importance of bees, but are you aware of the many ecosystem benefits of flies, bats, hummingbirds, beetles, and so many more? We've assembled a short list of fun pollinator facts and hands-on activities to help bring awareness to the ways pollinators are essential to our daily life.
Editor's Note: We recognize that many National Pollinator Week celebrations have gone virtual since the world has begun practicing self-quarantines and social distancing amid the COVID-19 pandemic. We encourage educators and students to celebrate online by using hashtags like #NationalPollinatorWeek and #PollinatorWeek and sharing educational resources.
Important Pollinator Facts
Pollinators are responsible for assisting more than 75% of the world's flowering plants to reproduce and are critically important!

One out of every three bites of food we eat as Americans, we owe to pollinators! Many crops, from apples to almonds, rely almost exclusively on pollinators to survive and thrive.

Don't like apples or almonds? What about blueberries, squash, watermelon, strawberries, peaches, or peppers? All of these fruits and vegetables greatly benefit from bee pollination.

Poor pollination is one potential cause of misshapen fruit. Not only do pollinators help provide us with nutrition, but they also contribute to how ripe and beautiful the presentation is!

Next time you stop to smell the flowers near you, thank a local pollinator! Did you know that most pollinators feed on specific plant species native to where they live? 

Pollinators have declined worldwide as a result of habitat loss and other factors, so it's more important than ever to appreciate them and help improve the places they call home. 
5 Hands-On Ways to Celebrate Pollinators
1.) Plant for pollinators
Consider planting native flower beds, gardens, or local grasses instead of traditional lawns, if you're able. Even a small project such as planting local flowers in pots or in a windowsill can help students take concrete action toward learning about and protecting pollinators. If there's enough interest, let the students take the lead in planning and organizing their own projects through a pollinator club. Pollinator Partnership offers free search guides to plug in your postal code and see suggested native species to plant for your local pollinators. 
2.) Learn about other examples of plant-animal mutualism 
Plants that bear pollen can offer protection to their offspring in the form of hard seeds ⁠— and in some cases, those seeds are even nestled inside fleshy fruits. Birds and bats eat these fruits and seeds and help the seeds spread to new areas through their droppings, an example of a mutualistic or symbiotic relationship.
Check out our Educator Tip detailing more examples of symbiotic relationships that benefit both organisms involved. Download abridged free PLT teaser Activity 43: Have Seeds, Will Travel in English and Spanish to learn more while having fun outdoors.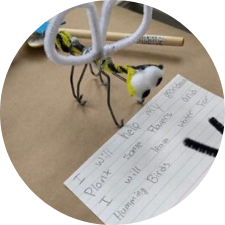 3.) Ask students to write a pollinator promise
Take a page out of the Brushwood Center's Bosque de Salud, or Forest of Health celebration by asking your students to detail the simple, but specific steps they will make to help pollinators thrive as part of a pollinator promise. Whether putting out clean sugar water for hummingbirds, learning about native plants, gathering donations for a pollinator conservation group, or organizing a pollinator party, there are many ways we can commit to support pollinators.
4.) Build a bat house 
North American bats are struggling because of habitat loss and White-Nose Syndrome (WNS.)
WNS is a wildlife disease that is causing large population declines in hibernating North American bats. Lend a helping hand by building and installing a bat house in your backyard or at your school site. Our friends at Bat Conservation International created a webpage with lots of helpful tips to aid your assembly. 
Looking for a little inspiration? Learn how in Clark County, Ohio, children ages 7-12 built bat houses during an after-school outdoors educational program and installed them at a local wetland and prairie. 
5.) Learn about current events that affect pollinators
Link a lesson on pollinators to a project related to current events. Help students use their new knowledge to think critically about how current events or proposed legislation will impact pollinators through a research or debate project.
There are so many ways for students of all ages to help promote and protect our pollinators. Tell us how you plan on getting involved in the comments!