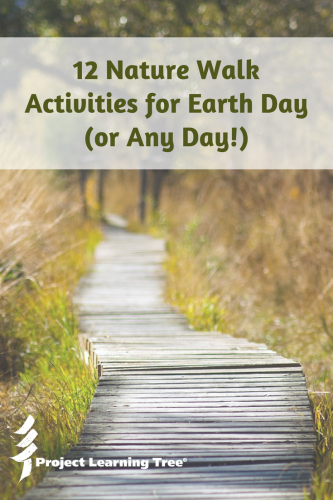 One simple way teachers and parents can observe Earth Day is to take learning outside and have children interact with their environment. Nature walks are a fun and easy way to bring your students outdoors, whether it's on the school grounds, in your backyard, or at a park or another local place of interest.
Doing a nature walk is not only about celebrating Earth Day. It's also an opportunity for learning experiences in a variety of subjects such as science, geography, math, and art. Each nature walk offers something different for students to explore – even if you walk the same trails from one day to the next. If you live in a colder climate, the changing seasons can be another great way to observe plants and animals as the weather shifts.
Such experiences can be exhilarating, fun, and inspirational. We often hear students say, when we go outdoors we don't really know we're doing it, but we're actually learning math, doing science, and practicing English, so it's just making it educational and fun at the same time.
In this article, we'll take look at some activities that will ensure your nature walks are an engaging and enriching learning experience for students of all ages.
Educators — pair these activities with lessons from PLT's activity guides 
Parents — make use of our free family activities on your nature walks.
Makeshift videos — our PLT community is creating video using smartphones to demo activities for parents and teachers during the COVID-19 pandemic.
1. Scavenger Hunt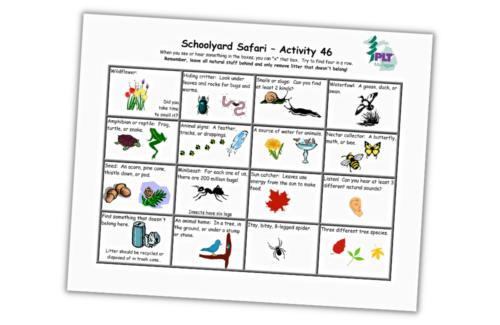 Oftentimes in a scavenger hunt, objects are hidden throughout the search area and the children then search out these items. However, instead of looking for pre-hidden objects, students can look for plants, animals, and objects found in nature. For example, this 'Nature Scavenger Hunt Grid' sets out some basic things to look for such as water, a spider web, and bark. Use this Bingo sheet created by our Michigan PLT state program, or you could also create your own grid or checklist suited to a particular grade level or topic.
Subjects: Science
Grades: K-6
Educators: 
Family Activity: 
Smartphone Video Demonstration:
2. Collect Art Supplies
Not only could students look around their surroundings for artistic inspiration on nature walks, they could collect objects to be included in a piece of art, such as pieces of bark, dried leaves, seed pods or sticks (make sure you do your research on plants in your area so you're sure what you collect is safe to use).
Subjects: Art
Grades: K-3
Educators:  
Family Activity:
Smartphone Video Demonstration: 
3. Seed Collecting
Get students to gather a collection of seeds from a wooded area. They can drag an old blanket or fuzzy cloth behind them on the ground. They can place a large, old, wool sock over hands or shoes to see what they can pick up. Or they can wear bracelets made of masking tape (sticky side out), to hold the seeds they find. Have children examine their seed collections and invent a system for sorting or classifying them. Explain that plants have developed many different methods of seed dispersal, to ensure the success of their species.
Subjects: Science
Grades: K-6
Educators:
Family Activity:
4. Dip Netting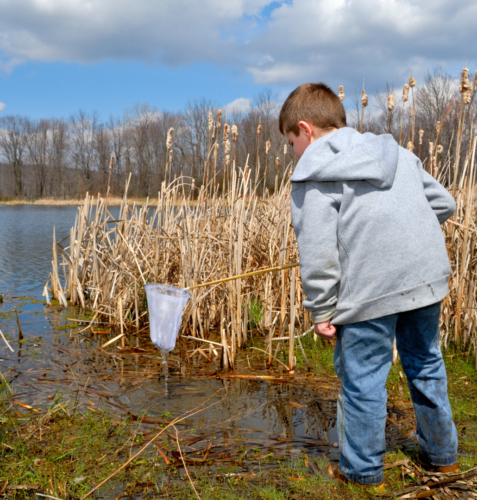 Local ponds, swamps, and dams are teeming with microorganisms and bugs. Why not take some dip nets and magnifying glasses with you on your nature walk? Stop at these ponds and allow children to do some dip netting to see what sort of critters live in the ponds. Students could also pick different environments during their nature walks and make observations on sunlight, soil moisture, temperature, wind, water flow, plants, and animals in each.
Subjects: Science
Grades: K-6
Educators: 
Family Activity:
5. Investigate Local Watersheds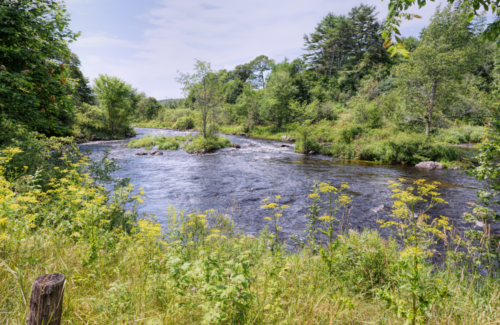 Forests provide a variety of ecosystem services and help to maintain a clean and plentiful water supply. Older students may want to explore the connection between forests and watersheds, and evaluate the extent to which their own community's water supply is affected by forests and forest management.
Subjects: Science
Grades: 9-12
Educators: 
6. Plant and Animal Observation, Identifying and Cataloging
One of the best things to do on a nature walk is to simply observe what nature has to offer. With an app such as iNaturalist, students can record, catalog and share what they have found. The app also facilitates connection with thousands of scientists to help users identify the species they have observed. With other apps such as Leafsnap or the online tree identification field guide from the Arbor Day Foundation, students can also identify the trees and plant species in their area.
Subjects: Science
Grades: K-6
Educators:
Family Activity:
Smartphone Demonstration: 
7. Fun Math
You could time your nature walks, work out the distance, and calculate your average speed on your walk. Another great activity is to have students measure trees in different ways to get familiar with a tree's scale and structure. These activities will add a new element to nature walks! 
Subjects: Science, Mathematics
Grades: 3-8
Educators:
Family Activity: 
Smartphone Video Demonstration:
8. Cartography Exercises
Students can construct detailed maps as they explore. During their walk, they can note the tracks, rivers, landmarks, or other unique natural features. These maps could even be given to other students in different grade levels to facilitate exploration activities, such as a treasure hunt. You can vary this activity's difficulty level by changing what students are required to map. For example, older kids could include topographical information, scales, and grid lines, to name a few.
Subjects: Geography
Grades: 9-12
Educators:
9. Adopt a Tree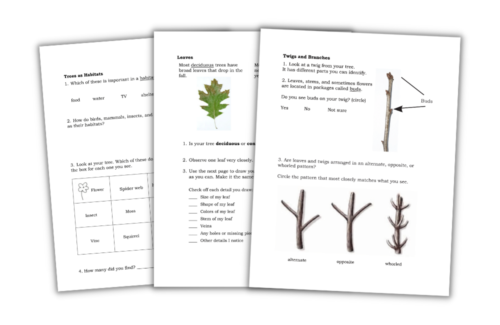 Have children pick a nearby tree that is special to them and spend time observing and learning about the tree. Get them to "adopt" their tree and keep a journal (you could use this Adopt a Tree Journal template developed by Minnesota PLT) to record and analyze information they collect over time. Use it to help children really get to know about that special tree in their lives on nature walks over the course of a school year, or a semester. 
Subjects: Science, Mathematics
Grades: K-8
Educators:
Family Activity:
Smartphone Demonstration: 
10. Planting Trees
If you're exploring environmental issues and sustainability, this is often a go-to activity for Earth Day and Arbor Day. 
Subjects: Science
Grades: K-12
Educators:
Family Activity:
11. Have a Picnic
If you're able to extend your time outdoors, having a snack or meal is a great way to take a break while you're exploring the outdoors. Use the opportunity to enjoy some bird watching or talk with children about what they have seen and learned. Or if they have taken photos, take some time to share and discuss them as a class.
Subjects: Science, Art
Grades: K-9
Educators:
12. A Big Clean Up
It's a great idea to take some big garbage bags along with you on your walk and pick up some trash if you see it lying around. This can be a segue into some Reduce, Reuse, Recycle Lesson Ideas. Many of these hands-on project ideas can be adapted for any grade.
Subjects: Science
Grades: K-10
Educators:
Family Activity: