If you've enjoyed a cup of coffee in the morning, a slice of watermelon on a hot summer day, or pumpkin pie at Thanksgiving, you've benefited from pollinators. In fact, one out of every three foods you eat needs the help of pollinators.  
Pollinators are animals that carry pollen from one plant to another, helping them make fruit or seeds. Without these animals, many types of plants wouldn't be able to reproduce.
Unfortunately, pollinators face many threats such as increased pesticide use, loss of habitat, decreased plant diversity, and climate change. You have likely heard about the mysterious decline of honeybees. But bees aren't the only ones in danger – many other pollinators such as butterflies, bats, and hummingbirds are also in danger of extinction.
With so much at stake, it's critical we teach students about this important part of our ecosystem. Students of all ages can put their knowledge into practice by participating in building a pollinator habitat. While this is no small undertaking, it is the most direct way schools can take action to support pollinators.
Schools and after-school programs around the country have engaged students in taking steps to support pollinator habitats. Check out the stories below to get inspired.
Examples of Pollinator Projects
Pollinator habitats
Students from elementary school through high school have built habitats that are now home to pollinators of all kinds. They have taken charge of researching, planning and maintaining the gardens. This kind of long-term project is an excellent opportunity for hands-on, cross-curricular learning.  This project is also a great way to connect with parents, the community, and local organizations to strengthen the collective knowledge about making spaces suitable for pollinators.
Butterfly gardens
Butterflies are one of the more well-known pollinators, and building a garden focused on attracting butterflies is another worthwhile project. Students enjoy incorporating the butterfly theme into their design, such as this butterfly-shaped garden in Coral Springs, Florida. Since this project is focused on one pollinator, it allows for in-depth learning on their life cycle and their nutrient and shelter needs.
Bat houses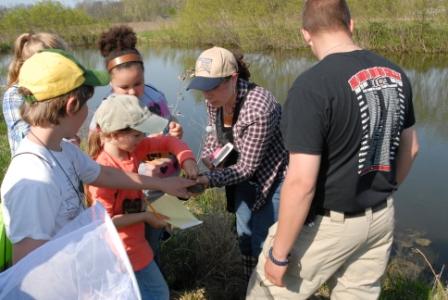 Bees and butterflies aren't the only pollinators that are losing their habitat. Bats are also critical pollinators, and building and installing bat houses is another way students can take action. In Clark County, Ohio, children ages 7-12 built bat houses during an after-school outdoors educational program and installed them at a local wetland and prairie. This kind of project doesn't necessarily require the same amount of planning and maintenance as creating a pollinator garden, making it a great choice for a short-term project that still has a big impact.
A Few Tips for Getting Started Building a Pollinator Habitat
To implement a successful project, one of the key components is to learn from local experts. Local Audubon societies, beekeepers, garden clubs, university Extension programs, and the U.S. Fish & Wildlife Service are great places to start.
Other lessons from garden projects include creating a plan, setting a schedule, enlisting the help of volunteers, and using the garden as an ongoing educational tool for students and the community.
You can find free pollinator-friendly planting guides for your region through the Pollinator Partnership.
Other Ways to Support Pollinators Inside and Outside the Classroom
Take a field trip
Take a field trip to a local wildlife refuge, arboretum, or botanical garden to learn about native plants in your area. The more they know about local plants, the better equipped they'll be to take action and make informed decisions that will protect pollinators in the future.
Buy local, organic food when possible
Teach about the importance of buying local, organic food whenever possible. This supports plant diversity and reduces the use of pesticides which can help pollinators thrive. You can take it a step further and advocate for local, organic food served at school lunches. You can look to these school lunch programs for examples.
Plant native species
Plant flower beds, gardens, or local grasses instead of traditional lawns. Even a small project such as planting local flowers in pots or in a windowsill can help students take a concrete action toward learning about and protecting pollinators.
Volunteer
Volunteer for organizations that are pollinator-friendly. Many middle schools and high schools require students to complete volunteer hours, and pollinator-friendly organizations are a great place to build knowledge and skills, as well as helping out local environmental groups.
Let the students take the lead
If there's enough interest, let the students take the lead in planning and organizing their own pollinator projects through a pollinator club.
Host a pollinator event
Host a pollinator educational event for families and community members. If your school hosts concerts, plays, an Earth Day celebration, or other events where families and community members are invited to attend, this can be a great opportunity to incorporate a pollinator theme. Or, students can present their knowledge at a local conference, a library, or other local community organization. This can be a great opportunity for students to improve their research and presentation skills while also teaching the community about the importance of pollinators.
Learn about current events that affect pollinators
Link a lesson on pollinators to a project related to current events. Help students use their new knowledge to think critically about how current events or proposed legislation will impact pollinators through a research or debate project.
There are so many ways for students of all ages to get involved in protecting pollinators. Tell us how you plan on getting involved in the comments!