Bird Count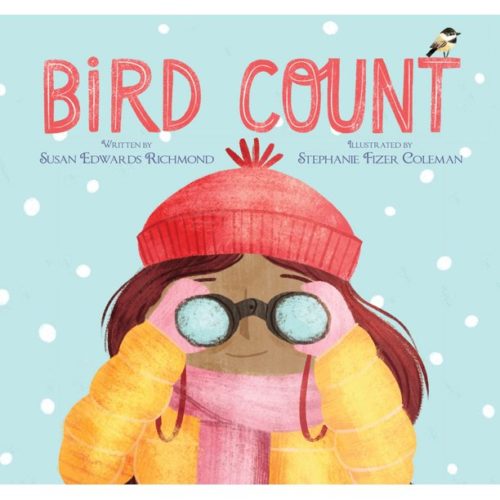 Grades K-2
Written by: Susan Edwards Richmond
Illustrated by: Stephanie Fizer Coleman
Published by: Peachtree Publishing Company Inc., 2019
ISBN-13: 978-1561459544
Recommended Reading
This book is a fictional narrative about a girl who participates in the Audubon Bird Count each year. The story follows Ava, her mother, and their team leader, Big Al, through a full day of the Bird Count. Readers are introduced to many different bird species and the rules of the Bird Count itself. At the end of the day, everyone comes together for a community campfire, shares stories, and celebrates another successful year of counting birds.
Use Bird Count to:
Try binoculars
Senses are powerful when making scientific observations. When Big Al, Mom, and Ava head outside on their bird count adventure, they know their most important tools are their eyes and ears. To help maximize their senses, the team also brings along a few other tools, including a bird field guide, a notebook, a pencil, and a pair of binoculars for everyone.
There are many affordable binoculars that are designed for young children, including ages five and under. If you do not wish to purchase binoculars, you can use paper towel tubes to create your own homemade set. Even though these "binoculars" do not offer magnification, they do help young children focus their attention and limit their field of vision, allowing them to "see" more detail that they may have missed otherwise.
Encourage the children in your care to try binoculars and talk about their observations— birds or otherwise!
Enjoy nature in winter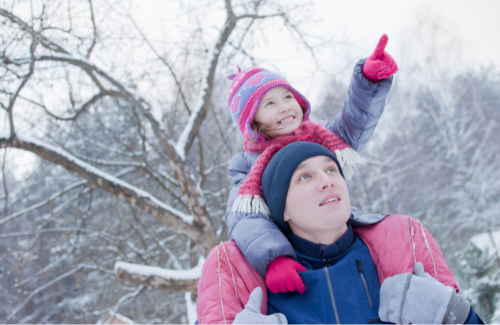 You might not realize it, but winter is a great time to go birding and enjoy the outdoors! The National Audubon Society's Christmas Bird Count falls between mid-December and early January each year. On Bird Count Day, Ava and her team bundle up in fuzzy hats and warm coats to search for birds in their community. They check fields, woods, wetlands, neighborhoods, and even the center of town. As Ava says, "It's freezing, but birds don't mind."
Winter can be a better time to observe birds because they frequently venture further from forested habitats in search of food and water, making their way into more backyards and local refuges. A barren winter landscape also makes birds easier to see, especially if the species has brightly colored feathers. In addition, the limited daylight hours cause some birds of prey (raptors, falcons) to hunt more intensively in shorter timeframes. Finally, winters are an excellent time to observe migratory birds as they make their way from colder climates to warmer ones.
So bundle up and enjoy the sights and sounds of nature all around you—even in the middle of winter!
Learn about different bird species
Most people can recognize common birds, such as robins, or species with unique coloration, such as cardinals. Ava tallies a total of 24 different bird species on her bird count in a single day. On the right-hand side of each Bird Count page spread, you can see how Ava keeps a tally of the birds they encounter. Ava records a complete listing of bird species, and she documents the specific quantities observed for each type of bird (see example page spread below).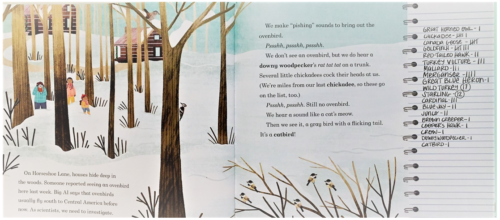 In the back of the book, short paragraphs provide more detail on each of the bird species featured in Bird Count. The in-text illustrations also offer great visual references to true-to-life characteristics unique to each featured species. From Blue jay to Wild turkey, be sure to visit this section to learn more about the birds Ava spies in her community. Which one do you like and why? Are any of them found near you?
It's easy to begin your own bird identification with supporting field guides, available for all ages. From Fandex Family Field Guides to the well-known Sibley Guides, you can find something for everyone. Need help getting started? Have a look at Audubon's top 6 recommendations for kid-friendly bird identification guides. 
Citizen science for your community
Bird Count contains references to citizen science projects. Since its printing, a transition to the term community science has become a more inclusive way to describe this crowd-sourced endeavor. An Author's Note in the back of the book offers more detail. You'll learn that Ava's count circles and even her team leader, Big Al, are based on real experiences encountered by the author herself.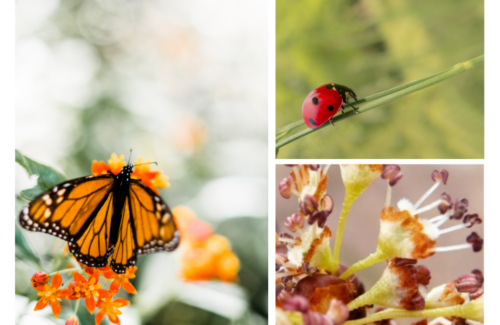 When ordinary people work with professionals to do scientific research, it is known as community science. The Christmas Bird Count is one of the longest-running community-based science surveys in the world. It is special because the people who participate are not trained scientists. They are regular people like you and me, who just happen to love birds. The more you practice observing birds, the better birder you become.
There are many community science projects out there, focusing on many different species from around the world. Have a look at Project Learning Tree's list of community science projects currently underway in North America, featuring frogs, butterflies, ladybugs, mushrooms, and more. PLT curriculum can be used as a tool to implement and design citizen science projects, as well as to engage under-served communities through environmental education.
—
Consider using this book with the following activities from PLT's Explore Your Environment: K-8 Activity Guide to explore habitats, community science, and of course, more birds!:
Backyard Safari
Birds and Bugs
Bursting Buds
The Closer You Look
Trees as Habitats
Charting Biodiversity
Discover Diversity 
Web of Life