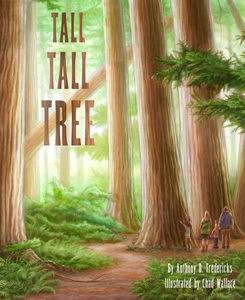 Tall Tall Tree
Grades K to Grade 4
ISBN-13: 978-1584696018
Dawn Publications, 2017
Recommended Reading
Teachers and parents alike can use this book, Tall Tall Tree written by Anthony Fredericks and illustrated by Chad Wallace, to take children on a virtual fieldtrip into the dense redwood forest. Not only will readers experience the grandiose majesty of redwood trees, but they will also get a sneak peek into the hidden world of the forest canopy – which we soon learn is abundant with life.
The beautiful and scientifically-accurate illustrations allow for exploration of several ecological concepts, both inside and outside the classroom. For example, the drawings breathe life into teachings about the topics of biodiversity, microhabitats, and camouflage. Readers are introduced to 20 different species and 10 unique habitats within the forest canopy, all through playful rhyme and a game of search-and-find.
Tall Tall Tree begins with a letter to "Humans" from a wise and respected redwood species, the northern spotted owl. Consider using PLT's "Habitat Pen Pals" activity to support students in writing their own letters to redwood-dwelling species they meet in the book. Challenge students to select a favorite animal from their local habitat and describe why it would or would not be successful living where one of Tall Tall Tree's documented redwood species lives.
If nothing else, sit back, take a deep breath, and simply enjoy the view.
Consider coupling this story with additional PLT activities to deepen your redwood forest field trip:
Environmental Experiences for Early Childhood:
# 8 – Adopt a Tree
# 10 – Trees as Habitats
PreK-8 Environmental Education Activity Guide:
# 7 – Habitat Pen Pals
# 8 – The Forest of S.T. Shrew
# 10 – Charting Diversity
# 22 – Trees as Habitats
# 23 – The Fallen Log
# 26 – Dynamic Duos
# 45 – Web of Life
# 66 – Germinating Giants