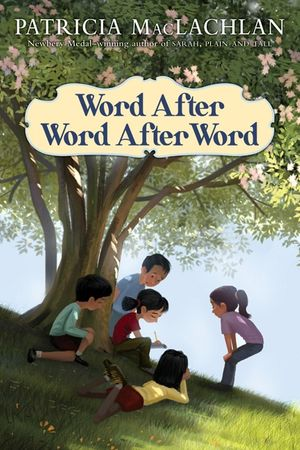 Word After Word After Word
Grades 3-5
Written by: Patricia MacLachlan
Published by: HarperCollins, 2010
ISBN-13: 978-0060279714
Recommended Reading
Every school day feels the same for a group of fourth grade friends: Lucy, Henry, Evie, Russell, and May. Then a guest speaker – a real, live, and well-known writer – named Ms. Mirabel, visits their class. The students soon realize that Ms. Mirabel invites a whole new way of seeing and understanding.
"Why do you write?" Henry asks Ms. Mirabel. It turns out that there are lots of reasons, there is no right or wrong way, and everyone has a story.
Be inspired by Ms. Mirabel and her fourth-grade friends to try your own hand at writing. Here are just some of the reasons why Ms. Mirabel's fourth graders find themselves putting pen to paper:
To Explore Senses and Place
Sit outside – try underneath the shade of tree branches like our friends on the cover of this book – and take a few quiet moments to look, listen, smell, taste, and feel. Use a diamante poem format to capture sensory experiences. As Ms. Mirabel says, "We don't always write about our landscape; but we have to understand how important place is in our poetry, our stories." View this 4-minute video for an introduction and page reading from Word After Word After Word, Chapter 9, pages 73-77.
To Emote and Empathize
Our fourth-grade friends find themselves writing about things that are hard to say out loud. Personal things. Scary things. Russell writes about things he felt when his dog died. Lucy's Mom is very sick, and it is a lot easier to write about it than it is to talk about it. Even if you do not want to write about your own feelings, you must be able to imagine how your characters feel. Think of a character you might like to write about – or pick a neighbor, friend, teacher, or even a pet that you know – and write about an event from their perspective.
To Learn New Things
Informational writing is factual, nonfiction writing that conveys information about a topic. Examples can be found in newspapers, almanacs, and reference books. Process text explains how to do something, such as a guide that explains how to plant a tree. Ms. Mirabel uses writing samples from her fourth-grade class to teach specific parts of speech, including simile and metaphor. A simile is a figure of speech that uses comparison to make descriptions more vivid. Try completing a few of Ms. Mirabel's similes:
Sharp as a ….
Soft as a …
Silly as a …
To Share Stories
Ms. Maribel teaches us that everyone has a story, even if it is not our own. We have characters within us who we can bring to life using only the power of our written words. All throughout Word After Word After Word, Lucy, Henry, Evie, Russell, and May share their own writing samples. What is your favorite poem written by the kids? Why?
Consider coupling this volume with the following PLT activities to practice writing and storytelling:
PreK-8 Environmental Education Activity Guide:
#5 Poet-Tree
#7 Habitat Pen Pals
#8 The Forest of S.T. Shrew
#18 Tale of the Sun
For older students, try exploring the art of storytelling using STEM Strategies that support PLT's Tale of the Sun Activity.