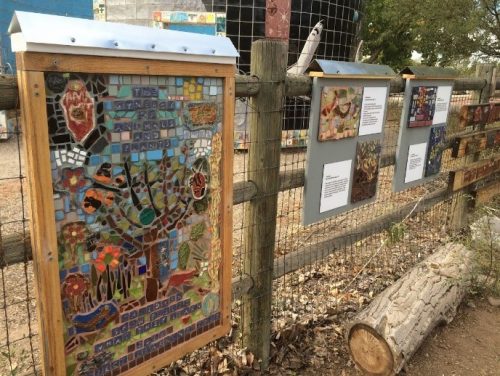 For 25 years, Project Learning Tree has been awarding GreenWorks! grants to schools and organizations across the country for projects that support children's learning, ideas, actions, and voices about the environment.
One such grant given last year to the New Mexico Museum of Natural History & Science in Albuquerque was sparked by children's interest in learning more about the animals that live in a community garden next to the museum.
Intersection of Art and Science
Some of the funding from the grant was used to purchase seeds and plants, pavers, and sets of gloves and trowels for the garden's volunteer caretakers—children and their families who gather once a week as part of an afterschool family program to learn how to plant and take care of the Kiwanis Learning Garden.  In January last year, 16 children (ages 4-11) each chose to study an animal found in the garden. They made puppets using cloth and clay, and created a show to share their research about animal-plant relationships. In the summer weeks they created mosaics. In October, the remaining grant funds helped pay for panels featuring the children's reports and mosaics. These were installed outdoors for a permanent art exhibit for the benefit of the public who use the garden.
The project gave children a deeper understanding of the interactions between animals and plants that live in the garden and the importance of native plants. The children's artwork was a visual representation of the culmination of their knowledge and the project has fostered stewardship and ownership of the surrounding environment in both children and the community. The public exhibit at the garden attracted local media attention and many people see the outdoor exhibit every day, including visitors of the museum and student groups from other schools.
"The project blended art and science in such a creative and meaningful way," said Museum Director Margie Marino. "Children and their families had the opportunity to make something beautiful and lasting while learning about the science in their backyards."
The Synergy of Plants and Animals
The Garden Programs Coordinator used several activities from Project Learning Tree's PreK-8 Environmental Education Activity Guide to support children's learning.
"We did the Web of Life in the cold of February," said Cirrelda Snider-Bryan, New Mexico Museum of Natural History & Science Garden Programs Coordinator. "Everyone had to bundle up because temps were in the 20's! We enjoyed this game immensely and played it many times in following weeks. Children enjoyed discussing what factors would influence the disappearance of a particular animal."
Cirrelda also adapted the Senses component of PLT's activity "We All Need Trees" found in the Environmental Experiences for Early Childhood guide. Instead of tasting apples, children processed Prickly Pears and drank the juice. "We recalled all the ways we'd seen animals eating these fruits during the fall and winter months, and children learned how the parts of cactus respond to other plants," said Snider-Bryan.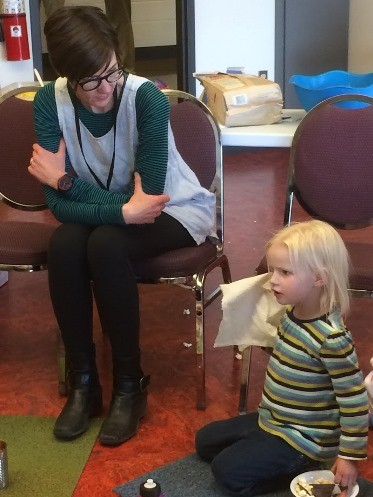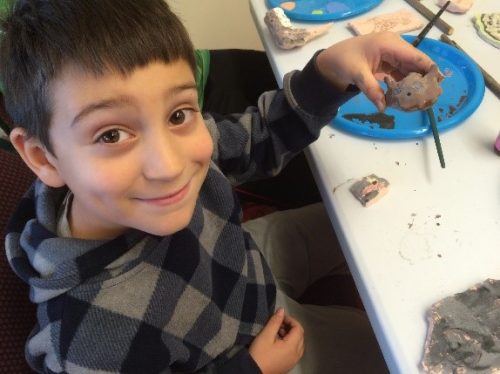 Power of Partnerships
Many people came together during the project's well-planned stages to support the young researchers/artists all year long: Kiwanis Club of Albuquerque, Mosaic Artists of New Mexico, Plants of the Southwest, Arizona Tile, Bethany Farms, as well as the Museum's curator, education, and exhibit staff. These organizations provided supplies, such as native plant seeds and tiles for the mosaics. Every week, volunteers acted as mentors to the children, assisted them with researching the ways animals and plants interact, shared their knowledge of native plants and animals, and helped children construct their mosaic panels and the exhibit.
The project exemplified student decision-making and leadership, collective community efforts, and support from local partners, all of which are also requirements for a PLT GreenWorks! Service-learning grant.
Advice to Others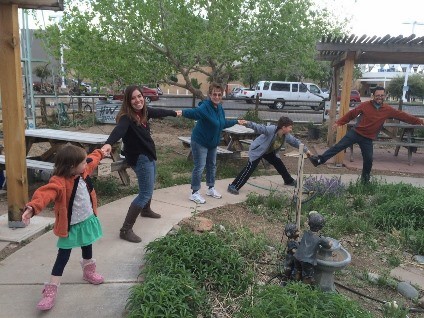 Here are some tips from Cirrelda Snider-Bryan who reflected on what made their project such a success:
The process of meeting once a week each month, January through October, covering a wide array of tasks to produce these exhibits, stands out as very fruitful and positive.
Interactions with partners and the parents, aunts, and grandparents of the children throughout the project. Their participation and support to the children made this project happen!
Don't be shy about approaching your local Kiwanis Club. The mission of Kiwanis is "to improve the world, one child at a time."
We set a rhythm where children know their ideas matter. It was children's ideas that helped shape the plan and student leadership opportunities were snapped up.
Lay out your whole year in advance, publish a calendar, and communicate regularly with your participants and your partners.
Include notebooks in your budget for participants to keep a record of what they are doing or learning.
Start your photo album with descriptions early. Don't wait to add descriptions until the last minute of creating your final report!
For more information about PLT's GreenWorks! grants program and to apply for a grant, visit www.plt.org/resources/greenworks-grants.