Invasive species are degrading natural ecosystems across the country.  As a science teacher at Carmichaels High School in Pennsylvania, I wanted to design a service-learning project for students to combat the threat of invasive species in our community through awareness, education, advocacy, and action. The primary goal for this project is to propagate native plant species in a greenhouse and restore a local ecosystem with native vegetation.  Along with this objective comes educating both students and community members about the importance of planting natives. 
Our Plan of Action
We started our native plant restoration project last year when 40 environmental science high school students researched invasive species in our local area.  They collaborated with university professors, state environmental agencies, foresters and other natural resources professionals to design a habitat restoration plan and raise native plants.
In the coming months, students will survey and remove invasive species surrounding a community nature trail, and re-vegetate the area with native plant species.  They will design and create a trail guide to educate the public about the aesthetic value, rich diversity, and environmental importance of these native plants, and they'll help their community understand the threats of invasive plants, and the importance of using native species in landscaping.
As a key component to this project, we recently completed construction of a 24×48 greenhouse for students to raise native plant species from seeds and cuttings. Members of the Carmichaels Area School Board, administration and staff, community partners, and financial contributors were invited to an "Open House for the Greenhouse" on March 21.
Exceeding Expectations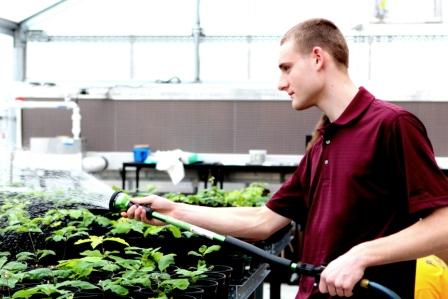 Our project is exceeding our expectations! We have had various experts in the field come to the greenhouse and share their expertise in raising native plant species. These experts have been impressed not only with our current projects, but also with our students' involvement and eagerness to participate. Students are currently monitoring over 700 oak seedlings and 250 perennials.
Other teachers are coming on board to utilize the greenhouse facility.  Fred Morecraft and Zoe Chambers were on hand at the open house to share the involvement of their 6th grade and Life Skills students, respectively.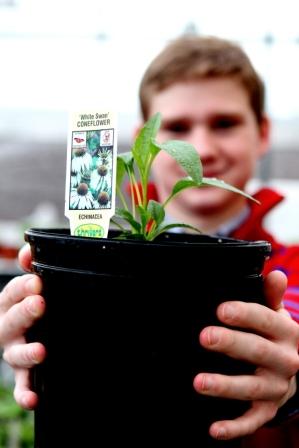 During the open house we revealed plans to provide an automatic watering system for times when school is not in session, benches for additional growing space, heating tubes for increased germination, and tree tubes to protect the seedlings along with other equipment and supplies to keep the greenhouse project sustainable in the future.
Committed Partners
School decision-makers, local businesses, and community organizations are key to helping make a project like this a success.  My students are at the center of our native plant restoration project, but we couldn't do it without the unwavering support of our School Board and administration, the hard work of our maintenance staff who constructed the greenhouse, and a host of community partners who are providing their own expertise.  We are most grateful to all our partners who are supporting students in making a difference!
Kevin Willis is science teacher at Carmichaels High School in Greene County, Pennsylvania.  Funding for the greenhouse construction came from the Community Foundation of Greene County and a Toyota Tapestry grant.  A Project Learning Tree GreenWorks! grant is helping to provide the funding for equipment and supplies for high school students to raise native plant species in the greenhouse and use them to restore the natural ecosystem along a section of the Carmichaels Nature Trail. For more information and to apply for a PLT GreenWorks! grant, visit www.plt.org/resources/greenworks-grants.
PHOTO 1: Environmental Science students with oak seedlings they are growing in their new greenhouse under the leadership of Kevin Willis (right), Carmichaels Area High School teacher in Greene County, Pennsylvania
PHOTO 2: Michael Donaldson and Floretta Chambers with an oak seedling
PHOTO 3:  Doug Kowalewski waters oak seedlings in the school's new greenhouse
PHOTO 4:  Garrett Elek with a perennial