Project Learning Tree's Explore Your Environment: K–8 Activity Guide is our newest flagship curriculum. Now, we've launched an enhancement to the guide: online professional development! As with all PLT online professional development, it follows best practices for adult learning while providing the flexibility of a self-paced online course.
Here are five reasons to take PLT's Explore Your Environment Online Professional Development Course.
1. Be confident that you're getting the most out of your guide
The Explore Your Environment Online Professional Development Course takes you through an interactive journey that explores key features of the guide. From using the guide's icons and indexes to find an activity that's right for you, to using activities to meet national academic standards, by the end of the course you will be confident that you're making the most of all PLT's Explore Your Environment Guide has to offer.
Through the course's guidance, activity simulations, video demonstrations, reflection questions, and action planning, you will be able to–
Lead activities outdoors and meet your teaching objectives by using the guide's activities and recommended strategies.
Modify and scaffold PLT activities as needed to honor youths' contexts, backgrounds, and strengths and shape activities based on their culture, race, and ethnicity.
Build units of instruction using PLT activities to support the achievement of instructional goals (e.g., academic standards, teaching outdoors, STEM).
Use curated resources to support and supplement instruction. 
2. Create your learning path
The course consists of seven self-paced online modules that you can access anytime, anywhere. It offers differentiated pathways, so you can focus your learning on the elements and activities that are most important to you and your students. Choose your path based on the grade band of your students (K-2; 3-5; 6-8) or the setting in which you work with youth (formal education; non-formal education; standalone events or programs).
You also have the option to select specific modules to review at a time or complete the entire course to receive a certificate of completion and be eligible for Continuing Education Units (CEU)* or Continuing Forestry Education (CFE) credits**.
We invite you to preview the Course Welcome for a glimpse of PLT's newest on-demand Online Professional Development Course and its modules.
"I liked the flow of the content and the way the course was set up. It was easy to read through the information and move onto the next part."
– Jessica Alba, Watershed Forest Stewardship Educator, Watershed Agricultural Council
3. Learn strategies for teaching outdoors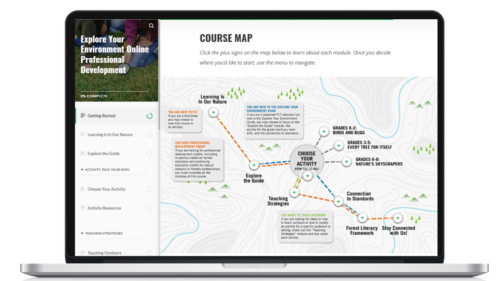 More than ever, people are turning to the natural world to relax, recreate, and learn. When youth learn about the world around them, it creates a vital connection with the natural world. And yet, teaching outdoors can be an intimidating idea. Maybe you are used to teaching in the classroom, or you work outdoors but don't have experience leading activities with youth? PLT's professional development builds your skills and confidence to teach outdoors!
To complement the Explore Your Environment guide's activities and empower you to take students outdoors, our online course provides firsthand tips about teaching outdoors from seasoned educators. The course explores questions such as:
What should I consider when deciding to teach outdoors?
How do I manage student behavior outdoors?
How do I ensure they are comfortable outside?
What are key things to keep in mind if I'm working with elementary or middle school learners?
And many more!
Want to continue to build your skills and confidence for teaching outdoors through hands-on experience? Find a PLT in-person or blended professional development workshop offered in your state! Whether you've been teaching formally or informally, for two months or 20 years, there is always more to learn about being an effective educator.
4. Get practical tips from seasoned educators
In addition to strategies for teaching outdoors, the Explore Your Environment Online Professional Development Course incorporates lots of tips on how best to lead activities from seasoned facilitators and educators who have used the activities with their own students. From adapting activities for students with limited mobilities to overcoming possible logistical challenges, their tips will help you modify activities to meet your students' needs and successfully lead PLT activities, indoors or outdoors, in urban or rural settings.
"[The course is] a great way to learn how to engage with students in different ways, both via in-person activities and virtual ones revolving around nature."
– Jocelyn Perez-Blanco, Educator and Founder of Herban Garden
5. Create an action plan
The course takes you step-by-step through one or more selected activities. It prompts you to reflect and modify the activity to honor your students' prior knowledge and lived experiences and their cultures, backgrounds, races, and ethnicities.
You will leave the course with an action plan customized to the needs of your learners and your specific setting. You will also receive an exclusive "Activity At-a-Glance" handout for quick reference, so you don't need to take the entire guide with you when leading the activity.
Ready to get started? 
Check out the Course Welcome preview for more information and a glimpse of the course.
Purchase PLT's Explore Your Environment Online Professional Development Course from shop.plt.org.
Find an in-person or blended professional development workshop offered in your state.
* Continuing Education Units offered vary by state. Please contact your PLT State Coordinator to learn more about your eligibility for CEU credits.
** Pending approval by Society of American Foresters.