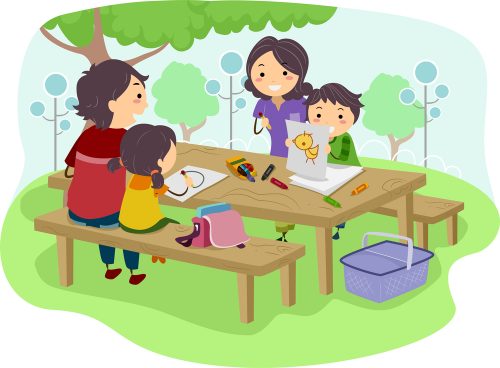 Spending time outside is one way we can boost our resiliency while quarantining at home to slow the spread of the COVID-19 coronavirus.  Getting outdoors can help relieve stress, and keep children physically active and learning while out of school.
Bookmark a few of these free PLT family activities; they're perfect for trying in your backyard, at a local park or trail, or another nearby safe space outdoors. Try them out to help children learn about nature, build emotional and physical resiliency, and observe and appreciate the nearby natural world.
Each activity is available to download in both English and en Español.
Trees provide a habitat for a host of plants and animals. In this activity, children will inventory the plants and animals that live in, on, and around trees and discover how plants and animals depend on trees in many ways.
Poetry offers children an opportunity to express their thoughts and ideas about the environment in creative and artistic ways. Take your kids outdoors to observe a variety of trees and encourage them to write an inspired poem with our "Poet-Tree" activity!

Our ears are constantly being bombarded with sound – so much so that we automatically "tune out" a lot of it. This activity helps children "tune in" to the sounds of their environment and helps them to explore the sounds of nature.
Extra credit: Want a demonstration? Watch this video (15 minutes) and get step-by-step instructions, some guiding questions for children, and see the "sound map" Danielle created in her backyard. Also, check out Dr. Kris Irwin of the University of Georgia's article for further enrichment ideas!

 By acting out the parts of a tree, children will learn about tree structure and function. Engage children by asking them to think about what trees need to survive and discuss how a tree might get these requirements since they can't move around the way animals can.
All children, no matter their age, have an idea of what a tree looks like, but many are unfamiliar with the actual structure of a tree. In this activity, children will go outdoors to take a closer look at trees and their parts.
Extra credit: Want a demonstration? Watch this video (11 minutes) to see an example of a filled-in sample graphic organizer and get step-by-step instructions and guiding questions for children.
Who doesn't like getting their hands a little dirty? The next time a child in your care decides to dig a hole in the ground, turn it into an educational opportunity. In this activity, children explore differences in soil types and composition.
By way of neighborhood trees and a mystery box, children will explore their sense of touch and discover different shapes and textures in nature with this activity. 

We depend on all of our senses – touching, tasting, hearing, smelling, and seeing – to gather impressions of our environment. In this activity, children will focus on the many shapes that are found in both natural and built environments. 
Extra credit: Want a demonstration? Watch this video (10 minutes) to see an example of the paper necklace used to hunt for shapes in nature and get step-by-step instructions and guiding questions for children.
A Collection of Fun, Easy to Do Outdoor Activities for Families
Our 58-page guide contains 36 family activities to try while visiting a local park, walking in the forest, or exploring your backyard—plus activities to do around your home and indoors, when you can't get outside.
More Activities Indoors

Avoid going stir-crazy with these fun and simple family activities! They're the perfect way to keep kids engaged through active participation as they learn about nature, and suggest ways we can lessen our environmental footprint at home and beyond.