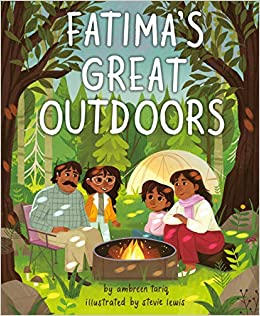 Fatima's Great Outdoors
Grades 3-5
Written by: Ambreen Tariq
Illustrated by: Stevie Lewis
Published by: Kokila, an imprint of Penguin Random House, 2021
ISBN-13: 978-1984816955
Recommended Reading
Do you remember your first ever camping trip? Are you still planning it? Fatima's Great Outdoors follows the story of Fatima and the Khazi family, comprised of a father, mother, and an older sister in their first tent camping trip together. This story underscores the many ways in which the natural world offers a loving home to us all.
This endearing book for young readers also offers an introduction to the experiences of immigrants in the United States. Venturing into camping for Fatima and her family is a step into the unknown, just like immigrating to another country can be as well. Throughout the 40 vibrant and colorful pages, readers find themselves rooting for the little girl and her adventurous family. 
Readers of all ages will enjoy this story as they remember memories of trips taken with their own kin. 
Use Fatima's Great Outdoors to:
Explore Cultures
The Khazi family introduces readers to some diverse cultural perspectives. Enjoy learning about them through Fatima's eyes. For example, readers get insight into:  
Living in India – These experiences are conveyed by juxtaposing the parents' upbringings with the confidence Fatima builds through camping.
Readers see depictions of Mama's rural hometown and are introduced to the music of Rafi, a famous singer in India.
Practicing Islam – Though the text does not explicitly name the family as Muslim, naming conventions and cooking practices offer clues that support this religious background. Try to discern what and how these practices connect to the beliefs of the nearly 2 billion practicing Muslim people worldwide.
Speaking Urdu – The Khazi family speaks Urdu, a language that is related to Hindi. Readers are introduced to Urdu words that are not defined in the text or with a glossary. This prompts readers to rely on context clues to discern meanings.
Terms include Nani (maternal grandmother), Apa (older sister), shabash (word of encouragement), roti (bread), shami kebabs (pan-fried beef patties), samosas (savory fried pastry), aanda (fried egg), and ghee (clarified butter).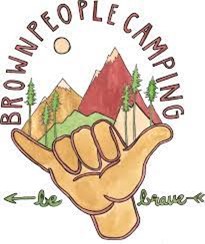 Growing up Brown – In addition to authoring Fatima's Great Outdoors, Ambreen Tariq is the founder of the social media initiative @BrownPeopleCamping. The last page spread of her book illustrates a group of campers with a sign carrying the same name. The Brown People Camping initiative seeks to use storytelling to promote diversity in the outdoors.
Learn About America's Parks
While not explicitly named in the text, Fatima and her family visit Emerald Bay State Park. Emerald Bay is located in the state of California, inside Lake Tahoe, near the Nevada-California border. While National Parks are America's largest and most renowned, the park system operates other entities under a variety of names, including state parks, national and state forests, national grasslands, landmarks, monuments, historic sites, scenic rivers, fish hatcheries, wildlife areas, and more. Use the findyourpark.com website to search by state and discover a park near you.
Create Storyboards
A four-paneled, comic-style spread is used at the beginning and end of Fatima's Great Outdoors to reflect Fatima's feelings of distress at school, as well as feelings of freedom, happiness, and belonging that she finds in nature. Fold a single sheet of paper into four quadrants and use your own experiences and creativity to depict an event or series of emotions in a four-paneled storyboard spread of your very own. If you like this exercise, explore more fun you can have with storytelling using a storyboard approach.

Meet the Author
The Outdoors Alliance for Kids (OAK) is a national strategic partnership of businesses and organizations with a common interest in connecting kids and families with the outdoors. In celebration of Earth Month this year, OAK hosted Ambreen Tariq for a FacebookLIVE event that featured a read-aloud of Fatima's Great Outdoors, followed by a question-and-answer session. Check out the entire 60-minute installment on Facebook, or fast forward to the read-aloud near timestamp 4:30. 
Plan a Camping Adventure
In the United States, the National Parks Service offers helpful resources on "How to Camp." Visit their website to review what to bring, what to do once you get there, visitor etiquette, and safety concerns, among lots of other great information. In Canada, a program called Learn to Camp is offered by Parks Canada. Learn to Camp presents at libraries and other organizations to instruct potential campers on how to plan, organize, and do everything related to camping.
Consider using this book with the following activities from PLT's Explore Your Environment: K-8 Activity Guide to explore the benefits of outdoor recreation and storytelling:
Get Outside!
My Green Future
Poet-Tree
Trees for Many Reasons
Our Federal Forests