Summer can be the perfect time for kids and adults to catch up on their reading lists.
From informative nonfiction reads to entertaining tales, these books focused on forests will help keep curious minds sharp over the summer months. Our recommended reading list includes picture and chapter books for kids, teens, and adults so that everyone in the family can connect with forests and trees.
Sustainability and natural resources professionals will discover new books to help classrooms and communities care about and for trees, encouraging and emphasizing the need for forest literacy in every environment.
Green job seekers and mentors will uncover incredible human accomplishments and the essential role of trees through research and personal stories to help their green jobs journey.
These must-reads focused on forests and trees are a mix of new favorites and classics, with something for every age and type of reader!
Plus, by buying titles utilizing PLT and the Sustainable Forestry Initiative's Amazon Smile account, you also help to support environmental education, forest literacy, green career pathways support, and advance our efforts to support the next generation of conservationists.  
Happy reading from PLT!
GRADES:
GRADES K-2 (Ages 5-8)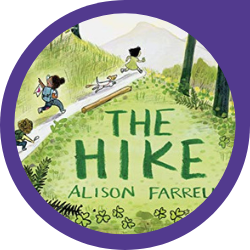 Grades PreK-K
Three young girls set out to explore the nearby woods. On their adventure, they realize hiking can be unpredictable. They spot wildlife, take detours, and enjoy the natural world. The book features illustrations of many plants and animals along with scientific terms to help young readers with learning. Get a copy of the book.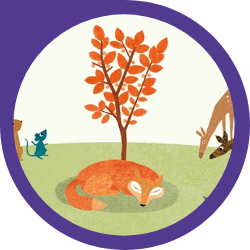 Grades PreK-K
Teaching young children about the loss of a loved one can be a difficult topic. In this picture book, a fox lives a long and happy life in the forest, but he is now ready to sleep and closes his eyes forever. As the fox's friends begin to share memories and tell stories, a tree starts to grow taller and stronger with every memory. Get a copy of the book.

Grades PreK-3
Many animals rely on this oak tree, but it is struck down during a large storm and becomes a log. Children discover numerous changes the tree undergoes until it finally becomes part of the soil. Learn about tree life cycles and get outside to investigate trees and logs at home or school! Get a copy of the book.
Grades PreK-3
This book describes the various ways seeds can spread and the roles different creatures play in the process. It's a great book to introduce lessons on the anatomical features of seeds and how they help with distribution. The full-page illustrations in this book are detailed and have an old-world feel about them. Get a copy of the book.

Grades PreK-3
Each year on his birthday, a young Mexican-American boy looks forward to seeing how his grandfather decorated the tree planted the day the boy was adopted. Authored by Pat Mora, this book embraces new traditions and values, as well as exhibits familiar family relations that are warm and heartfelt. Get a copy of the book.
Grades PreK-3
A young boy, who loves art and poetry, explores an urban forest near home and interprets what he sees with his art. He creates rhythmic language to describe the seasons and colors, but decides his forest is mostly green. The picture book will bring out the artist in every child and encourage a closer look at nearby nature. Get a copy of the book.
Grades PreK-3
We Planted a Tree is a short poetic story about two families in different parts of the world that plant a tree. The book explains theoretical concepts and the many benefits of planting with engaging cartoon-style illustrations. Get a copy of the book.
PreK-3
A great book to read aloud with beginner readers and to introduce young learners to important basic concepts. In this picture book, readers explore some of the world's trees, learning how to identify species from their leaves, seeds, fruit, and more. Get a copy of the book.
Try these books in conjunction with the following PLT activities:
A Tree's Life
Adopt a Tree
Trees as Habitats
Here We Grow Again
Have Seeds, Will Travel
Activity 7: Best Buds
Activity 8: My Tree and Me
Experience trees throughout the summer and help children ages 1-6 connect with their community! PLT's latest resource, Trees & Me: Activities for Exploring Nature with Young Children, helps families and teachers connect young kids to nature through outdoor and indoor activities.
Families, childcare providers, and early educators can easily adapt activities as necessary to meet each child's unique needs, the environment where they live, and the materials available. Learn more or purchase the guide.
GRADES 3-5 (Ages 8-11)
Grades K-3
This story is about a young boy who plants an apple seed, and as soon as it sprouts, the boy can see what the apple tree is meant to be. The little apple tree isn't so sure and becomes frustrated and begins to doubt its calling. The story is presented in both English and Tsalagi (the language of the Kituwah People).
Get a copy of the book.
Grades K-3
This nonfiction picture book takes readers on a field trip through the aquatic habitat of a forested wetland. Readers of this book will see which animals are active during the day in a forested wetland and which come out at night. This story contains a "Creative Minds" section that includes information to provide points of discussion for parents and lesson options for teachers. Get a copy of the book.
Grades K-4
Tall Tall Tree begins with a letter from a wise and respected northern spotted owl. The beautiful and scientifically-accurate illustrations take children on a virtual field trip into the dense redwood forest. Not only will readers experience incredible redwood trees, but they will also get a sneak peek into the hidden world of the forest canopy–which readers will learn is abundant with life. Get a copy of the book.
Grades K-5
In this picture book, readers will learn how the first woman to graduate from the University of California with a degree in science transformed San Diego into the green, garden-filled oasis it is today. Get a copy of the book.
Grades 3-5
Young readers will discover the secret life of trees in this nature-inspired science book. The story shares what trees feel, how they communicate, and how they take care of their families, along with simple activities for kids to try on their own. Get a copy of the book.
Grades 3-5
In this illustrated nature and science book, readers will learn about the complex "wood wide web" of roots and the important role every part of the tree plays in its own growth and the habitat of the whole forest or woodland. Get a copy of the book.
Try these books in conjunction with the following PLT activities:
Web of Life
Tree ID
Charting Biodiversity
Discover Diversity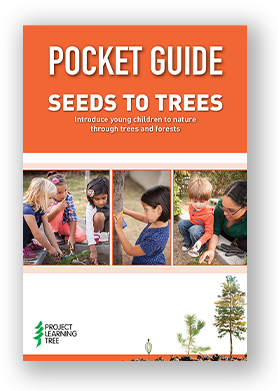 Trees start small but pack a big wallop—and so does PLT's Pocket Guide: Seeds to Trees!
Pack the guide with you on your trip to the park, schoolyard, camping, or daycare—at just 4 by 6 inches, the Guide is small enough to fit into a pocket or backpack.
The Guide has activities for you to do with ages 3-6 in convenient settings and with the materials you have at hand. We ensure that kids find the activities fun to do while you can feel confident that you are providing factual, age-appropriate information.
GRADES 6-8 (Ages 11-14)
Grades 3-5 and 6-8
This book's narrator is a "two hundred and sixteen rings old" oak tree named Red. Red is a community wishing tree—and every May 1, adults and children alike bring their wishes written on pieces of colorful paper or fabric to tie to Red's branches—hoping they come true. Red has overheard many conversations and has lots of stories to tell. Get a copy of the book.
Grades 6-8
Song of the Trees is the first book in a series detailing the Logan Family saga. This 80-page short novel tracks the tough choices of the Logan family in rural Mississippi and how they make decisions about the things they own and care about in the face of the Great Depression. Get a copy of the book.
Grades 6-8
This novel tells the story of a young Cuban-American boy. Though separated by only 90 miles, Miami and the small island country of Cuba couldn't seem further apart. At 11 years old, Edvar's mom puts him on a plane headed for the remote forests of Cuba to meet a father he has never known and a sister he never knew existed. With no phone, no internet, and a family of strangers, Edvar is in for one long summer. Get a copy of the book in English or en Español.
Grades 6-8
After a large tree crashes to the ground during a winter storm, a young girl and her new friend explore the nearby forest. Together, they learn how trees provide habitat for plants and animals, both high in the forest canopy and low among mossy logs.
Get a copy of the book.

Grades 6-8
Author L.E. Carmichael explores the boreal forest wilderness on a tour of the forest throughout the four seasons. The book combines lyrical storytelling with research to provide a year-long tour of the planet's largest biome. Get a copy of the book.
Try these books in conjunction with the following PLT activities:
Decisions, Decisions
If You Were the Boss
Life on the Edge

Sensational Trees is one of three PLT activity collections for educators. It features three PLT activities for educators of students in grades K-2 that invite young learners to investigate trees using their senses. 
Buy Sensational Trees or explore Biodiversity Blitz and Trillions of Trees for grades 3-5.
TEENS AND ADULTS
This book shares the inspiring story of a man's quest to reforest the world by cloning the oldest, largest trees on the planet—and create a Noah's ark of tree genetics. Many said it was impossible, but twenty years later, the team successfully closed some of the world's oldest trees—among them giant redwoods and sequoias. Get a copy of the book.
Peter Wohlleben shares his deep love of woods and forests and their amazing processes of life, death, and regeneration. Readers will learn about trees sharing nutrients with those who are sick, creating an ecosystem that mitigates the impact of extreme heat and cold, and more. Get a copy of the book.
This novel takes readers on a story of the relationship between Americans and trees across history. Learn about the Liberty Trees, the creation of New York's Central Park, spotted owls and the old-growth forests they inhabited, and more.
Get a copy of the book. 
A 22-year-old headed off into the largest tract of preserved bush in the world: Ontario's Algonquin Park. When he got there, he found what he would call home for the rest of his life. This is a story of a family raised in the woods, the tough physical demands, and the freedom that comes from living apart from town and city.
Get a copy of the book.
Readers will discover how incredible the soil beneath our feet is and how soil has the power to reverse climate change, feed the world, and benefit health and wellness. Get a copy of the book.
This book offers inspiring natural resource professionals an introduction to the professions of forestry, fisheries, wildlife, and range management. The author helps readers transform their desire for an exciting and meaningful career into a purposeful and efficient path to obtaining the appropriate education, training, and experience. Get a copy of the book.
A Guide to Green Jobs in Canada: Voices of Indigenous Professionals features first-person stories from 12 First Nations and Inuit leaders working in the forest and conservation and parks sectors across Canada. Indigenous role models describe what inspired them to pursue green careers and share lessons learned from lived experiences. Their stories reflect the values and perspectives of Indigenous professionals at various stages of their careers. The guide was developed in Canada by PLT Canada, but is a relevant and informative resource in the U.S. Download or order the guide for free.
Are you in Canada and interested in becoming a green career mentee or mentor?
Learn more about PLT Canada's latest mentorship cohort. 
Black Faces in Green Spaces: the Journeys of Black Professionals in Green Careers aims to inspire young Black Americans to pursue forest and conservation careers by telling the stories of the Black trailblazers who have taken the career path and who have advice and resources to share.
Download or purchase a printed guide and explore supporting resources, including: job training, mentorship and employment opportunities, access to networking webinars, and invitations to local events.

Do you have a favorite tree and forest-related read that we missed? Let us know in the blog comments at the bottom of the page and on social media!