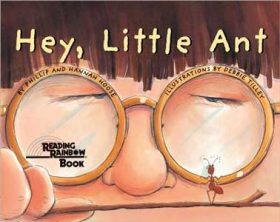 Hey, Little Ant
Ages 3 to 8. ISBN: 1883672546
Published by Tricycle Press, 1998
Authored by Phillip and Hannah Hoose
Illustrated by Debbie Tilley
Recommended Reading
What would you do if the ant you were about to step on looked up and started talking? Would you stop and listen? What if your friends saw you hesitate?
When a young boy encounters a seemingly insignificant ant, he is faced with a tough decision: To squish or not to squish?
As this funny, rhyming tale recounts the boy's destructive desires (to squish!) and the ant's pleading perspective (not to squish!), the young boy finds out he might have more in common with the little ant than he'd originally imagined.
This conversation between two creatures, large and small, is bound to inspire important discussions.
The tale ends with a thought-provoking dilemma: "What do you think that kid should do?"
Try using this book with the following PLT activities as an open-ended prompt to generate dialogue and empower students to speak for other living things:
Environmental Experiences for Early Childhood
#10 – Trees as Habitats
PreK-8 Environmental Education Activity Guide
#8 – The Forest of S.T. Shrew
#9 – Planet Diversity
#19 – Viewpoints on the Line
#23 – The Fallen Log
#46 – Schoolyard Safari
#47 – Are Vacant Lots Vacant?
#89 – Trees for Many Reasons